Okay, the title is totally misleading. I still know very little about this house. But I'm hoping it'll trick Google into leading others who have one here!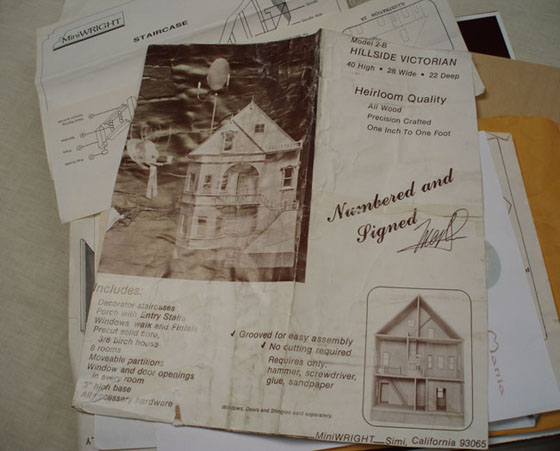 I bought my Hillside Victorian off Craigslist in March 2010 for $150. The couple I bought it from had purchased it a few years earlier from Shellie's Mini Mania in San Carlos, CA. It was already assembled; they added the siding and shingles. According to the instructions that came with it, the house is signed and numbered (I haven't found a signature or number on mine, though) and the manufacturer, MiniWright, was based in Simi, California.
After I posted about it on the Greenleaf forum, another member found the house in a 1979 miniatures catalog. Here's the description:
Heirloom quality slant bay home features: authentic detailing, unique second floor, entry with 3″ base and side street stairs for hillside effect. Shingled, Queen Anne gabled roof; doublehung window treatment. The suggested floor plan defined by removable partitions includes: lower level maids' quarters, bathroom. hallway, kitchen, and wine cellar/pantry. Main level includes: living and dining rooms (12″ ceilings). Third floor: spacious bedrooms.

The house is in the 2nd edition of the Miniatures Catalog copyright 1979 and the house sold for $450 and came unassembled.
She also sent me a couple of pictures out of the Miniatures Catalog 3rd edition, which didn't include a price, but did include a bonus Country Victorian that looks very similar.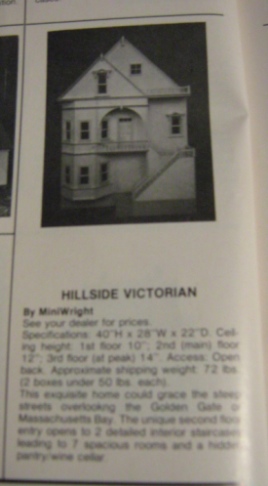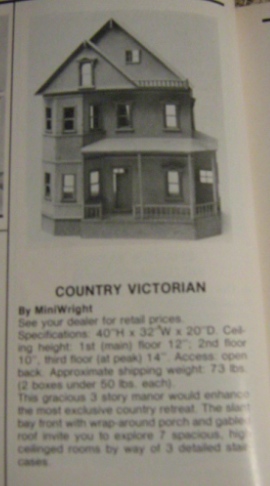 For a long time, that's all I knew. Someone posted a comment on my blog that she had a MiniWright Mercantile, but when I emailed for more info I didn't get a response. Then, in December 2011, a woman named Sheree got in touch to let me know that she'd recently bought a Hillside Victorian dollhouse just like mine but a bit farther along, also off Craigslist. Today she sent me a bunch of pictures and said I could post them.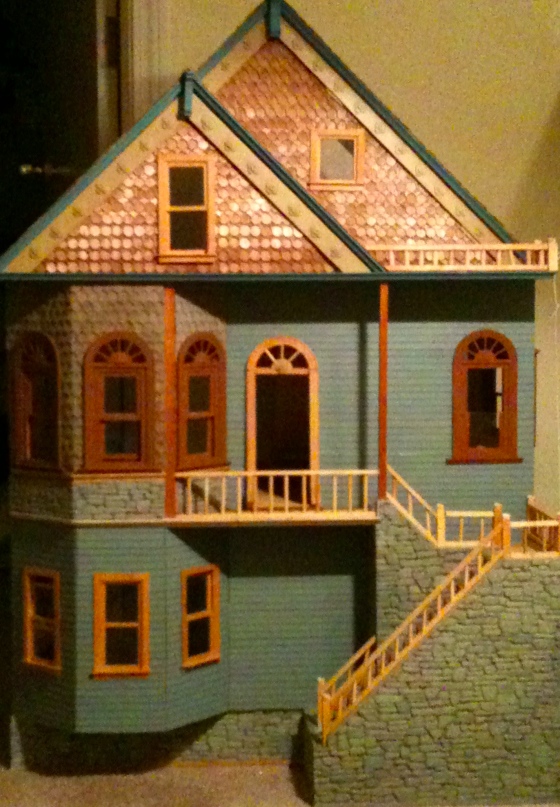 The windows are a different style than mine, but they also look like after-market (Houseworks) windows, which makes me think the house didn't come with its own windows. It's missing the curved trim below the porch roof and some of the bay trim that my house has, but that might have been left off by the builder for aesthetic reasons.
The railings and widow's walk look just like mine, so I guess these came included. Her house is missing the foundation portion of the stairs but I'm pretty sure those were included with the kit, since mine are made from the same pressboard material as the foundation itself.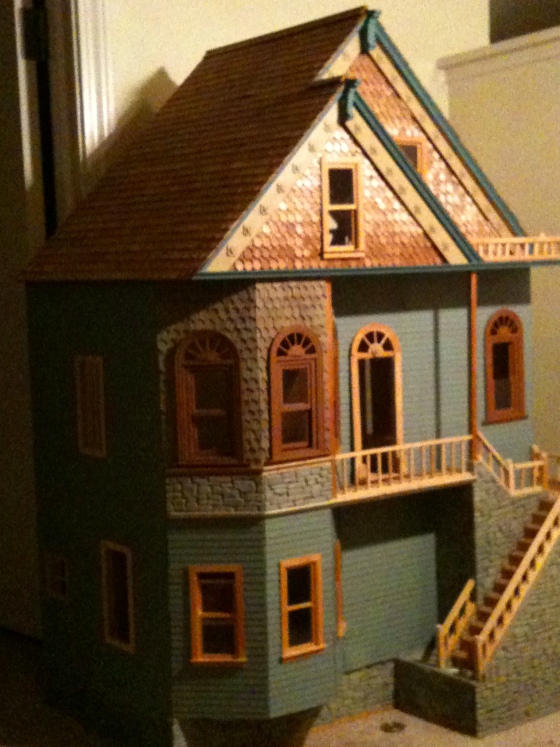 On this side wall, Sheree has a window where I have a French door. That's not too surprising, since my French door is pretty obviously an "upgrade."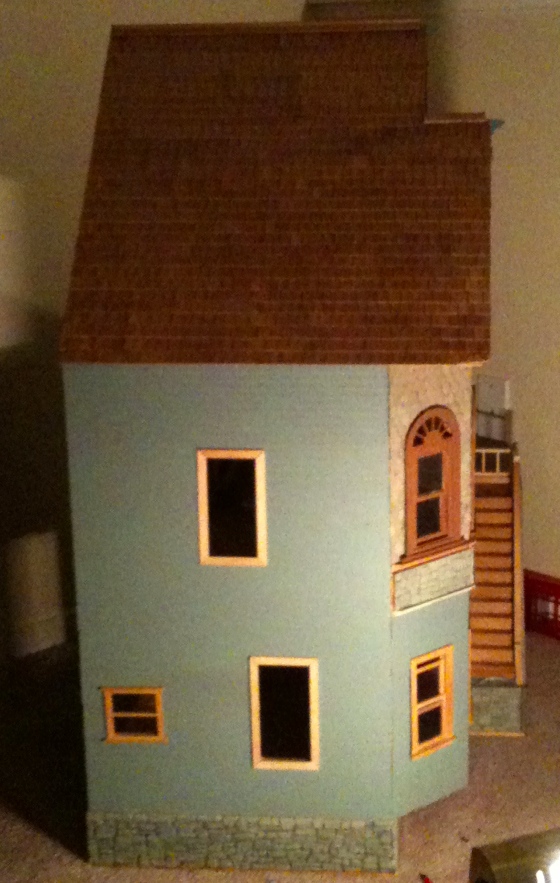 I was surprised to see a bay window here. My house has a large window on this side as well, and I thought the hole might have been enlarged from two smaller windows. But maybe the bay window is standard?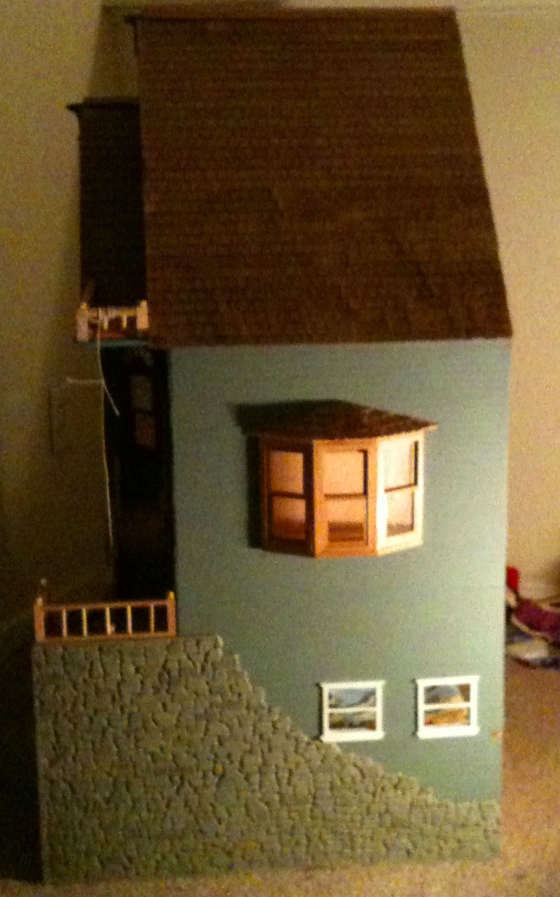 I absolutely love the stonework on this side of the house, it makes it look like the house is set into a hill. Of course, it covers up the wine cellar that I worked so hard to free from mine, but it sure looks pretty. (She still has access to that little room through an interior doorway.)
I also love how these gables are finished. Those aren't fishscale shingles, but a circle pattern, I'm not sure what the material is. I'll probably leave mine sided since the siding was already on there when I got the house, but I might add trim on the sides of the gables like this, I think it looks really nice.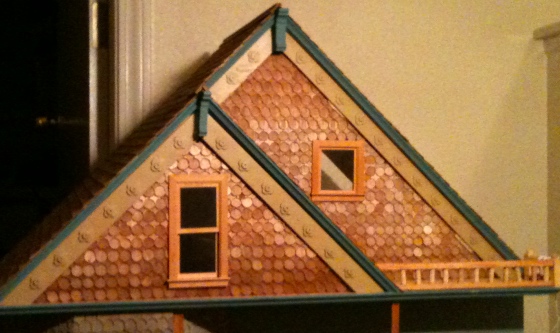 The interior looks basically like mine so I won't post the pictures here, with the exception of this one since it shows the interior stairway I don't have. The 90-degree turn at the bottom of the stairs doesn't look like it does on my instructions (which you can barely see in the first photo at the top of this blog), but it is consistent with the diagrams in my instructions.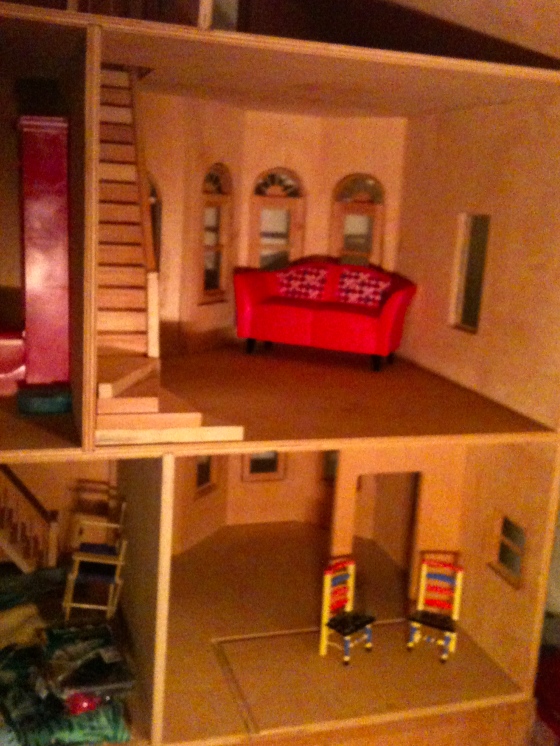 The small partition with the doorway at the bottom of that last picture is supposed to go in the small part of the L-shaped groove, with a larger partition in the larger part. I don't know why anyone would want to do that and block the view into the room, but that's how the picture with my instructions shows it.
So that's everything I know about this eclectic house… but I'd love to know more! At some point I'll pull out my oldest Nutshell News magazines from the early 1980s and comb through them to see if it appears at all. In the meantime, I'll keep rehabbing mine, and if you have this dollhouse or know anything more about its history, please contact me!