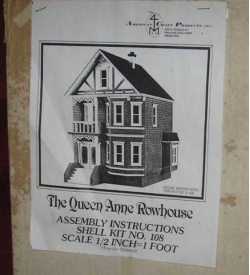 Many moons ago, I saw an eBay auction for a half scale Queen Anne Rowhouse kit by American Craft. This kit was from the 80s and I hadn't seen it before. It opened on three sides and I loved the building design, which looks like the Victorians common in San Francisco. The house is similar to my (giant) Hillside Victorian but with more rooms and the obvious space-saving benefit of being half the size.
The kit had been opened and the seller wasn't sure if all the pieces were there. When I asked if he/she would check to see what exactly was in the box, the seller said no. So I opted not to bid on it. And I always regretted it…
Since then I've learned that the kit was also available for 1:12 scale, and I've seen offers of the larger version (finished) on Craigslist from time to time, but never the half scale. I have a saved search for this on eBay and there hasn't been another listing since. Well, today I went to the CHAMPS show in El Cerrito, which is a smallish, hobbyish show that's held once a year to benefit a children's hospital in Oakland. I'd already made out like a bandit on a bunch of ridiculously low-priced half scale stuff when I got to the back of the room and saw this.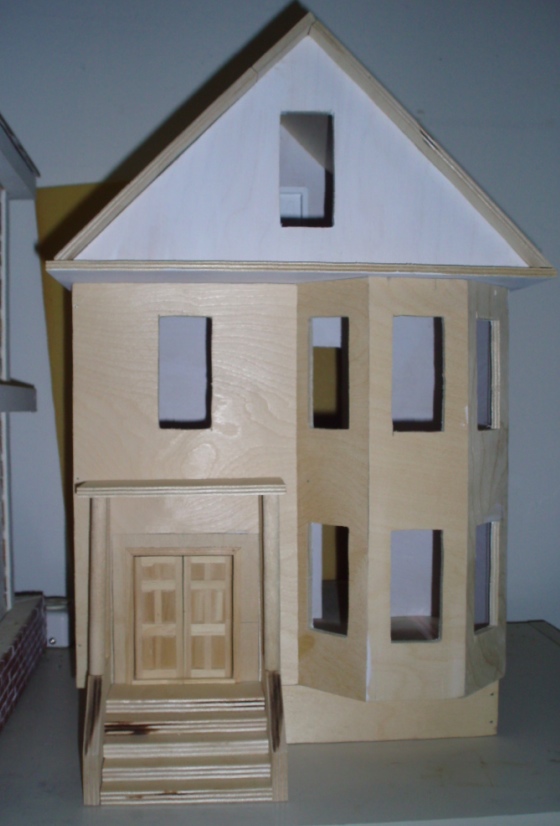 This house was built by the proprietor of Cooper's Doll House Studio in Benicia CA, and he built it based on photos of the American Craft Queen Anne. I talked to him and his wife for a little while. The house was priced at $175, a bit steep for an impulse buy especially when I have many house kits waiting to be built. I said I'd think about it and might be back. About three minutes later I was back at their table with my credit card out. I knew if I passed it up, I'd be sorry.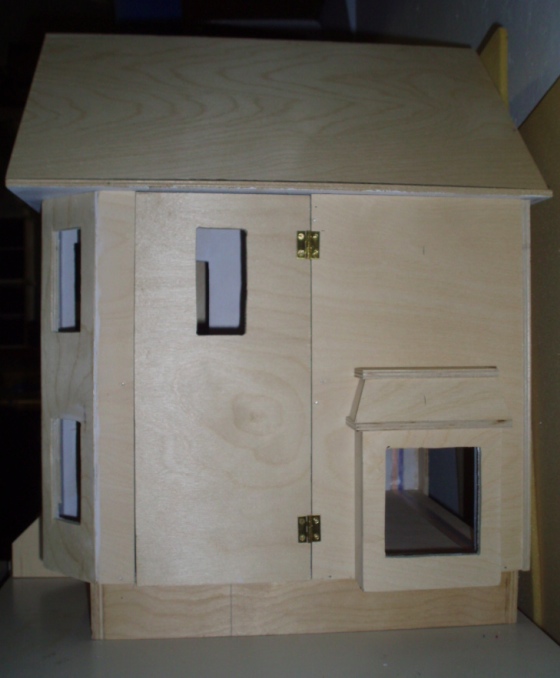 This house has up to 10 rooms, if you use all the partitions. The back is open, and there are hinged panels on each side wall and one side of the roof.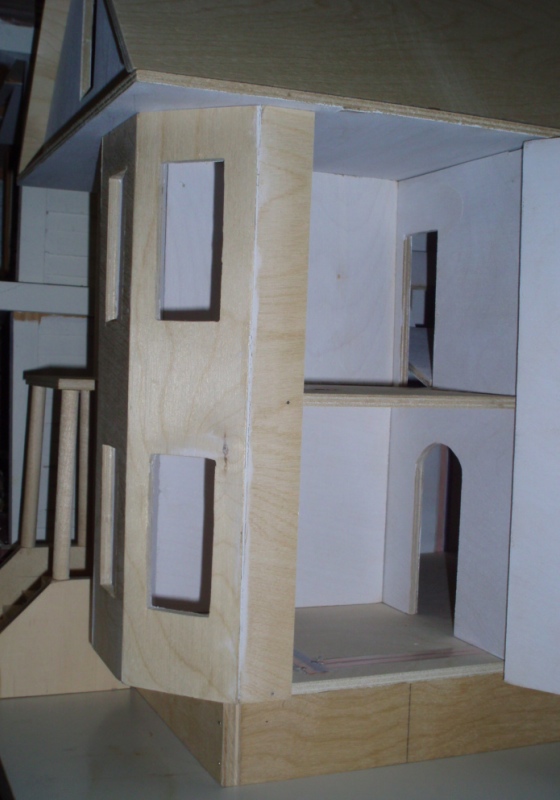 Behind this wall panel is where the stairs will go. They're supposed to turn at a 90-degree angle starting against the hinged wall and turning to reach the hole. As luck would have it, I have two Houseworks staircases lying around that I bought for some long-lost project that never came to fruition. I'm hoping I can cut them in half to make this work.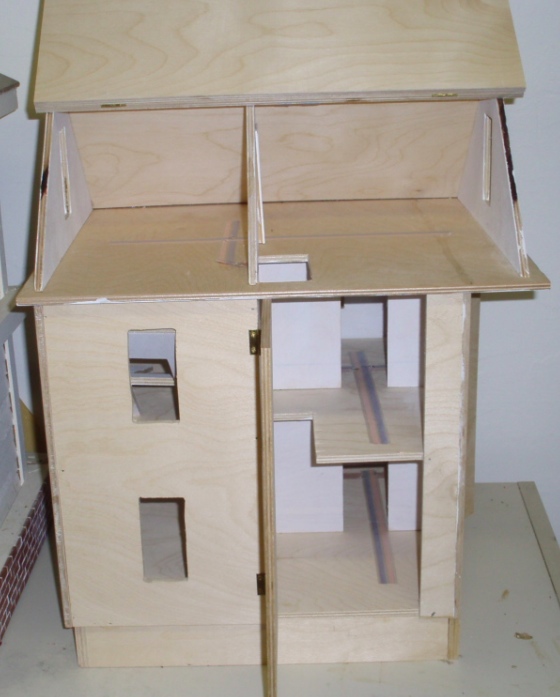 Two rooms up in the attic. The house is wired for electricity, which I haven't been motivated to do with the last few dollhouses I've built.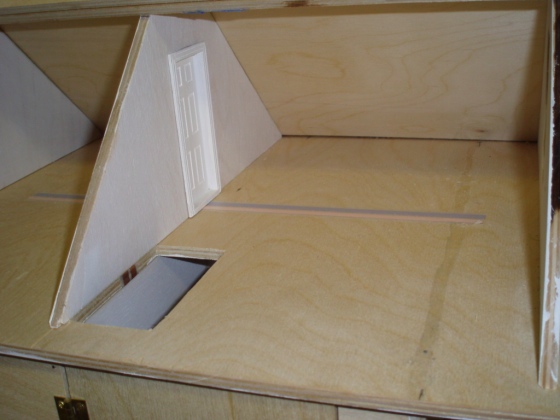 This is the back of the house. Partitions for these rooms were included but I'm not sure yet if I'll use them. I like the idea of a combined kitchen and eating area downstairs, maybe with the partition all the way to the right to make a little bathroom. (The front room by the bay window can be the formal living room.)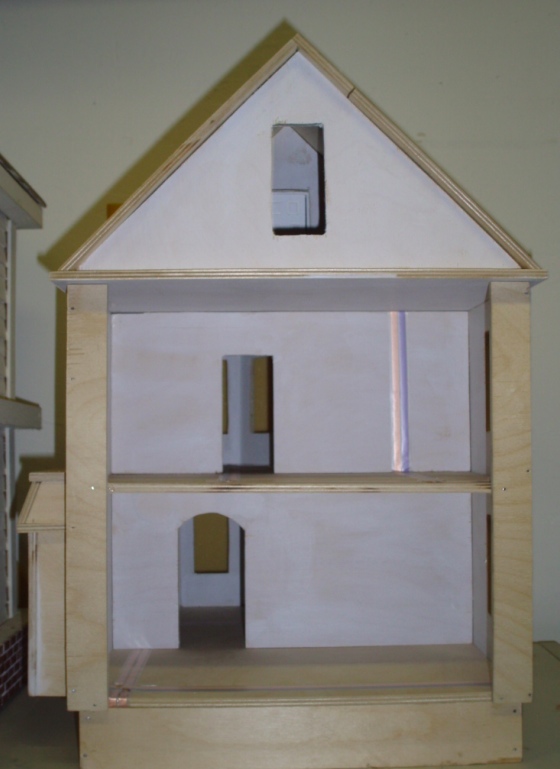 Here's the rowhouse next to the Hillside Victorian. They could be in the same neighborhood, if not for that pesky scale issue…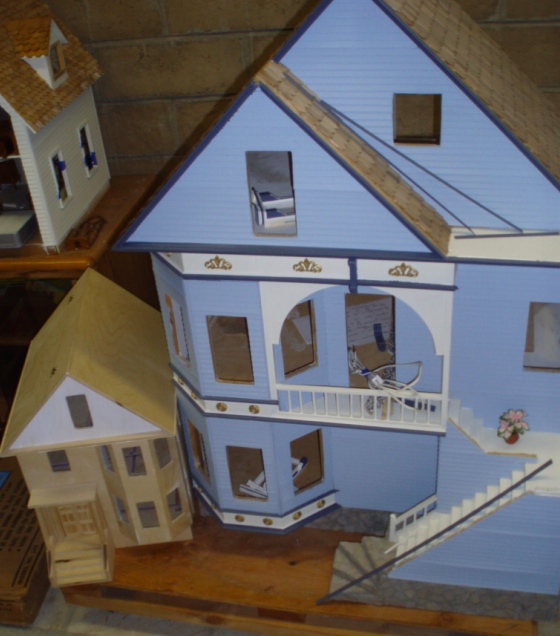 I'm thinking the exterior will be similar to the Hillside Victorian, with siding and a stone foundation. The siding is going to be challenging due to the hinged panels. I'll have to hunt down some pics of this house finished to see how others have done it.