Back in October, I ordered a custom set of Ingalls family dolls from Prairie Crocus Studio on Etsy. These are for my half scale Little House in the Big Woods cabin, and the family came with beautifully detailed Ma, Pa, Laura, and Mary dolls… no Carrie, but I figured a half scale baby would be easy enough to find.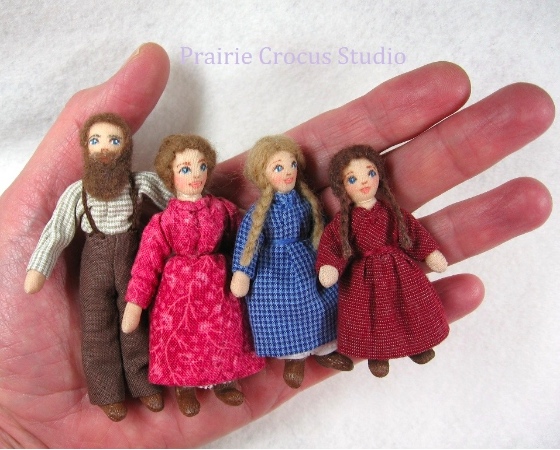 Lucky me, I was recently browsing Etsy and saw that the same seller now has a half scale baby available. The doll comes totally naked but Laurie was nice enough to add a face for me. Here's the picture she sent me before shipping.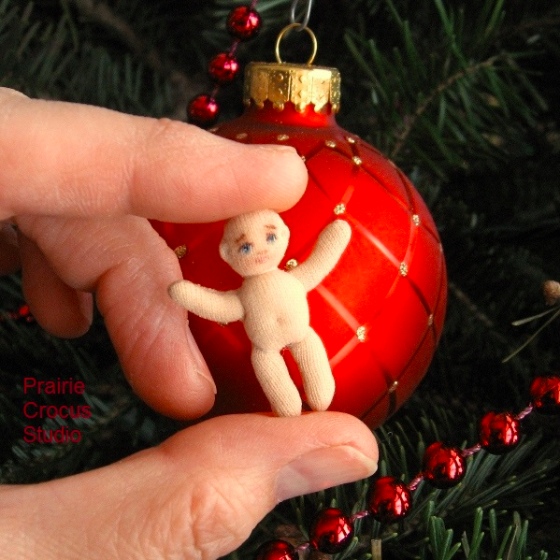 Baby Carrie arrived from Canada today, neatly wrapped in a blanket. She got in through the mail slot but I think there might have been a stork involved at some point during the journey.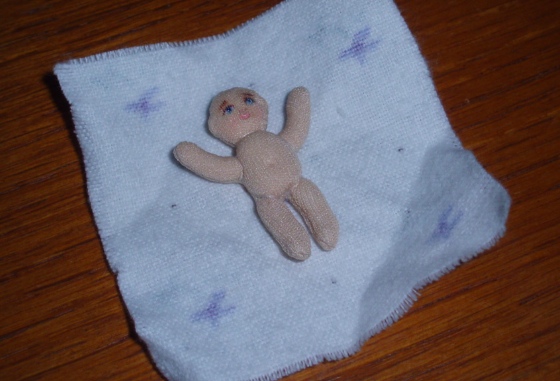 I never actually posted pics of the dolls in the cabin, so here we go! First, here's Ma snuggling with the new arrival.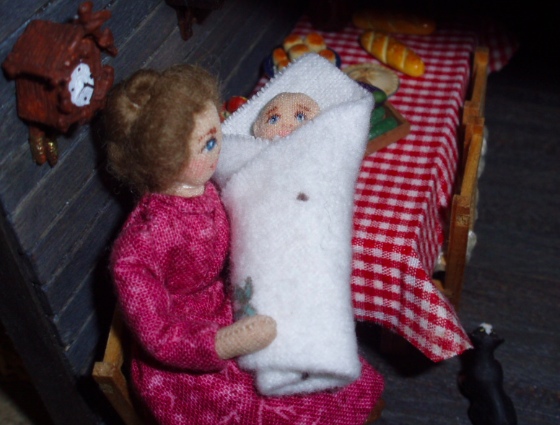 All of the dolls except Carrie have wire armatures so you can bend their arms and legs, but I get clumsy trying to pose them and keep knocking stuff over in the house. They end up doing a lot of leaning.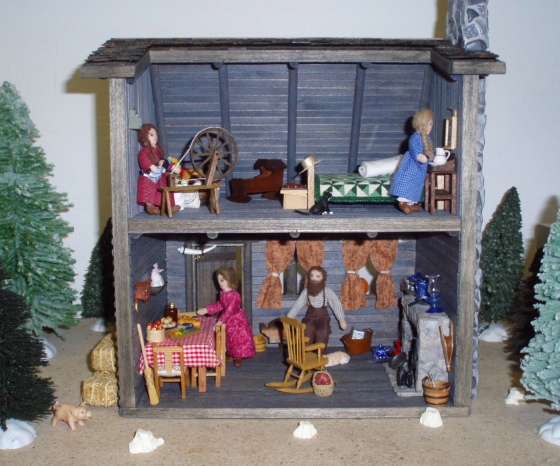 Ma's preparing dinner under the watchful eye of the China Shepherdess.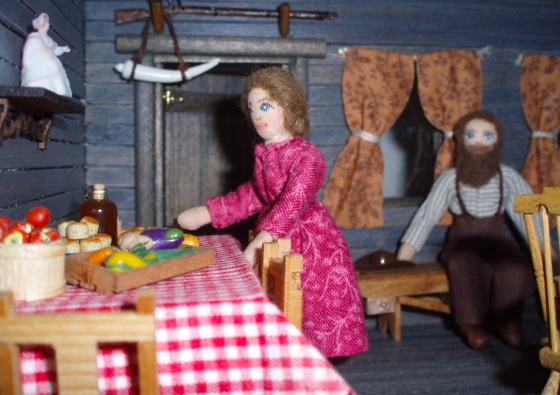 Pa's sitting on his bench. (Cleaning his boots? Making bullets?) Loyal Jack, the brindle bulldog, is at his feet.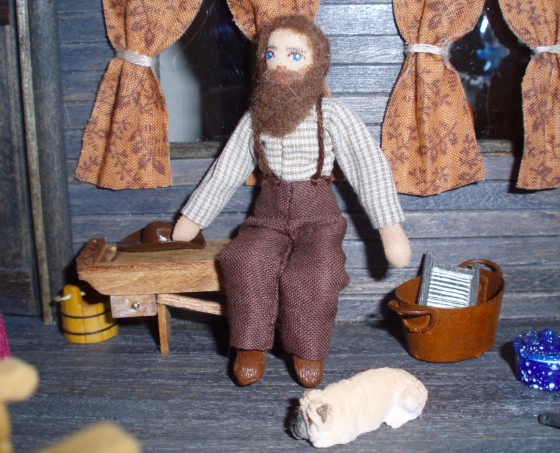 Laura's upstairs playing with her doll Charlotte in the attic.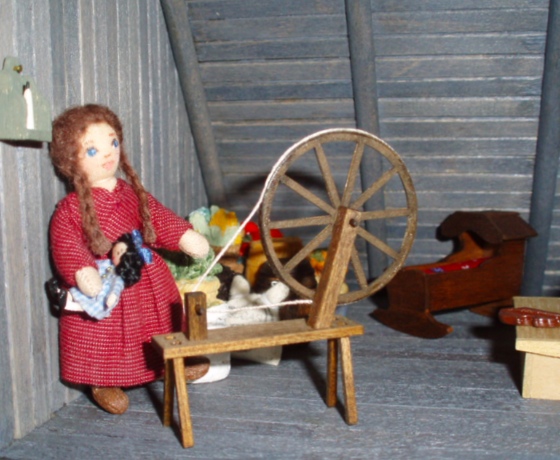 Meanwhile Mary checks out her pretty blue eyes and golden hair in the mirror. (Enjoy it while you can, kid – only a few years until scarlet fever…)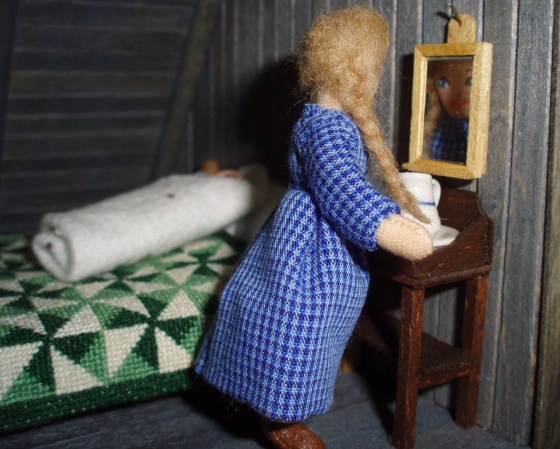 Carrie's swaddled on the "big bed". I made a cradle for her from a Cassidy Creations kit but I don't think the doll will fit in it.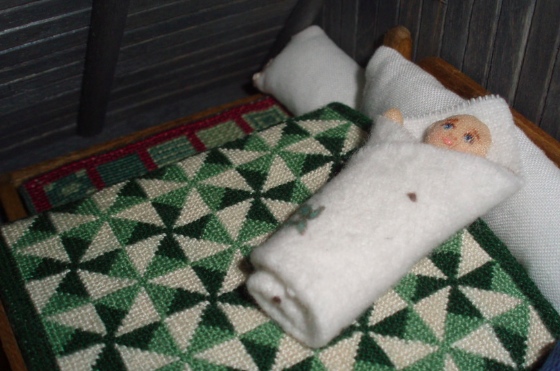 I'm still planning to landscape this house. For now I just set out some pine trees and resin stumps I bought off eBay (they need to be painted). Oh, and there's a bear stalking the pig outside… run little piggie, run!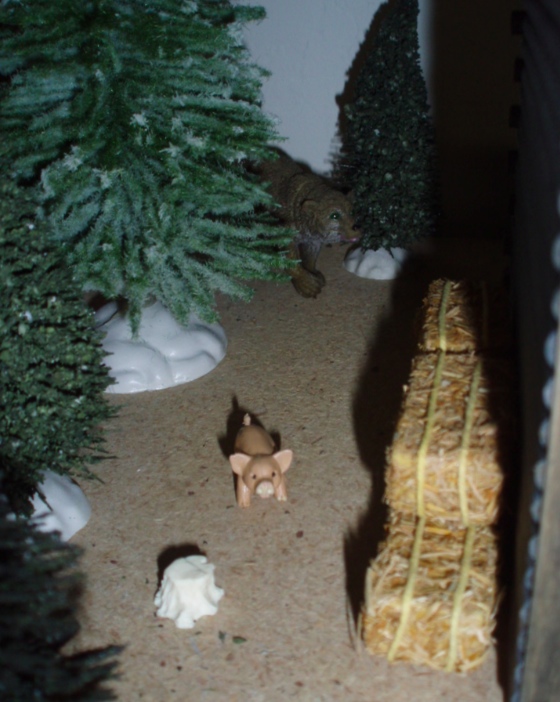 Hee hee. Yes, I am a grown-up.
Update: As of March 2016, the Little House in the Big Woods dollhouse is finished! Check out the gallery.