When I left off on the Rosedale bathroom it was in need of some hardware and mirrors. This is a set of two taps and a sink pipe made by Dijon Miniatures. (This set is currently available for a great price on eBay.) I planned to use the taps for my two sinks, and the sink pipe turned upside down for a showerhead.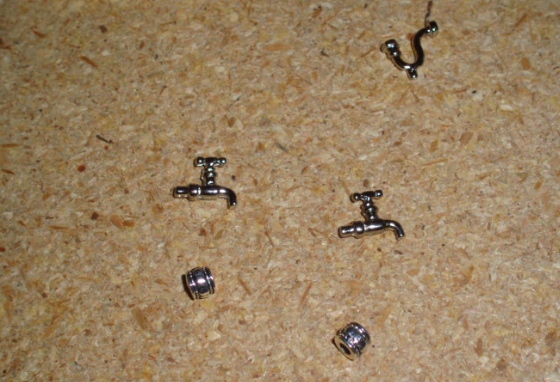 Because the taps are meant to stick into holes and there was no way I could drill a hole in my bathroom wall at this point, I bought some silver barrel beads and glued the taps into them, thinking this would create a more stable surface that I could then glue to the wall.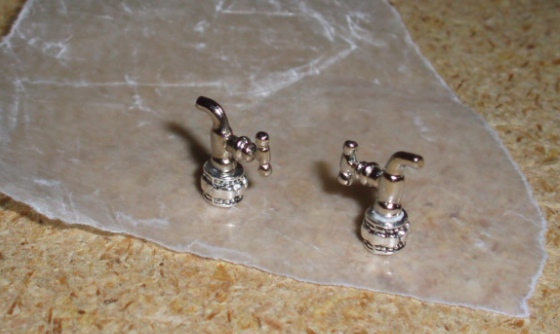 It was a sound idea, but I couldn't manage to glue them to the wall. The room is only 3″ wide and there just wasn't enough space for me to get my fingers in and hold the fixture in place while it dried. Even Super Glue didn't work. (But it did stick my fingers together!) Instead, I cut a piece of wood to serve as a backsplash for the vanity, and glued the fixtures to this. Much better.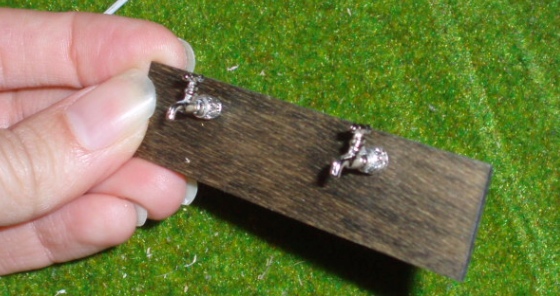 To update the bathtub, which came with those dumb gold double faucets that all dollhouse bathtubs and no real bathtubs have, I bought a Bridgemill faucet set, which is intended for a 1:12 scale sink. I tried to pull out the gold faucets with my fingers but they snapped off, leaving behind little nubs.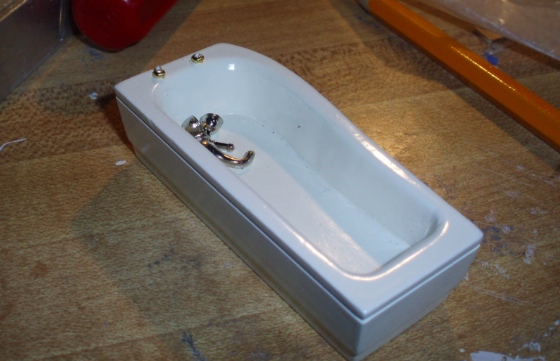 I was able to pull out the nubs with needlenose pliers (which I should have used to remove the faucets in the first place). I then filled the holes with wood filler and painted them with the closest paint I had to the original bathtub color. The dots are still faintly visible but very hard to see once the tub's in place.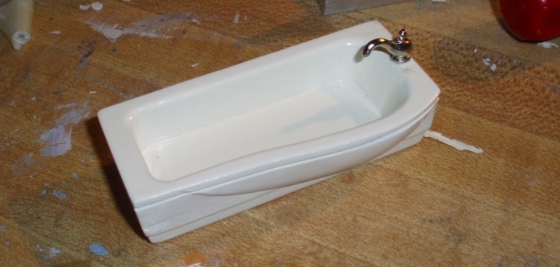 My plan to use the sink pipe as a showerhead didn't work… I actually did manage to glue it in there eventually but it wasn't stable and I didn't like how it looked, so I removed it (luckily without damaging the paper). While pawing through my junk to find an alternative I stumbled across these 1:12 Chrysnbon (I think) glasses. By bending the stem, it becomes a reasonable showerhead.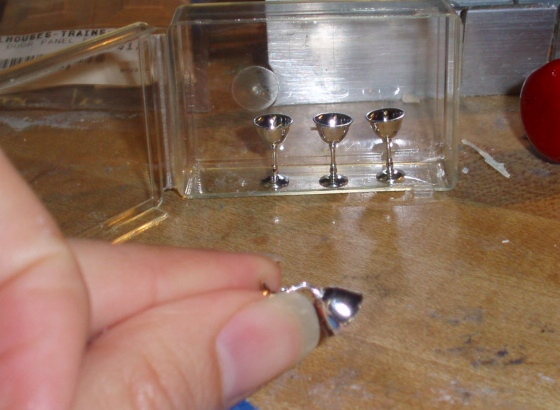 The flat base made this much easier to glue in. (You can see a dark spot on the paper below the showerhead, that's Super Glue mess from my failed attempt with the pipe.) I used the Bridgemill handles as shower handles.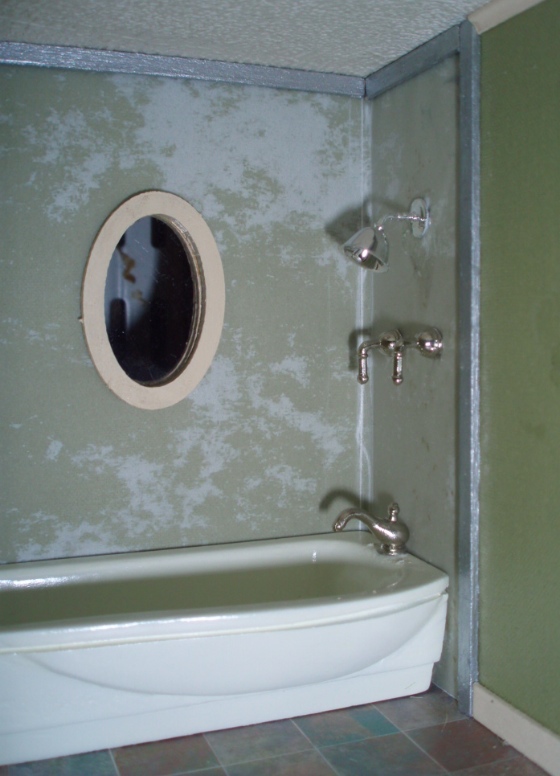 Sink and shower done. Notice the white splotch over the left sink – that's glue smear from a failed attempt at gluing the faucet directly to the wall.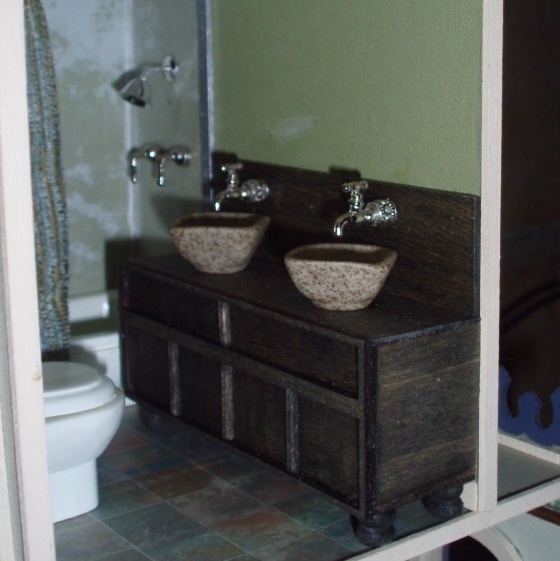 Next came the mirrors. The frames started out as white resin frames intended for scrapbook embellishment (Brand is "Petite Frames" from Melissa Frances). I painted them black and then dabbed off a lot of the paint with a paper towel. Next I painted with a chrome paint left over from a model car I made a long time ago (the paint is old and kind of watery, so almost like a wash).
For the mirror part, I had some 1mm "mirror material" that I got last year at an estate sale. (I had to turn the entire room upside down to find it… of course it was in a very logical place, the bin I *should* have looked in first…) I wasn't sure how to go about cutting this — when I tried scissors it left big gauges on the edges of the material, but when I tried scoring with a craft knife and bending, the material kept snapping and breaking in the wrong place. Finally I decided to cut more than I needed using scissors, and then sand it down to size with the disc sander.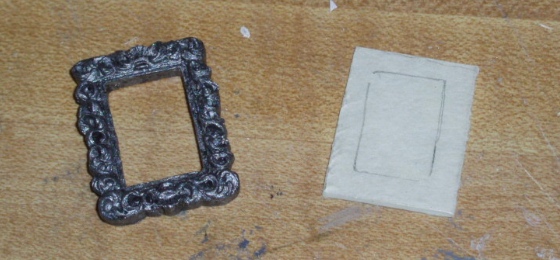 The first attempt went flawlessly, but I will admit in retrospect that sanding this stuff (which is plexiglass with reflective material attached, not glass) was probably not the best idea from a health standpoint. Or, at least, I should have worn a mask to keep from breathing it in.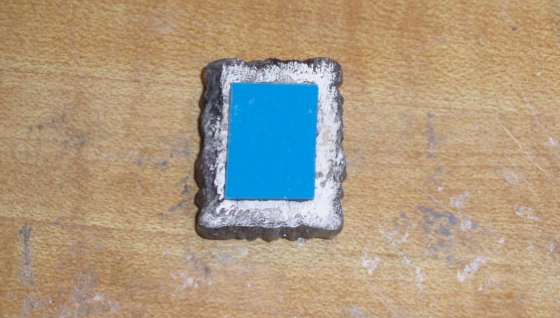 I failed to take a picture of the back, but I secured this with a piece of masking tape that overlapped the mirror material and stuck to the edges of the frame. The first one turned out great!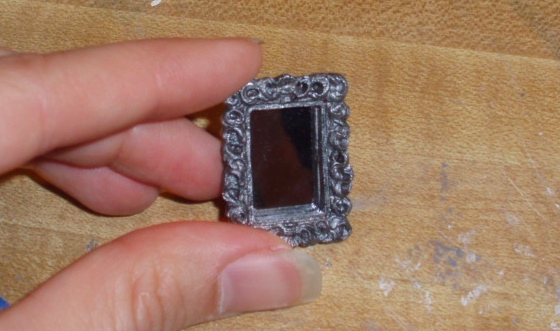 Then things got difficult. I had to try three or four times before I got the second mirror right. Here's what happened when I sanded with the blue (reflective) side facing up, versus the previous one, where I sanded it with the white (protective paper) side up. I don't know if that's the reason this happened, but the reflective stuff started flaking off, which leaves a spotty mirror.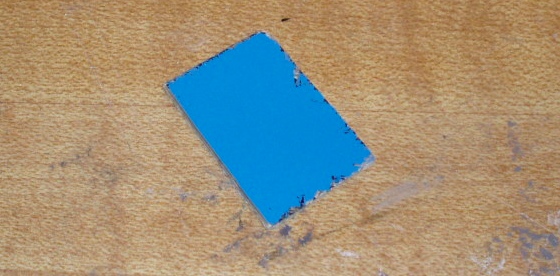 The next try had big gauges and a cracked corner on one side.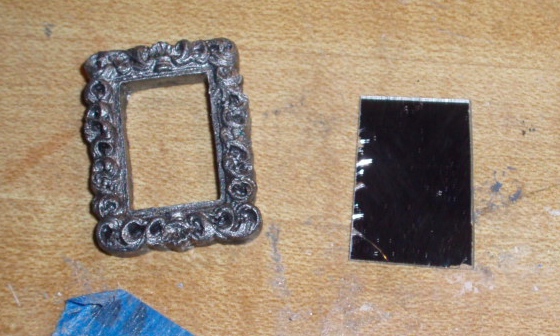 Next, while repositioning the mirror on the back of the frame, I inadvertently pulled up the masking tape and it took reflective material with it. Argh!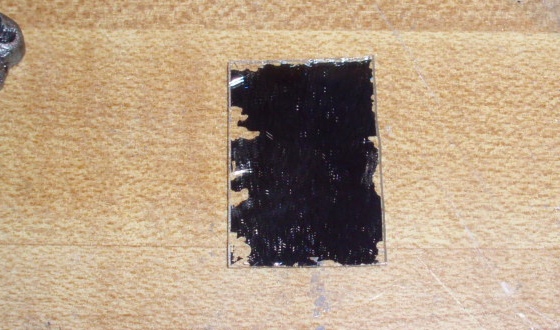 Finally got a decent result. I'm happy with them, but not sure I'd jump at the chance to do this again.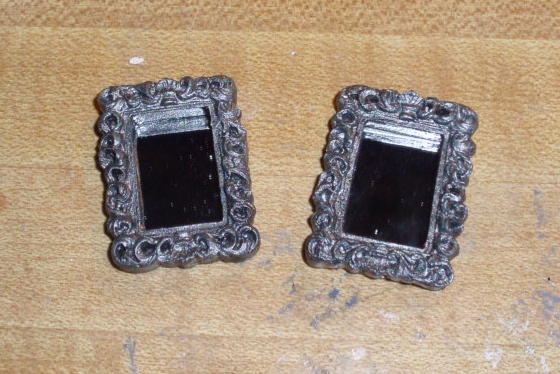 Although I glued the backsplash with the faucets to the wall, I opted to attach the mirrors temporarily with putty, just in case my masking tape stops sticking at some point. I wouldn't want to end up with tape/mirror glued to the wall and the frame falling off.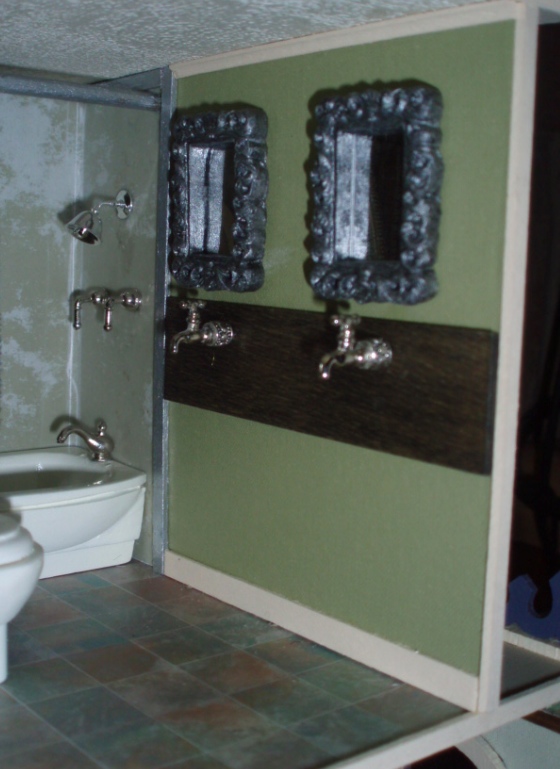 Some jump rings were lying out on my table and I had a sudden idea to make drains for the sinks (which started out as 1:12 bowls). I painted a dot of black paint in each one.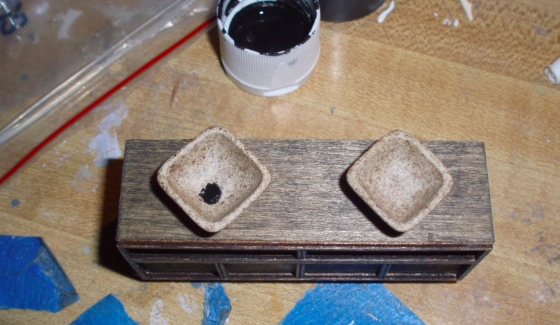 Then glued in the jump rings. Simple!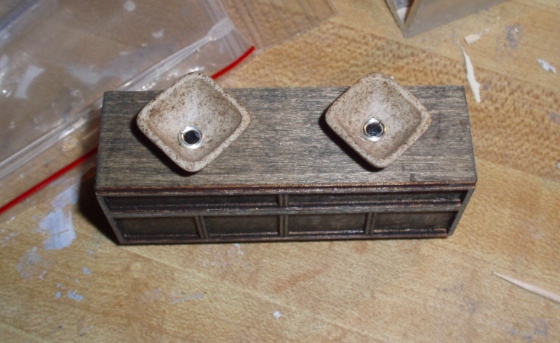 This is one of those touches that you barely see and I easily could have gotten away without, but I like knowing those drains are there.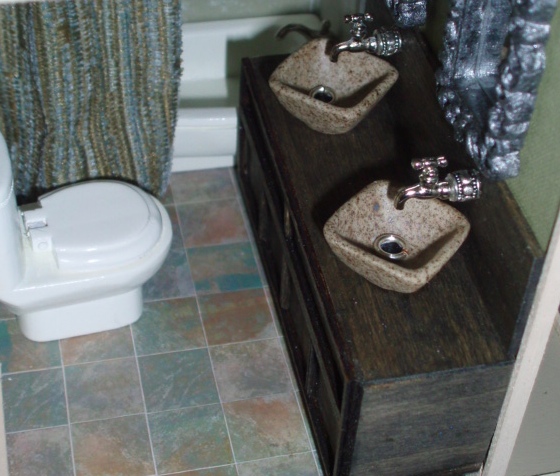 Here's everything in place. It wasn't until I saw this photo that I realized the showerhead is way too low. I just kind of eyeballed it without measuring or thinking about how high it should be. I don't want to mess up the paper any more trying to move it, so I guess a short person lives here.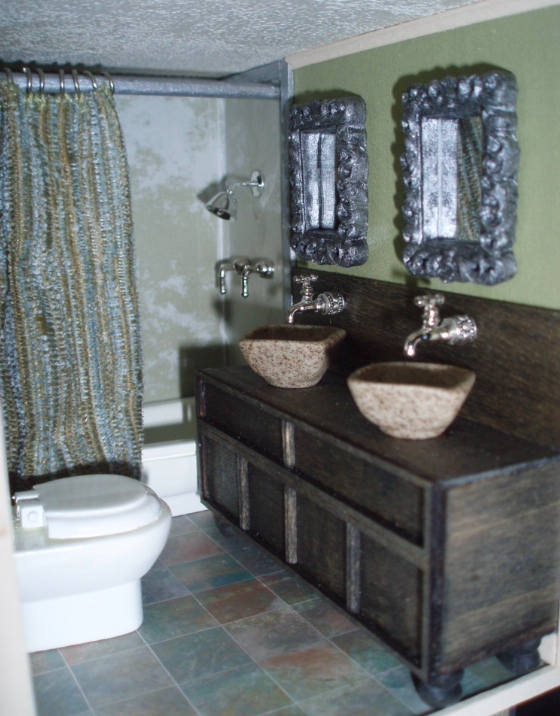 The bathroom door in place.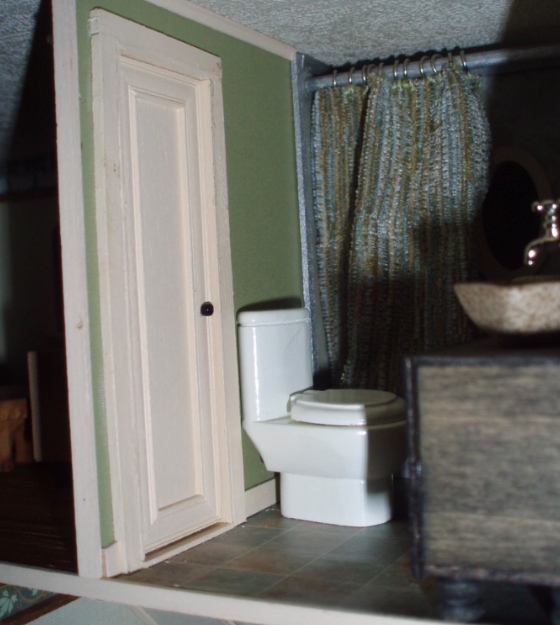 And one more gratuitous drain shot. It wasn't until I saw *this* photo that I realized the toilet gives practically no space to stand at that left-hand sink. I really like the double vanity, though, so I kind of don't care.