Since moving back to San Francisco in October, it's been hard to get back to work on mini projects. All my dollhouse stuff is in plastic bins in the garage, some stacked up so they're hard to reach, and I can never find what I need. The dollhouses are all over the place and none are set up because I don't want furniture and tiny pieces to get lost. I miss my old workshop, where I knew exactly where everything was. Blah blah blah.
A couple of weeks ago my complaining must have hit a high note because Geoff agreed to get started on the workshop he promised I could have in the garage when we decided to buy a house that didn't have a "dollhouse room." It's not done yet, but we now have a room!
Our house is a Marina style, built in 1925. The garage is basically an entire first floor that the floor we live on sits on top of, and in a lot of houses like ours this has been converted into living space. We didn't necessarily want to do that, but there's plenty of room to close off an area for the workshop and still have space for tools and storage and a car.
Here's how the garage started out.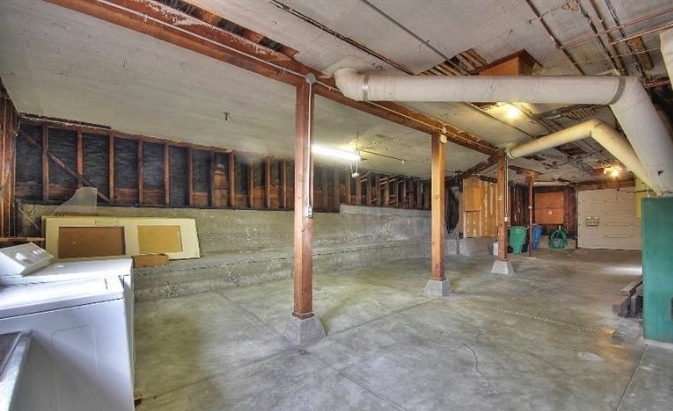 Geoff used the posts as reference points to figure out where to section off the new room. The house is on a hill so there's a big concrete ledge along one side of the garage that we needed to accommodate.
We'd originally moved most of my houses and supplies on top of the ledge, but it was all crammed in and hard for me to find what I needed. I was also concerned about really working on the houses this way — any time he does something messy in the garage they get dusty, and it would be so easy to drop and lose a little piece and never find it again.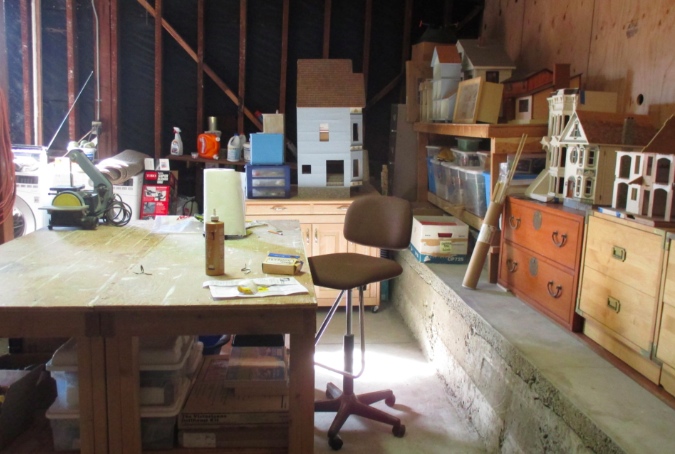 I was able to work on the gingerbread dollhouses and my contribution to the Half Scale Yahoo Group's 2016 swap with this set-up, but whenever I left stuff out on the table (which is always) it risked getting knocked into or mixed up with something Geoff was working on or *gasp* thrown away. I need something more enclosed.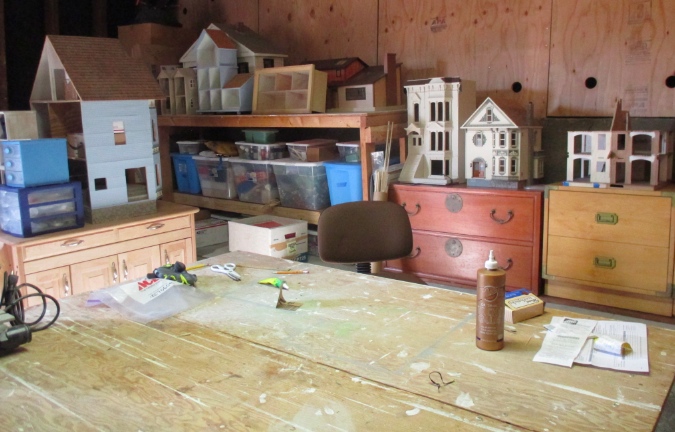 He started by building a shelf over the concrete ledge. We figured out what height I wanted this to be (about 40″) so I could display houses on it and easily see and reach them, but also have enough space underneath for storage.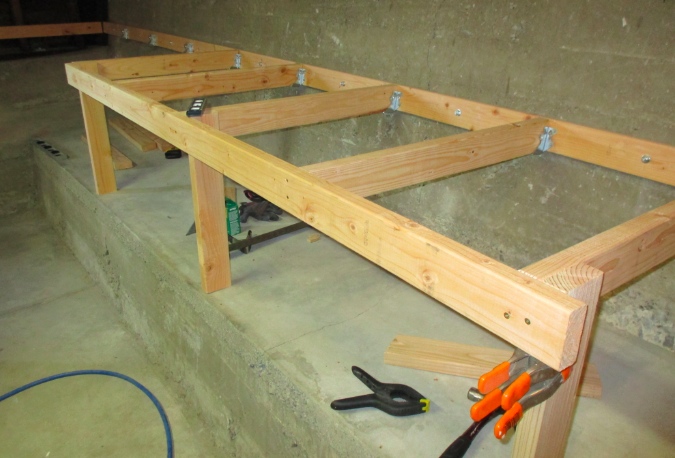 The shelf is 16′ long and about 3′ deep — which is really deeper than is practical because I can't reach the back without climbing on something, but the ledge dictated the dimensions.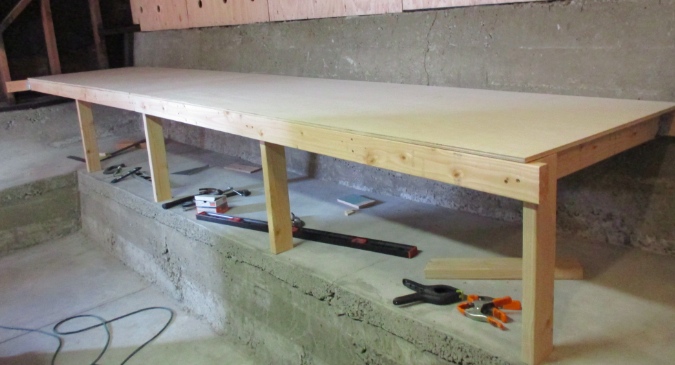 You can see in this pic that there's less room under the shelf on the near end than on the far end. That's to keep the tabletop level, because the ledge (and the floor) slope toward the back of the house.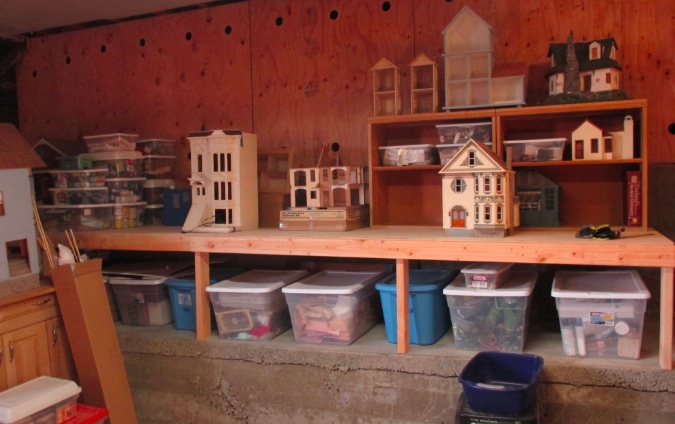 Next came the walls. These don't reach all the way to the floor – it's because of the length of wood Geoff bought (the verticals are 8′), but this also made it easier to deal with the floors sloping.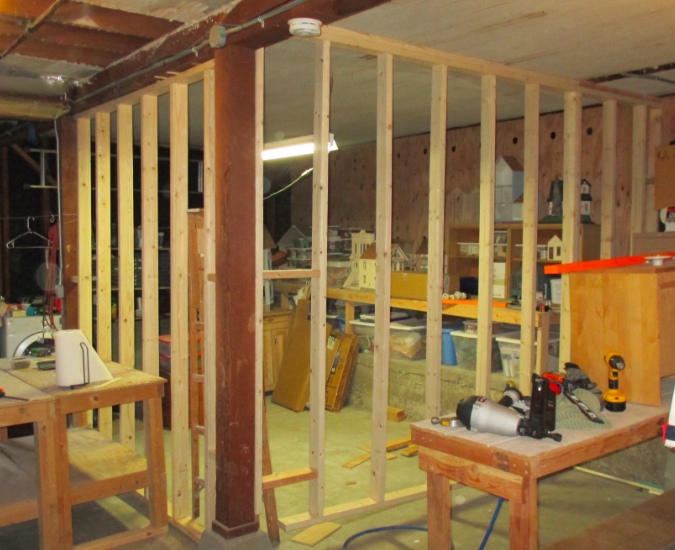 The drywall does go down to the floor, so you can't tell that the studs are floating. My plan is to put a workbench/desk along the wall on the right, and then shelving on the back wall to hold paint and other supplies.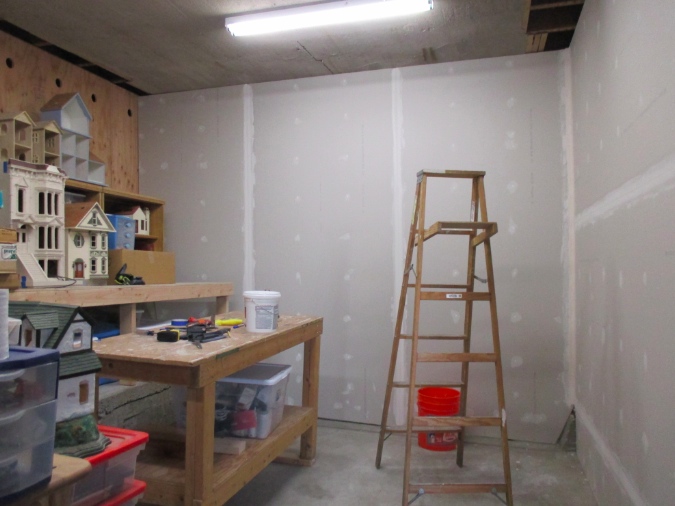 We're not putting in a door and instead left an opening near the washer and dryer. So the room's not completely closed off, but I think I'll be okay with this because it gives me easy access to the sink.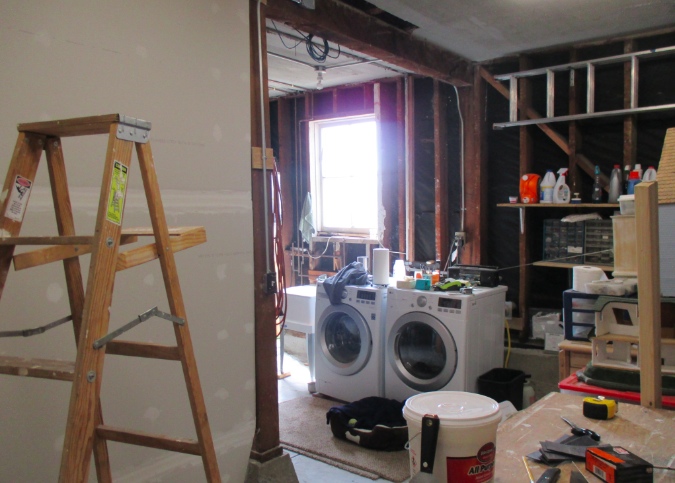 And he added three bright fluorescent lights so I can see what I'm doing!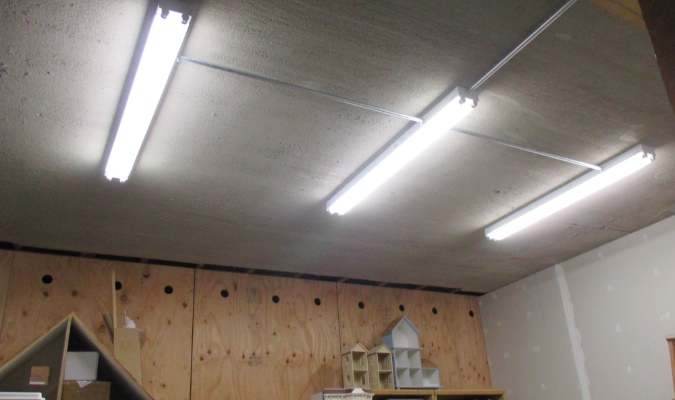 There's still work to be done, but it's good progress for two weeks. When it's done I'll get back to work on the Victorianna. Can't wait.