With the walls up, it was time to figure out how to furnish and organize the new dollhouse workshop in a way that 1) wouldn't require spending a ton of money on new furniture, and 2) won't drive me crazy when I'm trying to work in it. My old workshop wasn't huge and I acquired a ton of stuff for it over the 5+ years I lived there, so while it wasn't very well organized, at least I knew where everything was. In the new workshop I have the benefit of organizing everything from scratch, but I don't have as much cabinet space as I once did, so I wanted to be smart about where I put things.
I spent a few hours on the IKEA website and decided on the furniture I wanted. This stuff is good for a craft room because it's modular and relatively inexpensive. My plan was to use an Alex drawer unit, a Linnmon table top, and two legs to make a desk like this.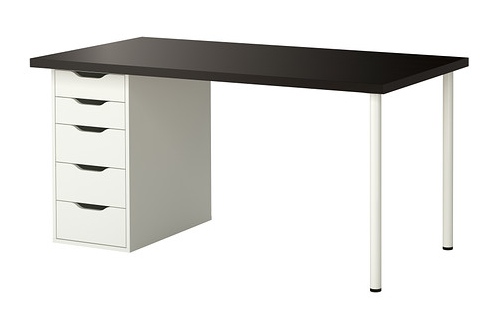 I also wanted to get a wider drawer unit to roll under the desk and some shelving units to put at the back of the big shelf Geoff built, to take better advantage of the space. If I'd bought all this stuff new the desk parts would have added up to $274, and the shelving units are $65 each. (Not including tax!)
It turns out that San Francisco is a great market for second-hand IKEA furniture. I started trolling Cragslist, and in less than two weeks had acquired the table top, both drawer units, and one shelving unit, for $160 altogether. I would have preferred white drawers, but not enough to drive to IKEA and pay full price for them.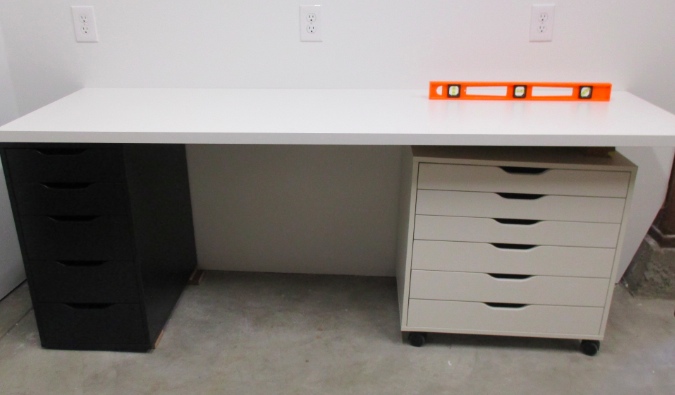 As you can see, the floor slopes downward. My rationale for putting a drawer unit at one end and legs at the other was that the legs could be taller than the drawers, creating a level table top. Instead of using the IKEA legs, Geoff made some for me out of pipe. He screwed two of these pipe-holding fixture thingies (sorry, no idea what they're called) into the corners.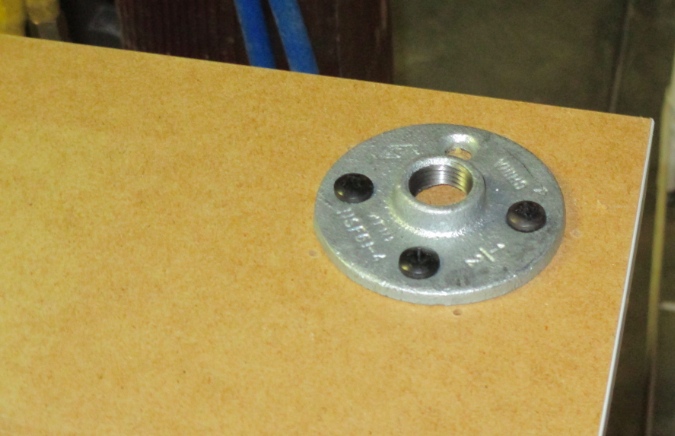 He then figured out the exact length each leg needed to be for the desk to be level, and cut them accordingly.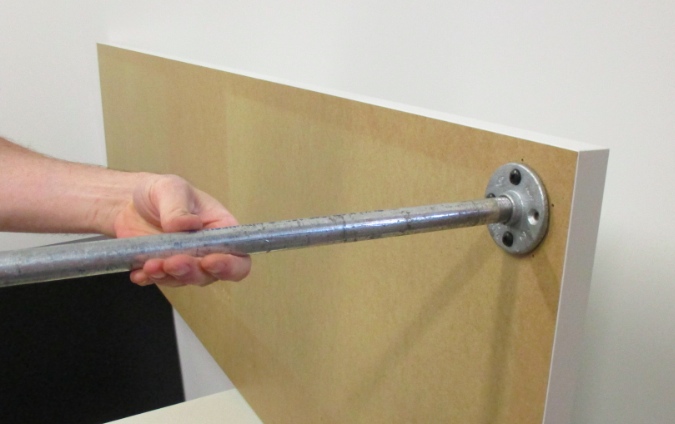 There was a risk of the drawer unit on casters rolling downhill into the legs and upsetting the desk, so we added stability by attaching the desktop to the stationary drawer unit with brackets.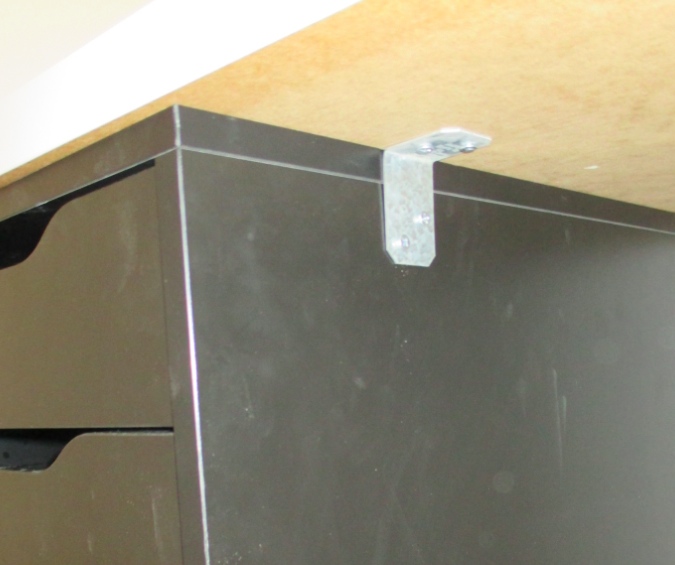 And here's the frankendesk in all its glory! I purposefully put it about 18″ from the wall to make a space where I could stand up some dollhouse kits, since there's not really anywhere else to store them. The tabletop is 78″ long.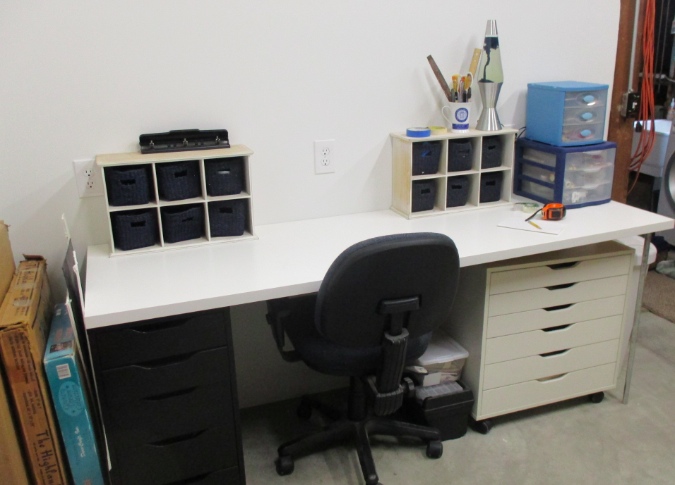 I chose the Alex drawer units because the drawers are shallow and there are a lot of them – perfect for storing supplies and small tools.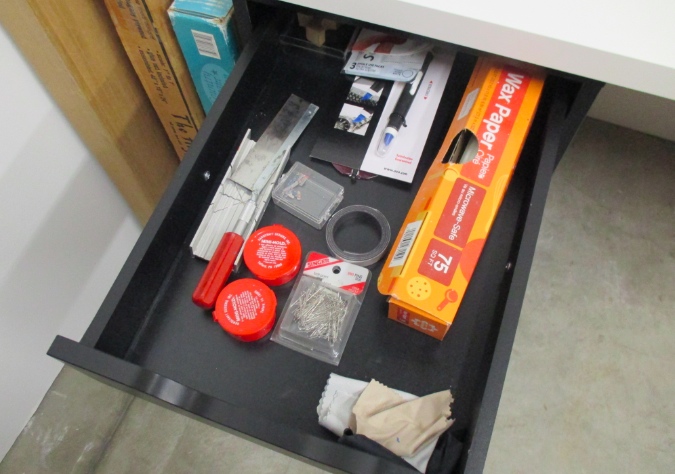 For now I've put my scrap wood in the top drawer of the wider unit, but I'm not sure if I'm going to like it here. I might want a long, narrow shelf on wall to hold the wood instead (that's what I had in my old workshop). But I'll try this first and see how it goes. The rest of the wide drawers have wallpaper and flooring in them.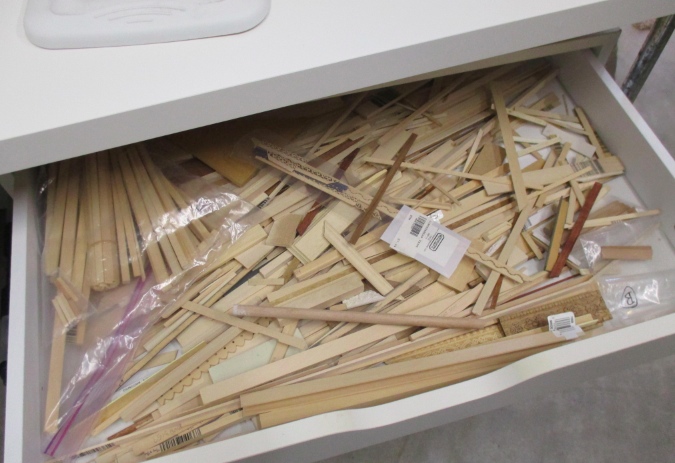 When I got the shelf unit up, it was more imposing than I'd expected. The newer ones of these (Kallax) are about 15″ deep, according to IKEA's website, but this is 18″ deep so it might be an older Expedit shelf. It works, but I decided to hold off on getting any more for now. The shelves to the right of it are ones I already had.

Next I unpacked all the paint. We had these white wire shelves and I thought they'd do the trick, but as I tried to arrange the paint bottles in a logical way I knew I would have a horrible time picking through them to find what I needed. Back to Cragislist!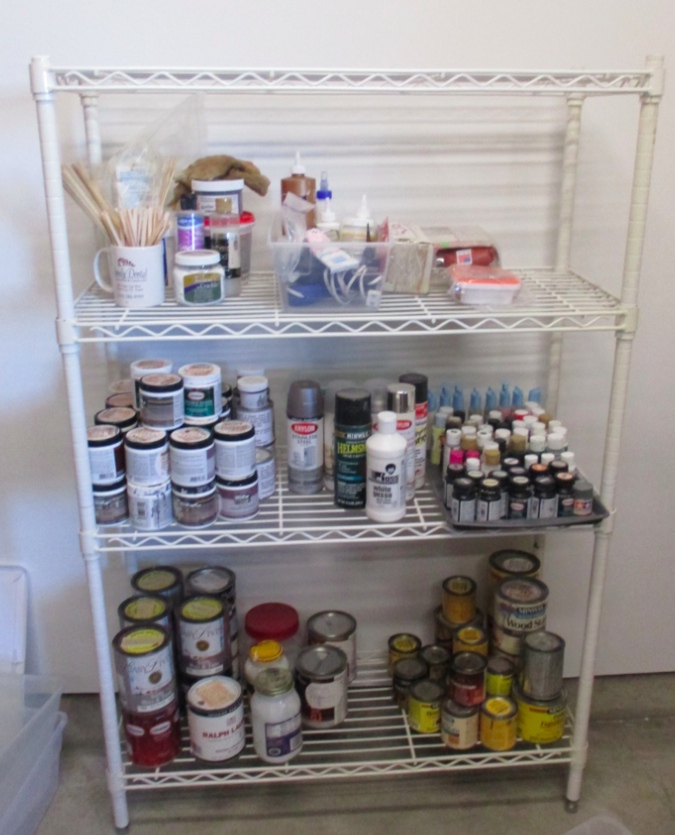 For $30 I picked up this shelf that's meant to hold CDs. It's particle board — flimsier and more cheaply made than the IKEA stuff — so I maybe should have negotiated down the price. But it's also exactly what I needed. (Seeing all this paint laid out, I don't know where I stored it all in the old workshop!) The shelves are adjustable and I had enough space to squeeze in one more at the bottom, which Geoff cut from a scrap piece of plywood.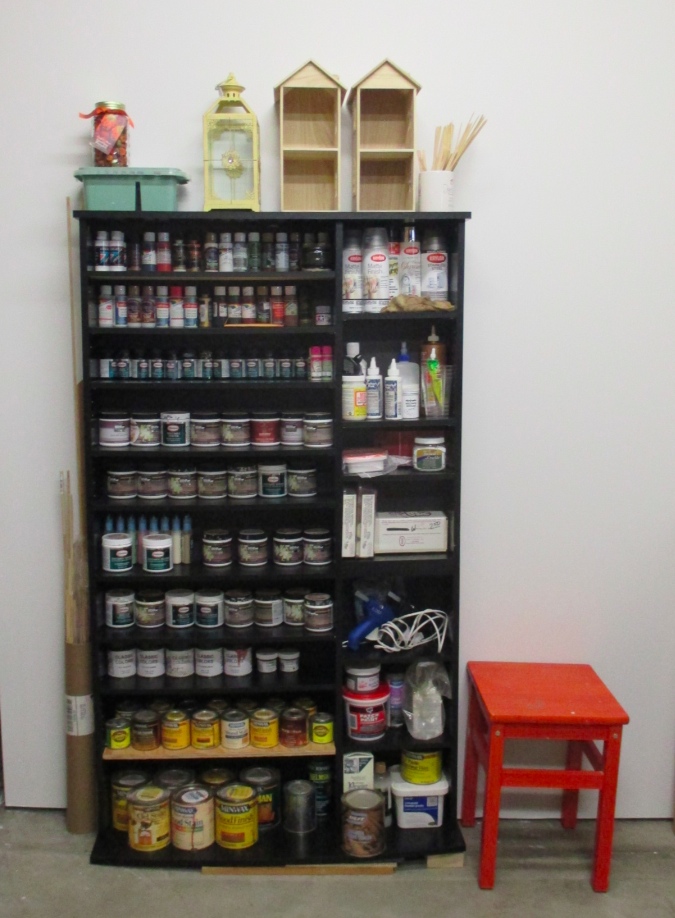 Most of my furniture and some supplies are in small and medium sized plastic bins that fit on the shelves. I did my best to arrange them so that things I won't need very often are on the bottom (blocked by houses), and things I'll need more often are on the top (easier to reach over the houses). We'll see — maybe this is going to drive me crazy!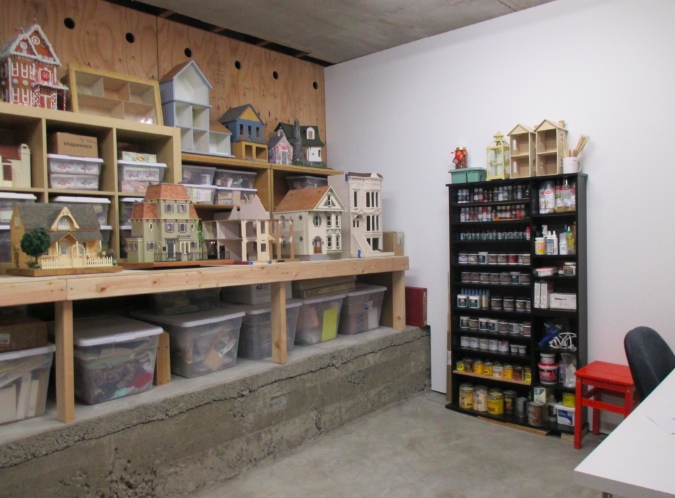 The bigger bins at the bottom are organized so I'll hopefully know where to find what I need when I need it.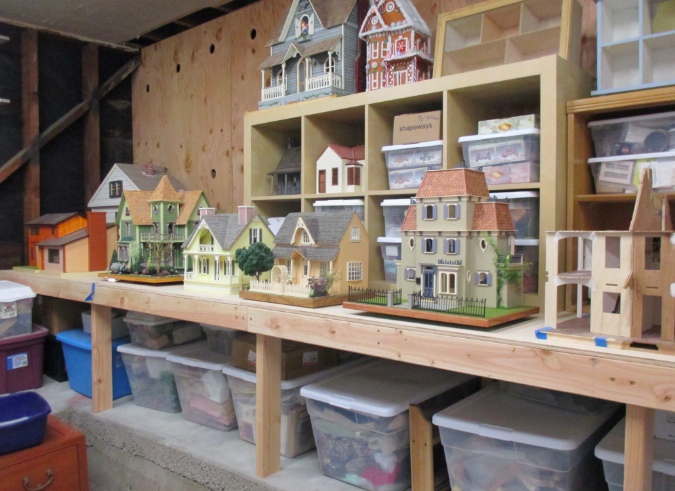 Here's the back of the room. (The pieces of furniture in front of the ledge aren't going to live there – they're empty now and will go away.) The concrete ledge goes down at a slant at the back so I can't store things on it, but Geoff's going to clear off those shelves to hold the rest of my big paint cans. And he stacked the washer and dryer to give me a bit of extra space. The Hillside Victorian fits perfectly next to them, on top of the island that used to be in our kitchen. I was able to fit most of my unbuilt half scale house kits in that cabinet.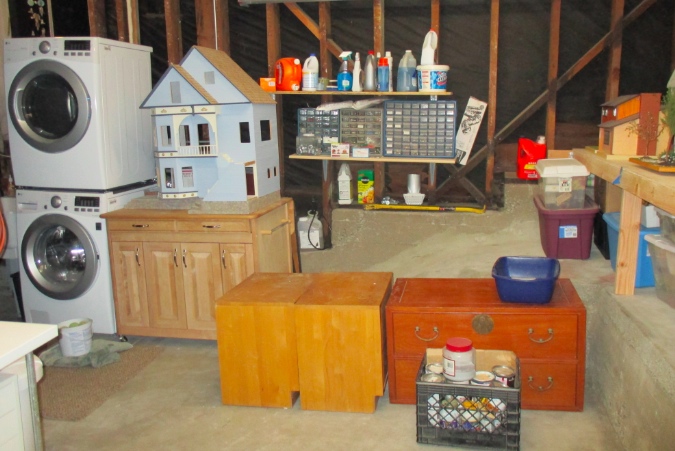 With everything finally unpacked, I'm so excited to get back to work on my interrupted projects. (It's been almost six months!) The thing that scares me about this workshop is that although I've found a place for everything, it all *just* fits. Does this mean I can never acquire another kit or build another dollhouse after this?!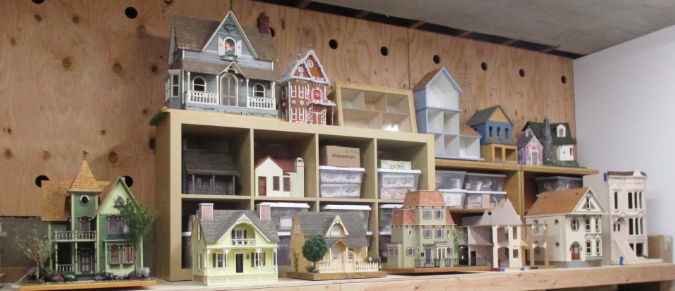 ---
Update, April 29: A couple of weeks after I got the new workshop all set up, a neighbor was giving away IKEA Kallax shelves for free. I hadn't been sure if I wanted more, but you can't argue with free! So, I got the two black ones and did a bit of rearranging.
On the cube, I was able to remove two of the dividers to create wider cubbies. I would have liked to do that to a few of the cubbies on the larger units, too, but the only shelves that are removable are the horizontal ones.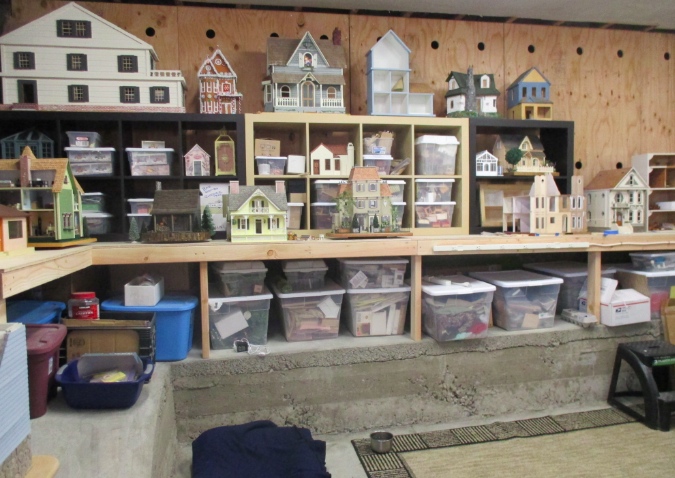 I also added a rug, which I'd been wanting to do but didn't want to pay for. We got a few new rugs for upstairs so one that had been upstairs was demoted to the workshop. It was always kind of a crappy rug, and this way I can sit on the floor without having to sit on concrete — win win! (Note the dog bed in the corner. Rosy likes to play dollhouse with me sometimes.)
Also, Geoff extended the shelf that goes around the ledge. The Fairfield wouldn't fit in front of the shelving units (not enough space for it to rotate), so this gives it a nice space to live. And he added a power strip to the front of the shelf.