The master bath and nursery are on hold while I wait for some supplies, so I've been working on furniture for the master bedroom. This bed is 3D printed from Shapeways. I'm not sure how you're supposed to put in a mattress with that open bottom. I've made beds before, both scratch built and from kits, and the bottom typically has slats to hold the mattress. I cut some 1/8″ x 1/8″ basswood to serve this purpose.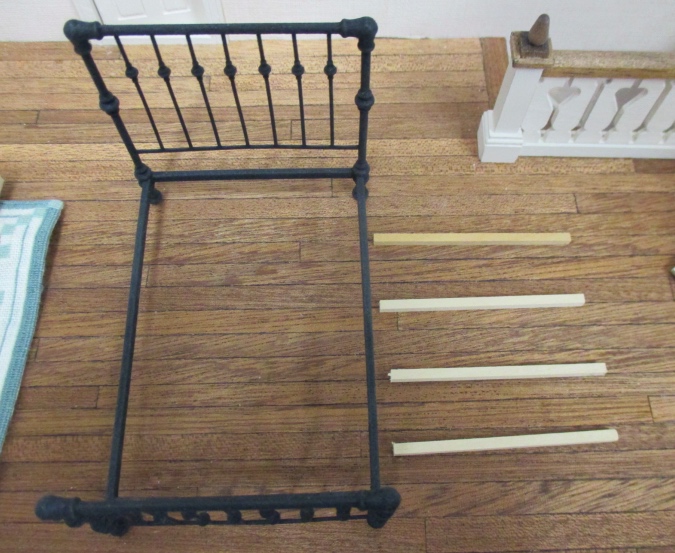 I painted them black before gluing them in. Tacky Glue wasn't cutting it so I used Quick Grip, which bonds quickly but is also super messy. Luckily these joints will be covered up. I only ended up using three of the four pieces I prepared, and they're not evenly spaced, but you'll never see them so who cares? (Not me!)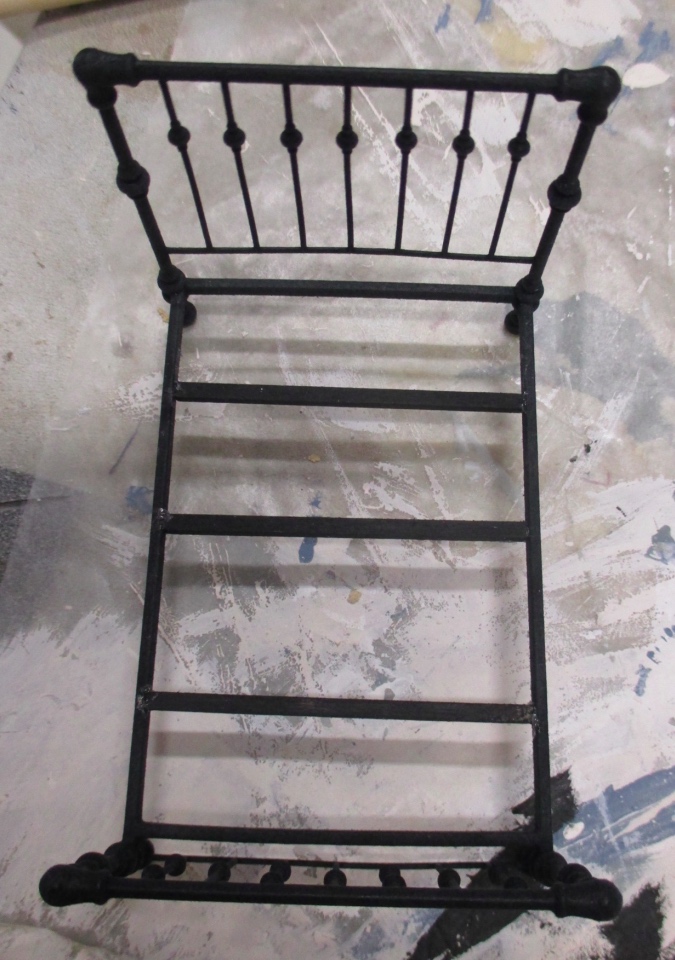 I made a simple mattress by gluing a thin piece of foam to basswood, and then covered it with white cloth. I'd hoped to use a "Sally's Ring" quilt I stitched a few years ago, but it's literally one row of stitches too large to fit on the bed. Instead, I made bedding from two Restoration Hardware fabric swatches.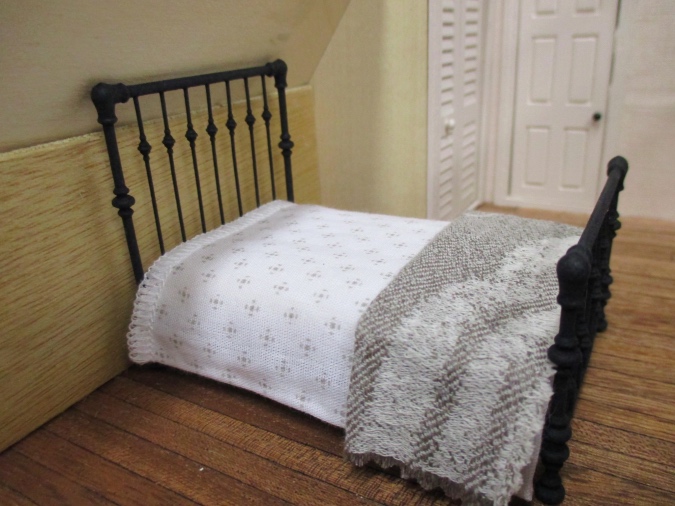 The comforter is Petite Foulard Bedding. I glued the hems on three sides, using the design to maintain straight edges. The stitching at the top was the bottom edge of the swatch — it came that way.
The blanket at the foot is made from Italian Vintage Baroque Bedding. I unraveled the edges a bit to look like fringe. I still need to sew some pillows for the bed, plus I have just enough of the Baroque fabric left over to make a few throw pillows.
This urn chair, bombe console table, and bombe lamp tables also came from Shapeways. The lamp tables are for each side of the bed and the console table and chair will go inside the tower room, which is going to be a tiny office.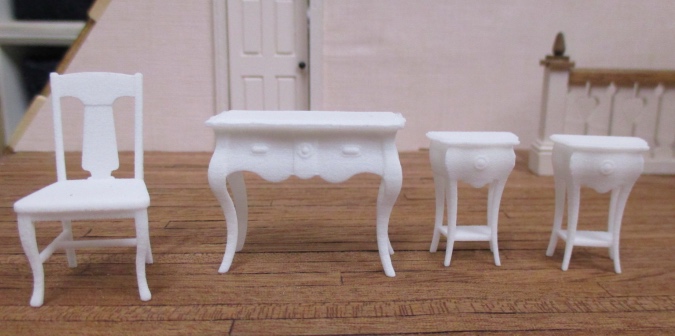 I painted them black with Tuscan Beige tops. I'm planning to do a marble effect on the tops and also paint the pulls silver or gold or copper.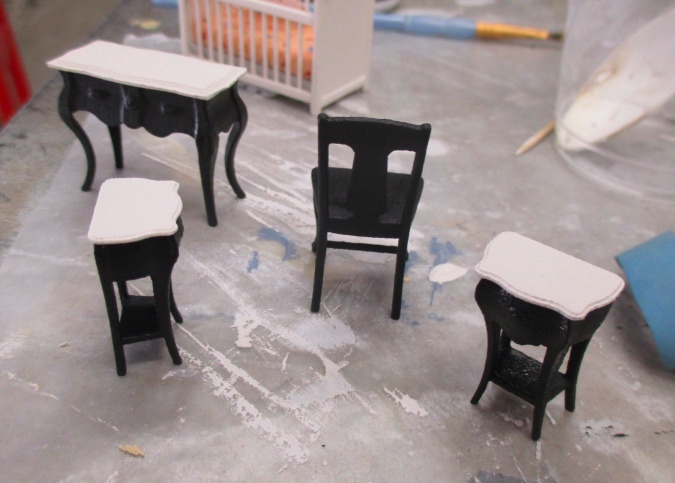 This comforter doesn't tuck in to cover up the bottom of the mattress. I want to put a piece of furniture at the foot of the bed to make the mattress less noticeable — either an upholstered bench or a blanket chest.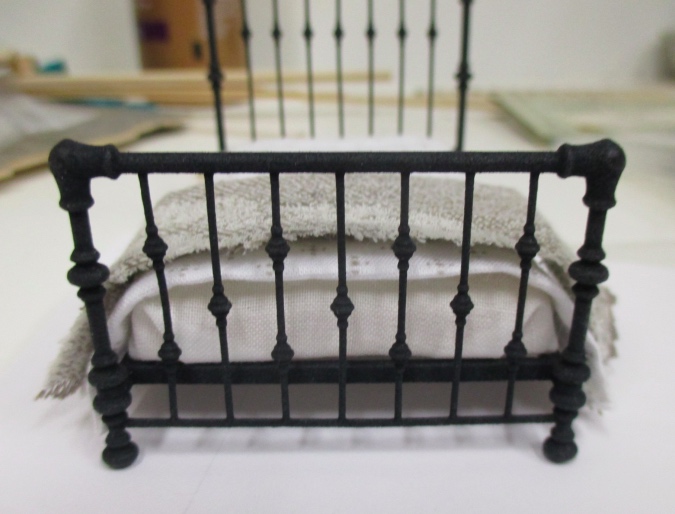 Looking at pictures online, I saw some upholstered benches with tall arms like this and those proportions stuck in my head. I made this without comparing the measurements to any real furniture. In general I like it, but the arms seem too tall.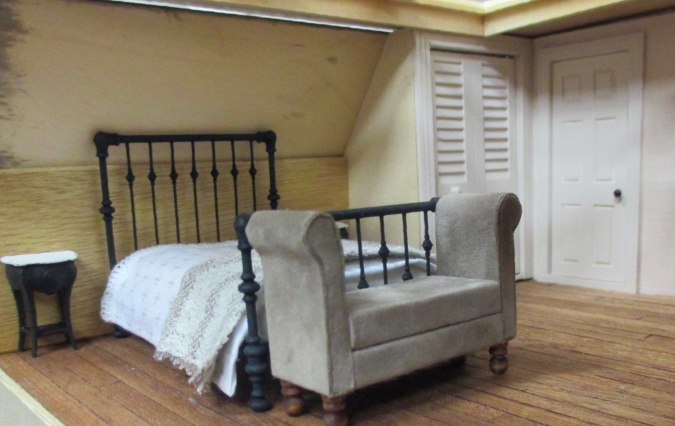 Even after adding bolster pillows, I still felt like the arms should be shorter. So I made another one!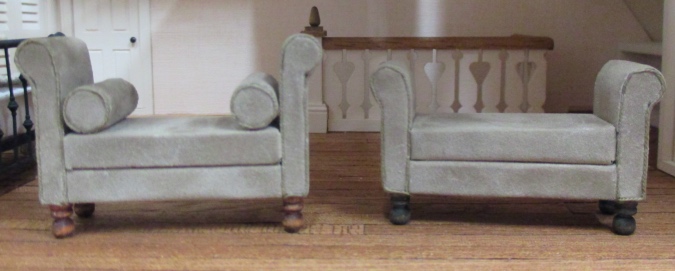 (These are similar to the sofas I made for the Victorianna's living room — this post has details. To keep this one from getting unwieldy, I'll write up a tutorial for the benches in a future post.)
The bench with the shorter arms looks cute at the foot of the bed, and mostly hides the mattress.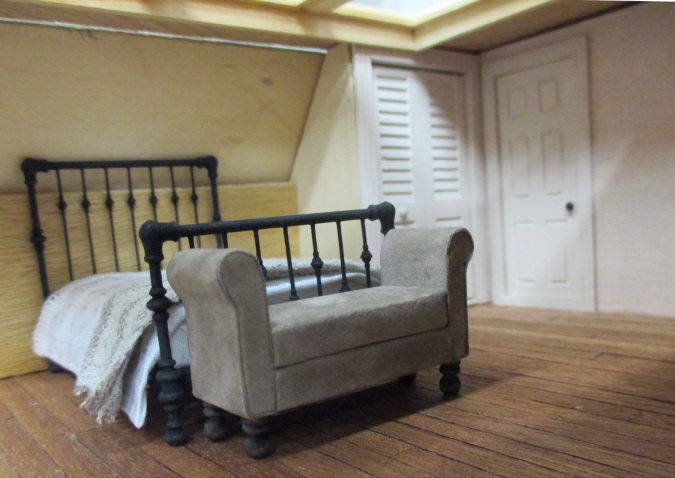 Or I could place it against the railing.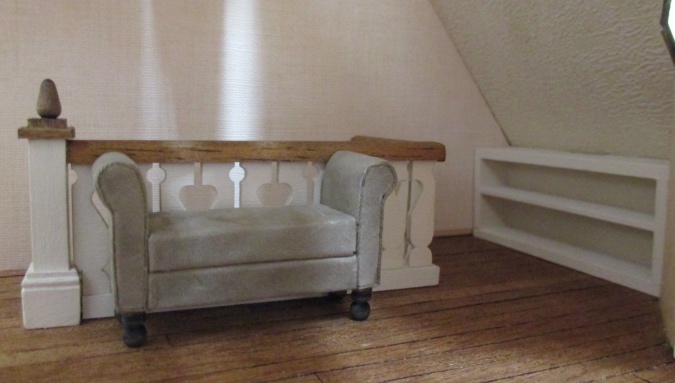 I have a hump-top trunk kit that I want to assemble for this room, and it could also go at the foot of the bed. Once that's built I'll decide which looks better in which spot.