I don't usually put dolls in my dollhouses, but I made an exception when I bought a little resin baby for the nursery.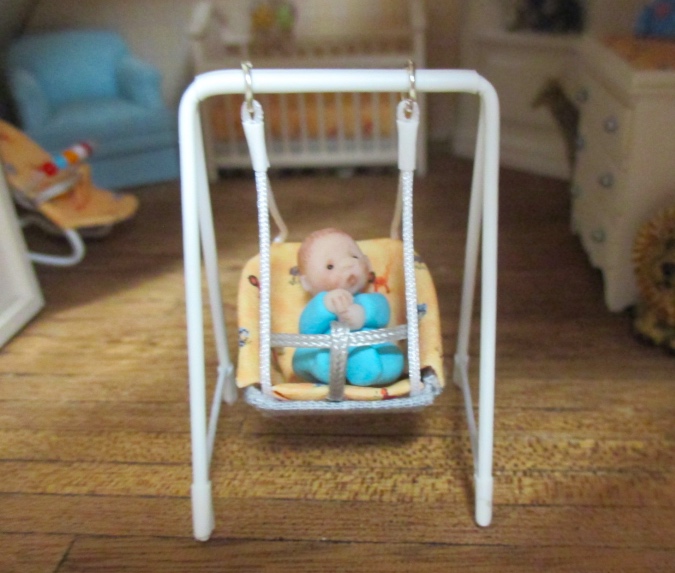 Since then I've been keeping an eye out for dolls to put in the other kids' rooms — I need a little girl (age 4-ish) and an older girl (age 12-ish). An eBay seller named karens-mini-bears makes adorable baby and kid dolls, sometimes in half scale, but they're usually 24-hour auctions with a lot of people bidding, and I haven't waded in.
Recently I saw this little girl on eBay, offered by seller by_lana, and I loved her on sight. The short, messy hair, the little smile, the dress — she just looked like the right doll for the little girl's room. I hit Buy It Now and paid… and then I looked more carefully at the description. She was only 1″ tall, which would be 24 inches in half scale. I Googled "How tall is a four year old" and Google informed me that the average four year old is 40 inches tall.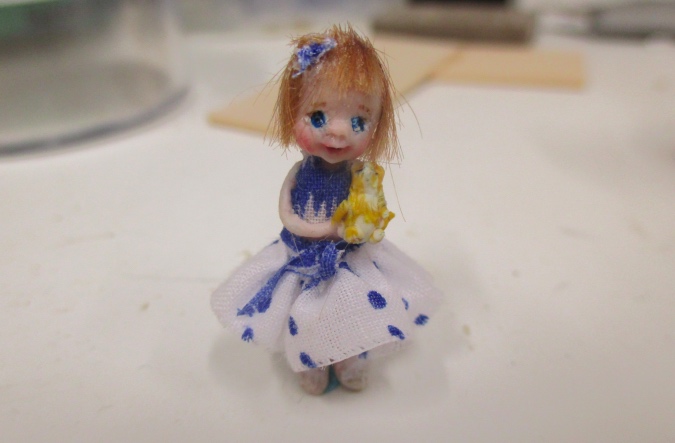 I emailed the seller but she'd already sent the package. She told me not to worry, if the doll was too small she accepted returns.
The doll arrived (very quickly from the UK!) while I was working on the Robin Betterley kits. She's small next to the dollhouse, but maybe not *too* small?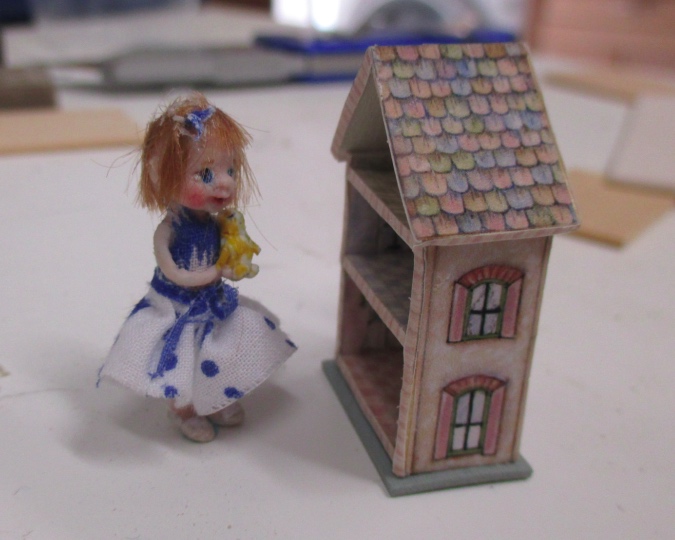 Unfortunately, yes, she's too small. Especially when the room is strewn with toys, she looks like, well, a doll. Not like a child.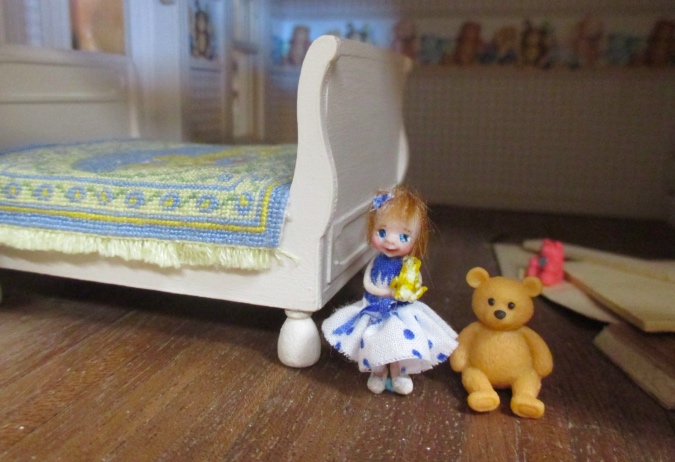 I sadly emailed the seller to tell her the doll would be too small. She refunded my money and graciously told me to keep the doll — excellent customer service, but I felt bad that I hadn't looked at the measurements more closely before I purchased.
A few weeks later by_lana listed another 1:24 doll with the same short brown hair and an equally adorable face, but this one was more like 1.75″ tall (the equivalent of a 42-inch tall child). I wanted her! But I was nervous about bidding after the last one hadn't worked out. I reached out to make sure it was okay and she was again very gracious, telling me to bid and not to worry about the first doll.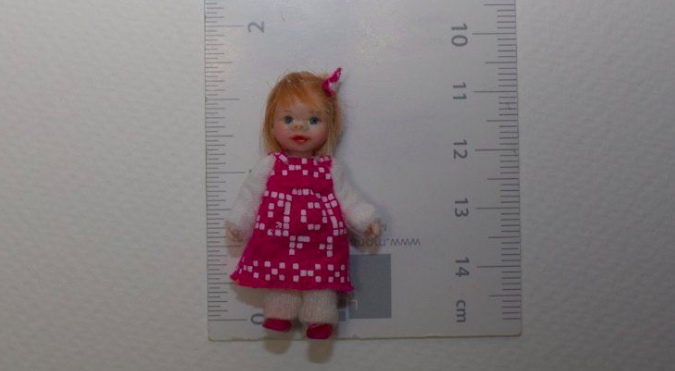 This one was an auction. I bid, but not enough. Afterward I wrote back to the seller to tell her I hadn't won, but I'd be keeping an eye out for another doll that might work.
A few days later she contacted me — she'd posted two more 1:24 dolls that were the bigger size. This time they were Buy It Now and one had the brown hair I wanted. I snapped it up. (As of this writing, the other one is still available.)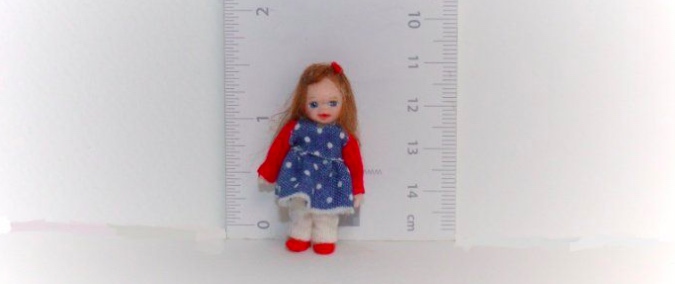 The new doll arrived yesterday, and she's the perfect size. Here she is next to the small one. Half an inch makes a big difference!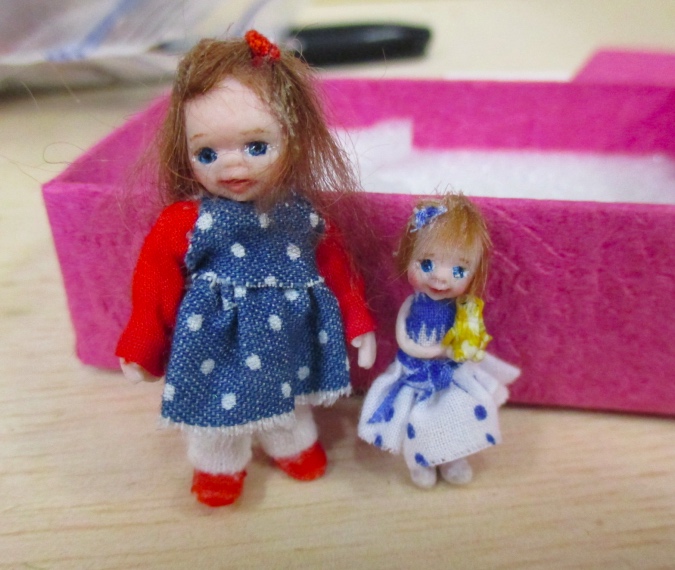 Here she is in the room. I'm not sure about her long hair… I really liked the shorter hair on the other two dolls. I might try to cut it, but I don't want to mess it up.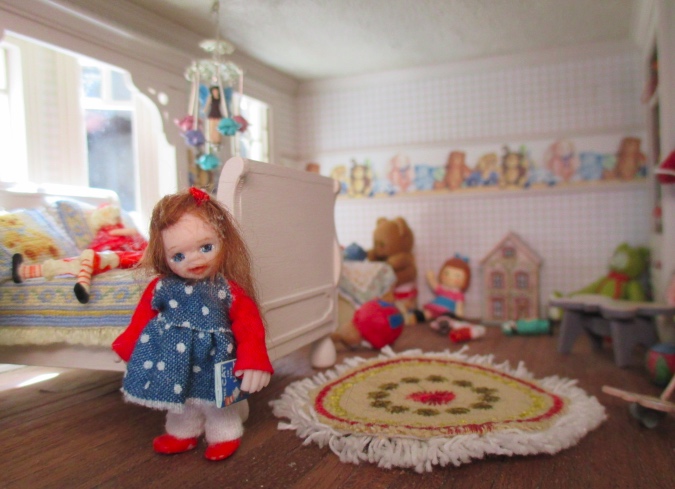 Her head turns and her arms and legs move a little bit. Some of the other dolls were pictured in a sitting position on the auctions, but this one wasn't, so I'm not sure if I can make her sit. I don't want to break her.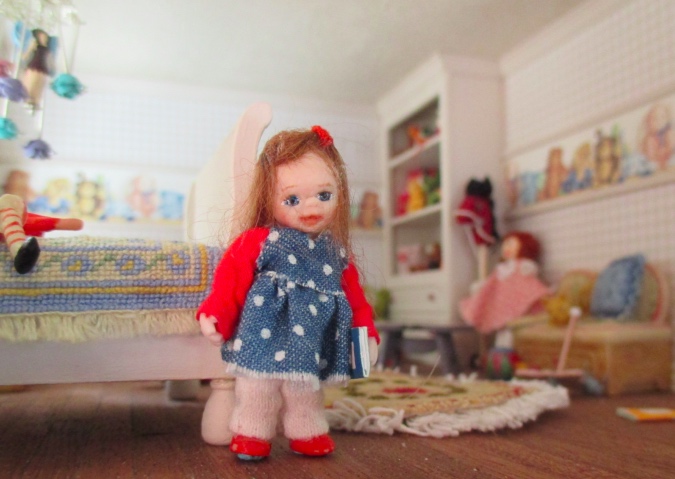 It's hard to photograph this room without the pictures coming out dark. I put the dollhouse down on the floor to take these pictures, positioned so the sun coming in through the (real) window was also shining in through the dollhouse window.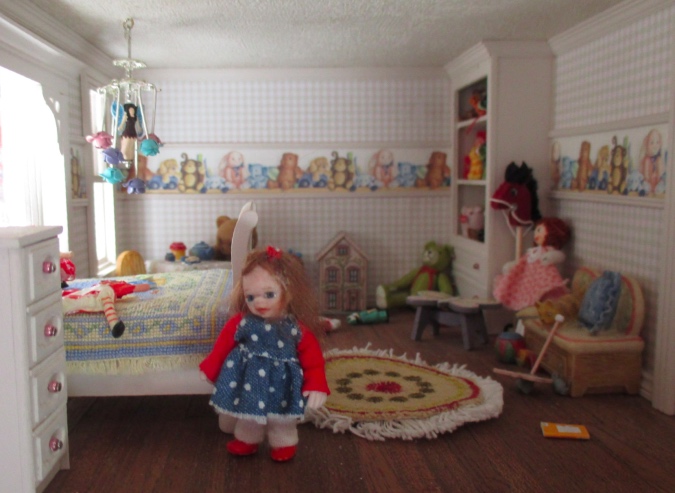 This turned out to be an excellent eBay experience, and I hope any of you who are looking for children for your mini scenes will check out by_lana's auctions. She also does 1:12 scale.
Now I need to find an older girl doll for the other bedroom. I actually saw one on eBay last week, but the bidding went too high for me.