When I was packing to move this spring, I posted pics of some recent half scale purchases. I've acquired more goodies since then and decided to do a year-end roundup. This will help later when I'm trying to remember what I have packed away!
The furniture below all came from online miniature shows, which have been a welcome distraction this year. The fireplace and wing chair are both Bespaq, and I think the cabinet is JBM. I also got the screened-in porch kit and bungalow kit I'm working on right now from one of these shows.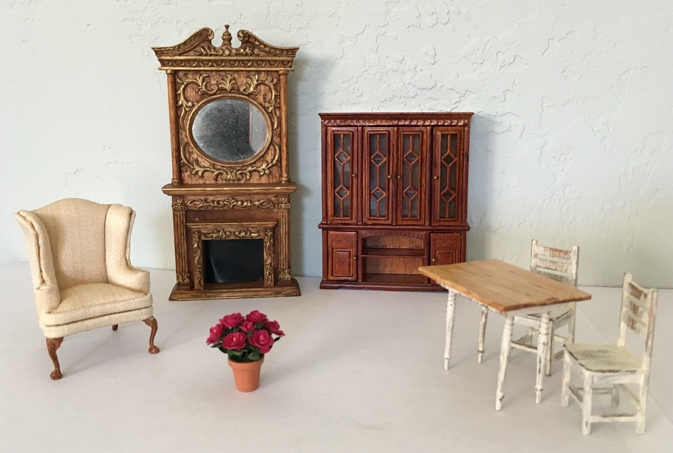 The flowers were a thank you gift sent by someone who contacted me through my blog asking me to scan the instructions from the House of Hidden Treasures kit for her.
The beautiful set below came from Cape Cod Miniatures on Etsy. They're signed '93 with the initials ST. I think I paid $40 for all four of these. The chairs are really beautiful and well made.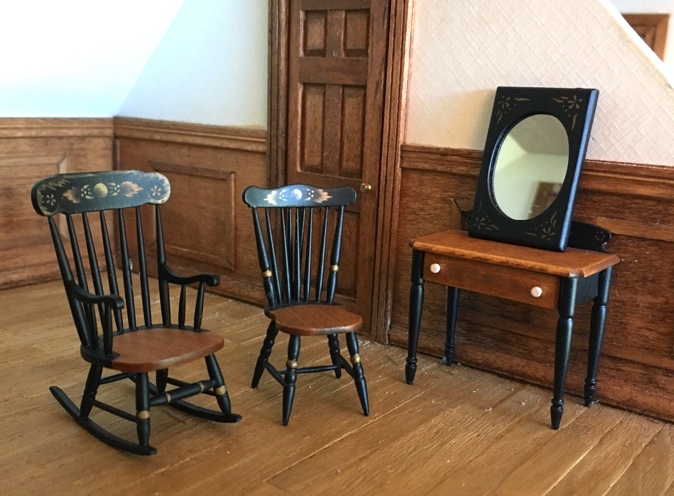 I'll probably use the rocking chair and mirror in the Queen Anne Rowhouse's attic bedroom, and maybe also the desk and chair if I can figure out how to arrange the furniture so everything fits.
This wicker furniture also came from Cape Cod Miniatures. They were made by Pam Junk (signed in 1983 and 1984). The legs on the plant stand are a little bent out of shape, but they should be easy enough to bend back. The wicker is a bit grungy looking after all these years, but that's fine for furniture that's been outside! I think these will look perfect on a porch or in a conservatory.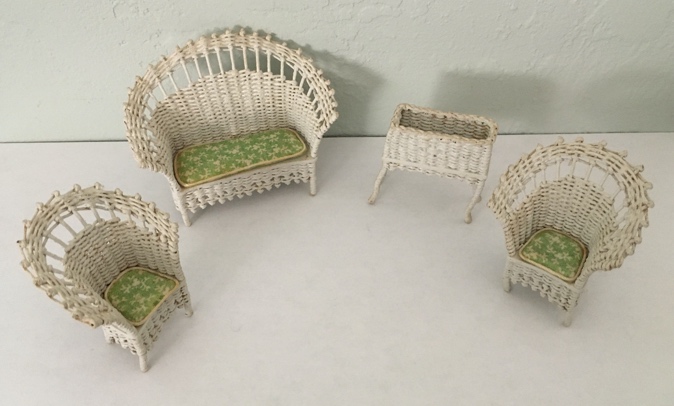 Next up is a recent eBay purchase: six resin windows that I'll use on the RGT Second Empire dollhouse. I don't know anything about these windows, but the woman who sold these to me said she used to do miniatures in the eighties and early nineties and has had them packed away since then. I'll try to match the corbels and trim on the front door.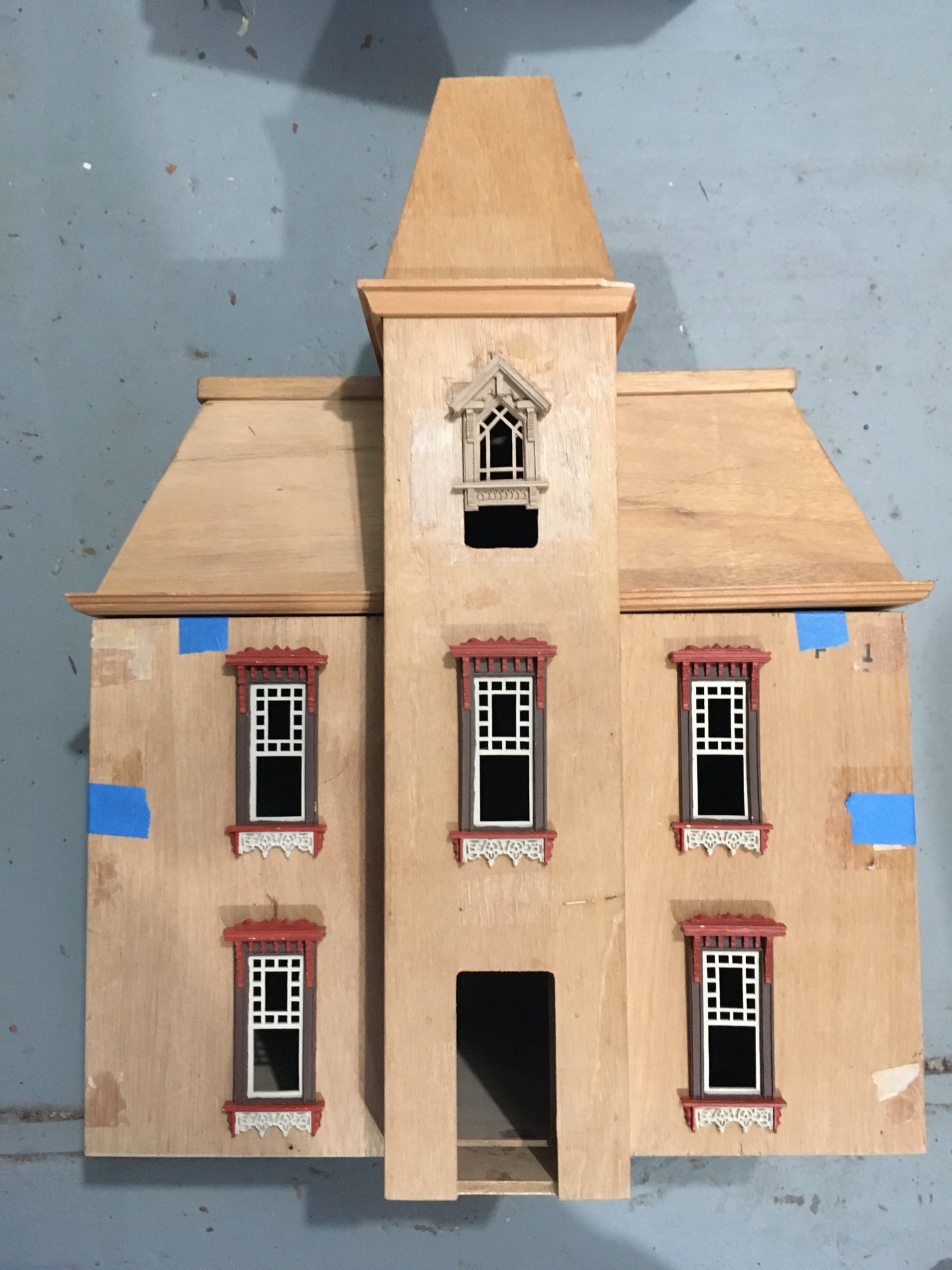 I sent the photo of the windows on the house to the seller, and a few days later there was another package in my mailbox! She'd found these other half scale items and wanted me to have them. I was floored by her generosity. This was such a nice holiday surprise.
The wardrobe looks to be either Bauder Pine or a Cassidy Creations kit. The rocking chair and hutches are Shenandoah (a company that was acquired by Houseworks at some point… the HBS catalog used to carry their furniture). The headless dress is a little creepy — I guess it's meant for a sewing room — but maybe I can add a head to it and turn it into a person?
I think both the cup and the spoon are by Acquisto, not sure about the tray.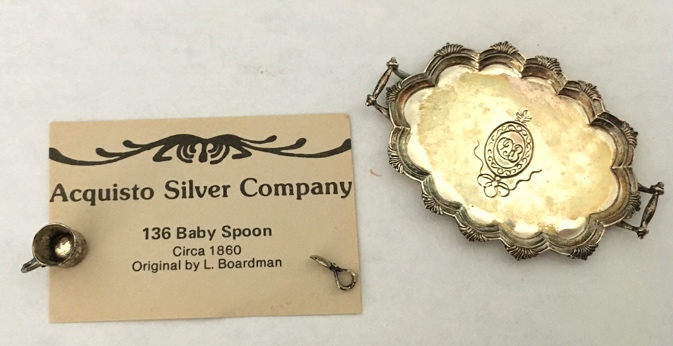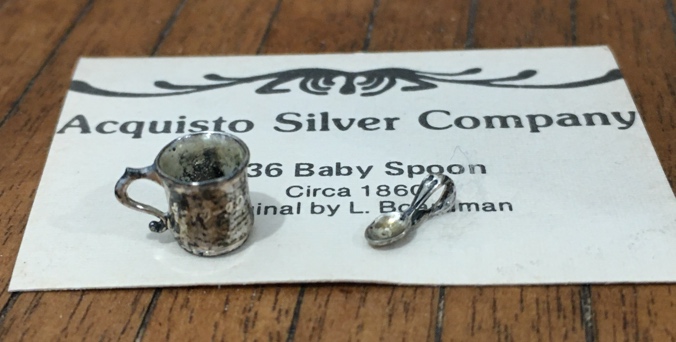 This trim is Northeastern Scale Lumber. The package says 1:12 scale but I think it can work as a room divider in 1:24.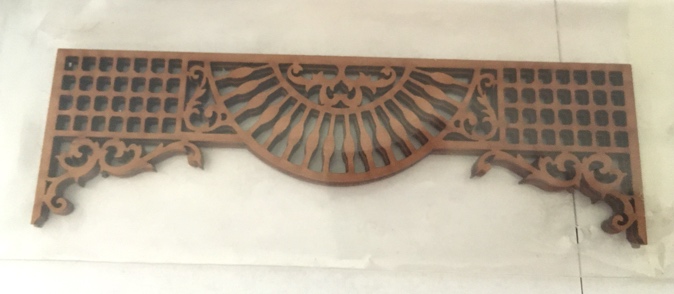 A mini rabbit's foot! No idea what to do with this, but it's adorable.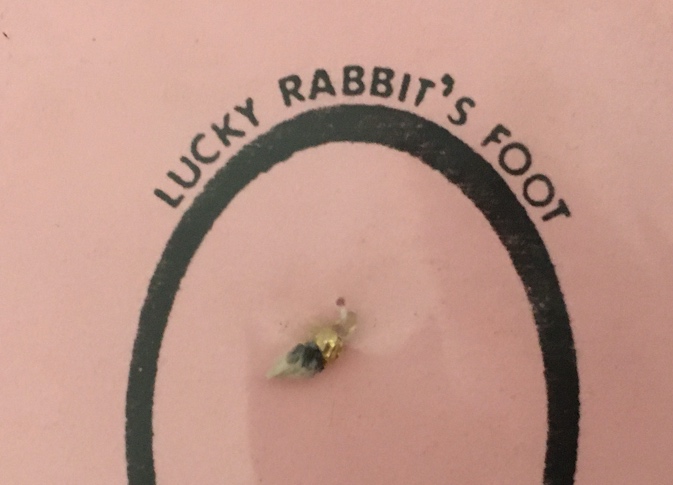 Here's another eBay purchase. This is one of three play houses made by Betty's Wooden Miniatures. I also have the one that looks like a Bliss house, which you can see a bit of in the picture, and I plan to turn that one into a candy store one of these days. These are technically 1:12 scale, but they're half sized (for children) which makes them work as 1:24 houses.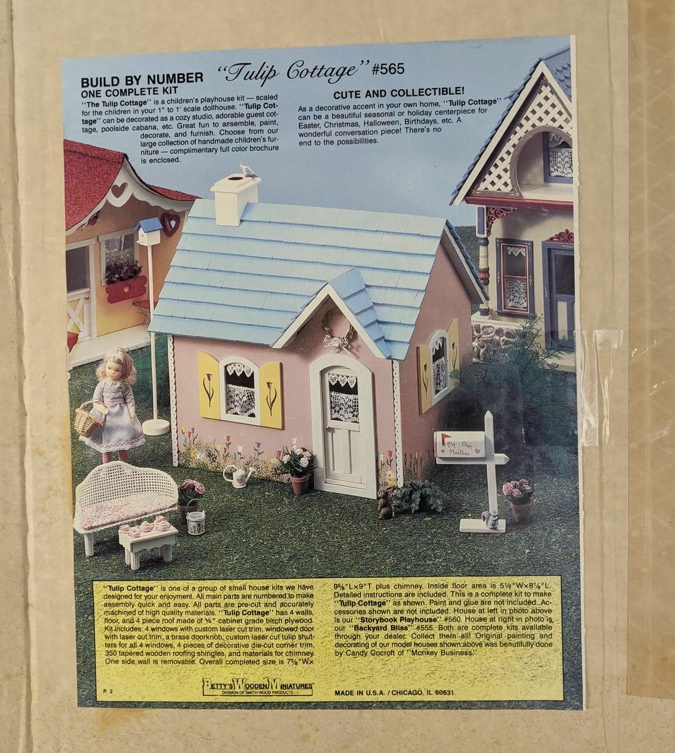 The Tulip Cottage is very simple compared to the Bliss house, but I fell in love with the shutters with the engraved tulips. After I bought the house, I looked more closely at the picture and thought I might have been wrong and the tulips were painted on. When it arrived, I was happy to see that they are engraved!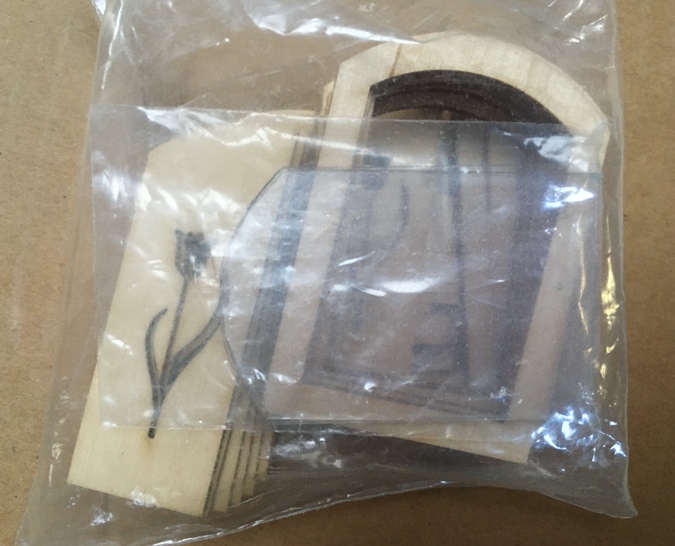 I have no clue what I'll do with this little house, so for now it'll go on the shelf with all the other unopened kits. I'd love to find the third play house and complete the set. I scanned the Betty's Wooden Miniatures brochure that came with the Tulip Cottage, if you want more info about these three houses.
I bought this toilet earlier in the year, for the Victorianna's master bathroom, but I forgot to post about it then. It's from Jessica Cloe Miniatures. I think it's resin, and it has a very nice shiny finish. She also sells a sink and claw foot tub.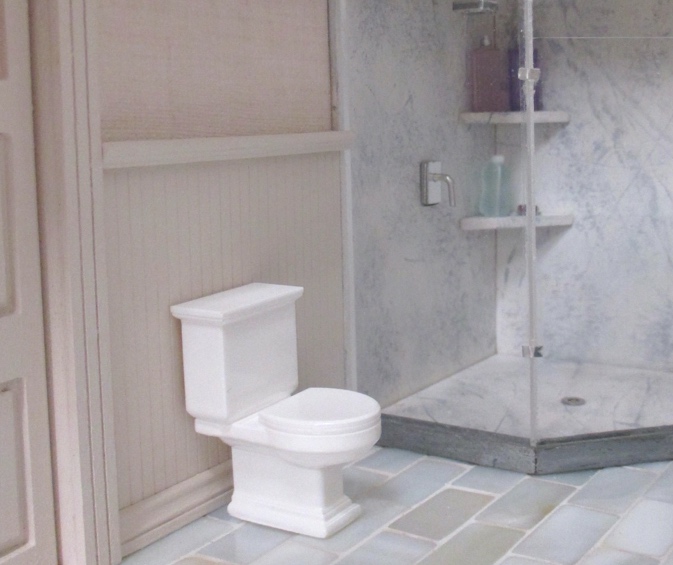 This last one isn't a "find" so much as a "made" — I finished stitching this carpet over the summer. It's a design that Catherine Soubzmaigne made available for free on Facebook as a quarantine gift back when Covid lockdowns first started. She called it the Little Blue Carpet, but I'm not sure why since it doesn't have much blue in it! I found a picture of her finished carpet where she calls it the Kazak.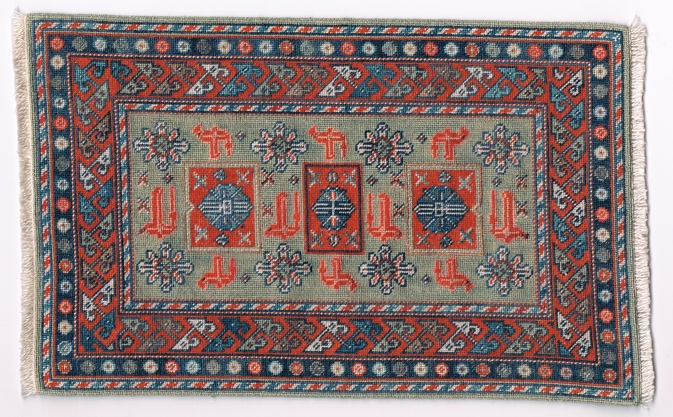 The carpet is about 4.5 inches by 7 inches, stitched on 40-count Verdal evenweave. The chart used colors rather than symbols, which I find hard to follow, so I recharted it (only for my own personal use) and made a few tweaks. It's stiched with Gentle Art Sampler Thread, which has very subtle variegation.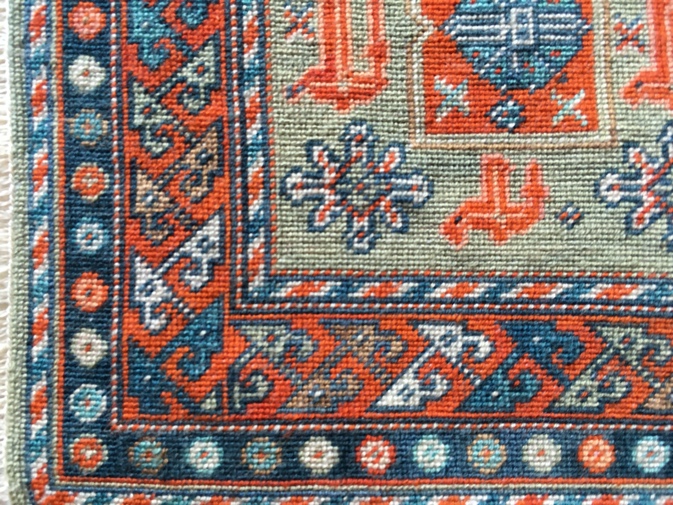 So that's a wrap on 2020! Let's hope next year is a little more normal than this one was.