Warning: long post incoming!
I recently bought this 1:24 scale Bauder-Pine shell off eBay. I think this house was simply known as the Victorian, but I'm dubbing it the Mansard Victorian. I'd seen this house once before when someone posted about it on the Greenleaf forum.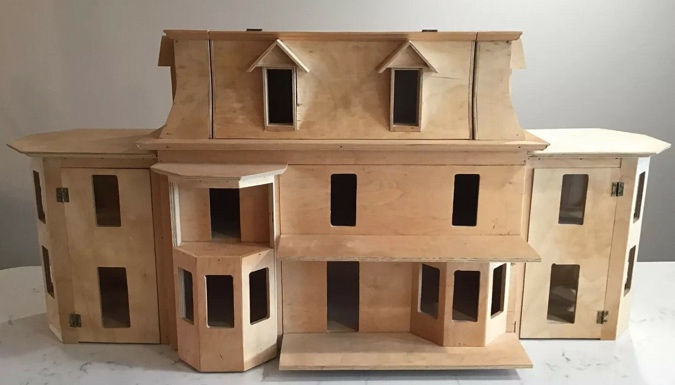 The side additions are not attached, and I'm going to leave them off. It's a roomy house even without them. The partitions aren't glued in, so I can decide how to place them.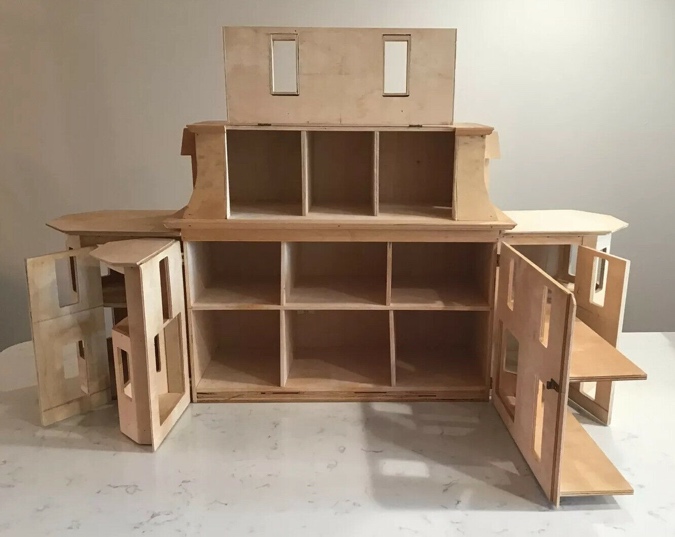 I have some fancy resin windows that will work perfectly with a little modification.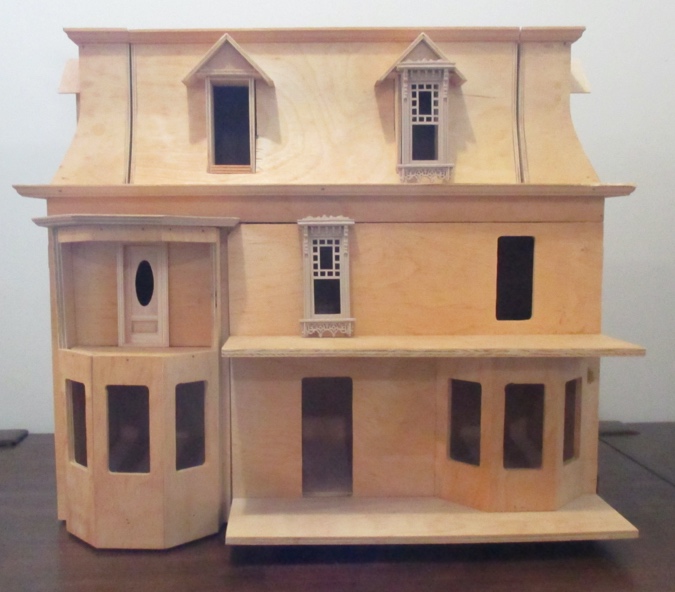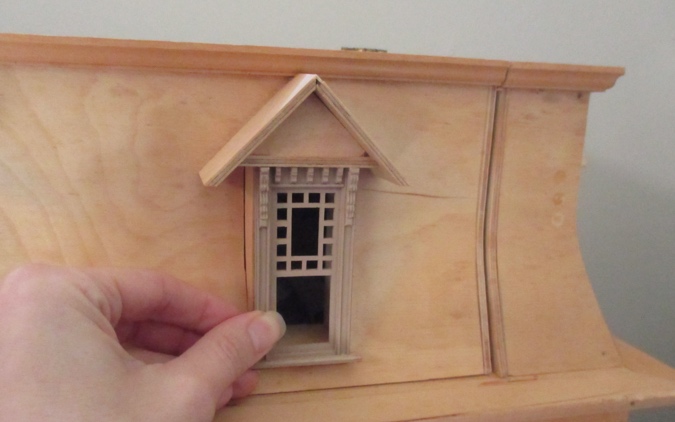 I'm always on the lookout for unusual half scale houses, and that's doubly true of anything made by Bauder-Pine, which was the go-to company for half scale in the eighties and nineties. The company was a partnership between Pat Bauder and Frank Moroz. Frank is no longer in the miniature business, and Pat died of cancer in 2007.
The Mansard Victorian was featured on the cover of Nutshell News in September 1986. The one pictured was owned by Phyllis Tucker.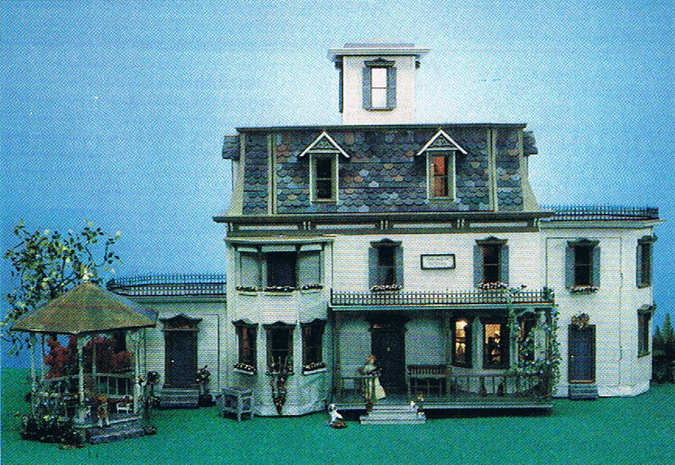 I dug out the magazine to look at the pictures and discovered that the same issue has a story about Bauder-Pine. I always wondered why the company wasn't named Bauder-Moroz. Turns out Pat previously had an antiques business with her neighbor, Mary Pine, and she kept the name for her new venture with Frank because it was already incorporated.
This article mentioned that Bauder-Pine sold a shell that Frank designed based on the house across the street from Pat's. I did some Google sleuthing and, lo and behold, here's the house across the street from Pat Bauder's old house in Langhorne, PA. That's the Mansard Victorian!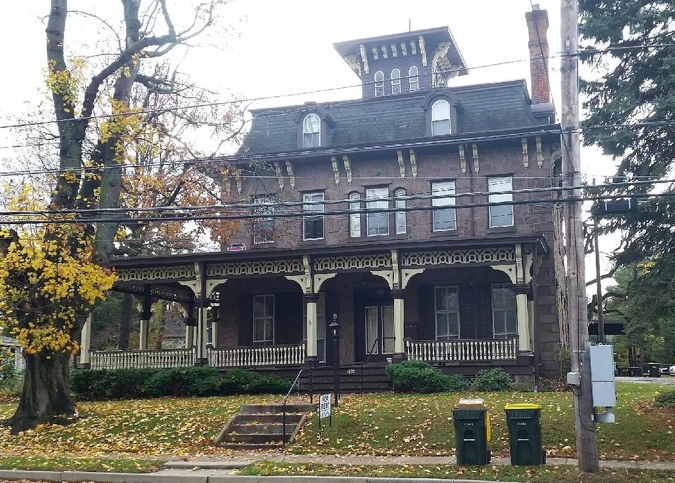 I posted about my purchase on the Half Scale Minis group and someone sent me a few scans of catalog entries for the house. The shell retailed for $180, with optional side additions and cupola bringing the price up to $300. Some catalog entries refer to Bauder-Pine as the house's manufacturer, but another attributes it to Goods From the Woods.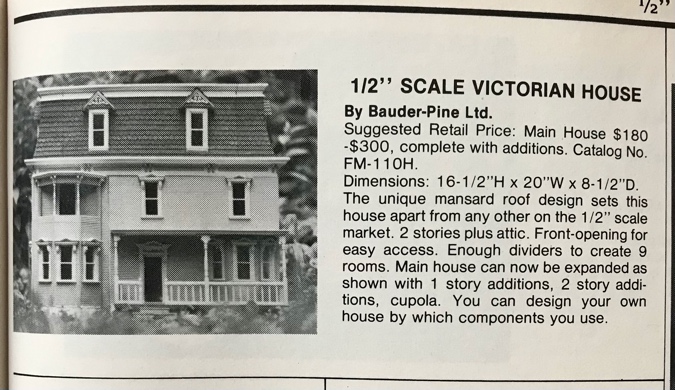 Current Bauder-Pine owner Cathy Miller-Vaughn, who was Pat Bauder's assistant for many years, was able to fill in some details about the company's history. She told me that Goods From the Woods was Pat's son-in-law's carpentry business, and they assembled the shells for a period in the eighties.
Bauder-Pine sold wholesale to miniature stores, and to consumers at shows and through mail order. In addition to their houses, they produced half scale furniture, which they sold finished or in kit form under the name Cassidy Creations. Many of the furniture kits were designed by Pat with her uncle, Bob Cassidy. Pat and Frank also taught workshops at Pat's house.
Here's a scan from the Nutshell News article that shows some of their furniture — if you're familiar with the Cassidy Creations kits, then you'll recognize these. The dresser in the bottom picture is the same style I bashed into a changing table for the Victorianna's nursery.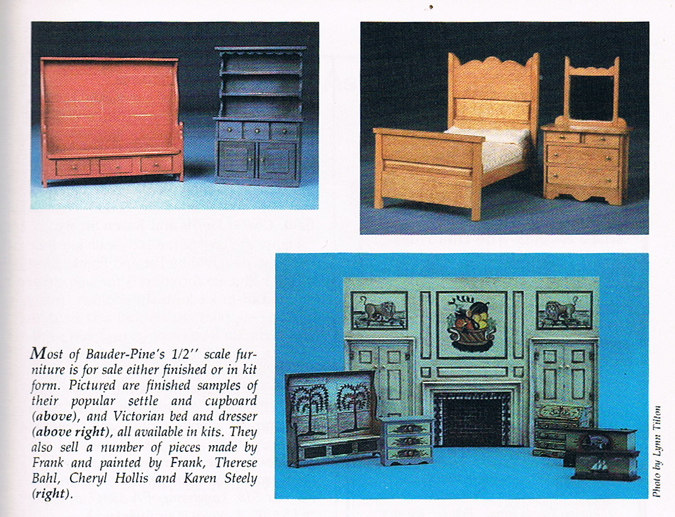 I've decided to furnish the Mansard Victorian with as much Bauder-Pine and Cassidy Creations as I can find. I have a few pieces of Bauder-Pine furniture in my collection already, and a ton of Cassidy Creations kits that I've collected over the years — more than enough to fill up a house!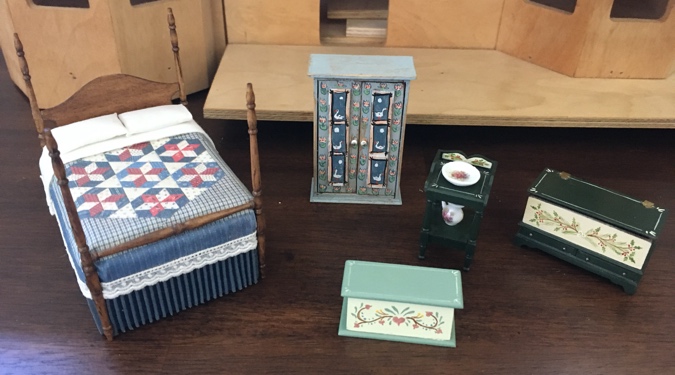 These pieces are signed, so I know they're Bauder-Pine and not Cassidy Creations kits that someone else assembled. The light green and dark green color schemes were very common, and Cathy says that miniature stores often bought these as display pieces so people could see what the Cassidy Creations kits looked like finished.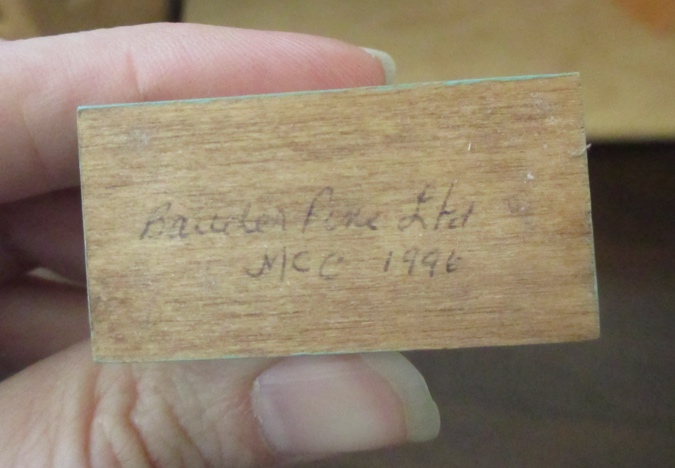 The wardrobe with the swans was assembled by Pam Junk and painted by Cheryl Hollis. Coincidentally, the seller of the Mansard Victorian shell I bought was friends with Pam and Cheryl, and they all used to attend mini shows together in the eighties. (It's a small world after all…)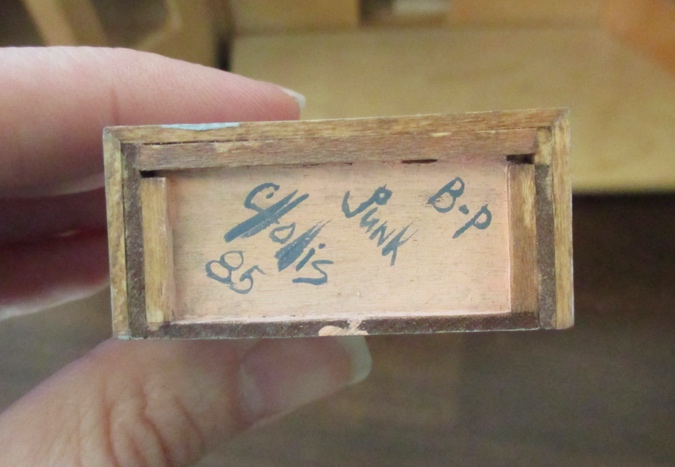 While I was looking at Google Street View to see what was across the street from Pat's house, I noticed something interesting. Here's an ad from the 1986 Nutshell News issue mentioned above. Check out the Bauder-Pine logo.

Now check out the front door on Pat Bauder's old house!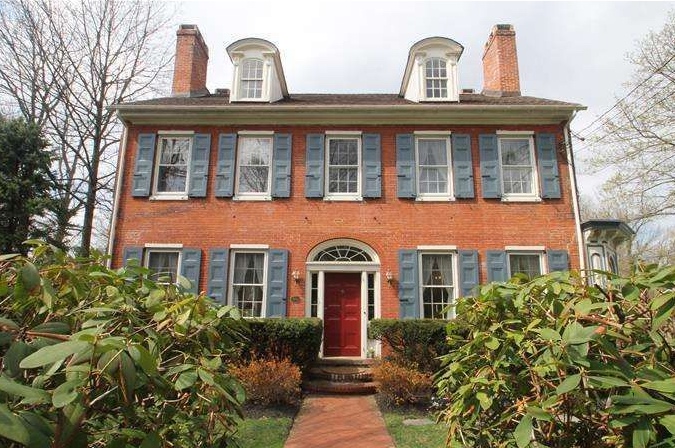 The only other Bauder-Pine structure I have is the attic trunk roombox, but here are some others that are on my radar. The first is a Colonial based on a real house in Bucks County, PA. The one pictured below was the prototype, and is now owned by Cathy Miller-Vaughn. The "stones" on the outside are made from bark chips.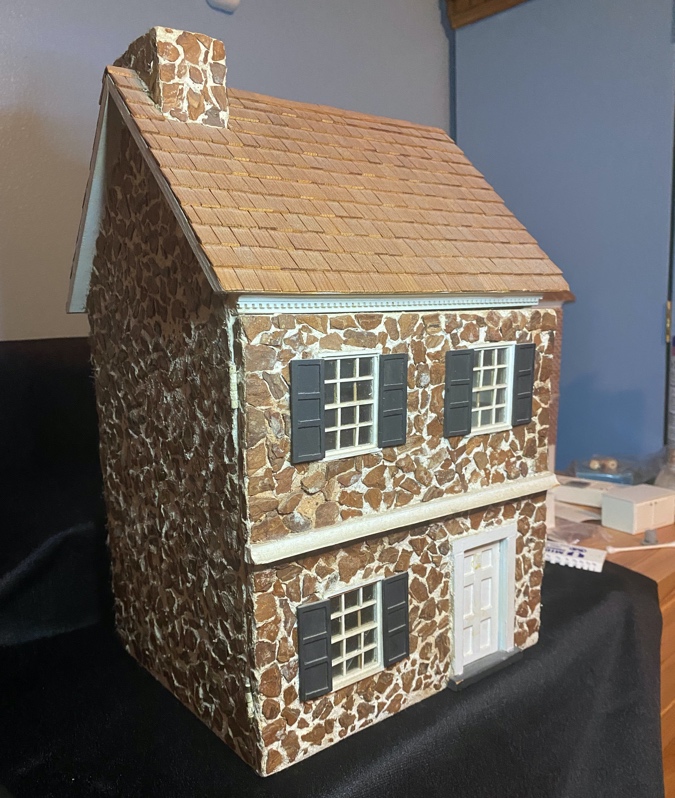 Inside, it's furnished with Bauder-Pine furniture as well as early Bespaq.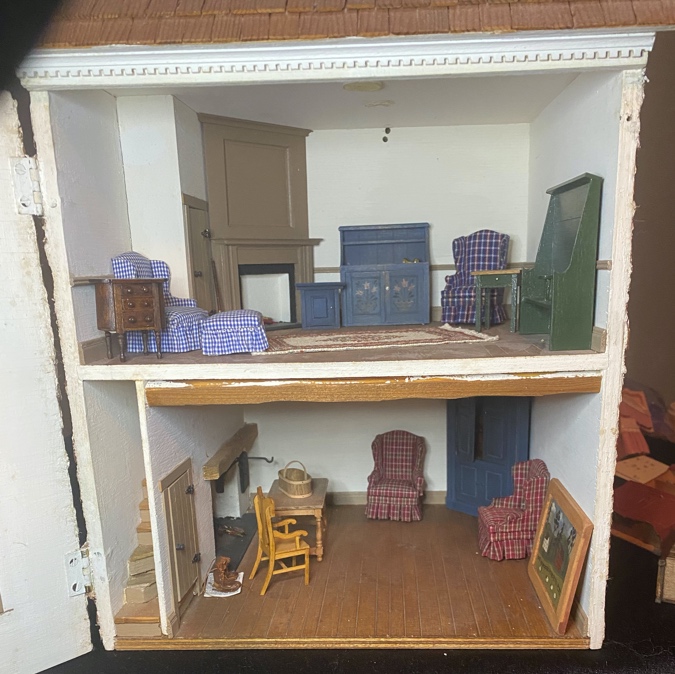 Cathy told me a great story about this house:
When I worked for Pat and Frank, beginning in 1990, this house sat on a shelf above Pat's desk. … I LOVED that house! When the time came to sell Pat's collection, against what felt, I put that house on Bauder-Pine's table at Philadelphia Miniaturia 2007 with a price of $200. A gentleman purchased it. He was younger, about my age, fell in love with the house, and purchased it because it looked like a house he was living in. I would see him every year at Philly and would ask him, "Are you taking good care of that house?" And he would reassure me it was sitting on a shelf in his living room.

In 2013ish, he again came to Philly. He approached me behind the table and asked if I could possibly purchase the house back. He was in financial trouble and needed to sell a few things to pay bills. I agreed, gave him $200 cash, and he handed me the ONE MOST special miniature I could ever ask for. That house has and will NEVER leave my house again. It is one of my most favorite pieces and means everything to me. … I've never taken the time to do anything with the house. I furnish it with pieces either Pat had or I know she would have loved.
This one is a pargeted Tudor that belongs to Pam Junk. Look closely to see the motifs etched into the plaster.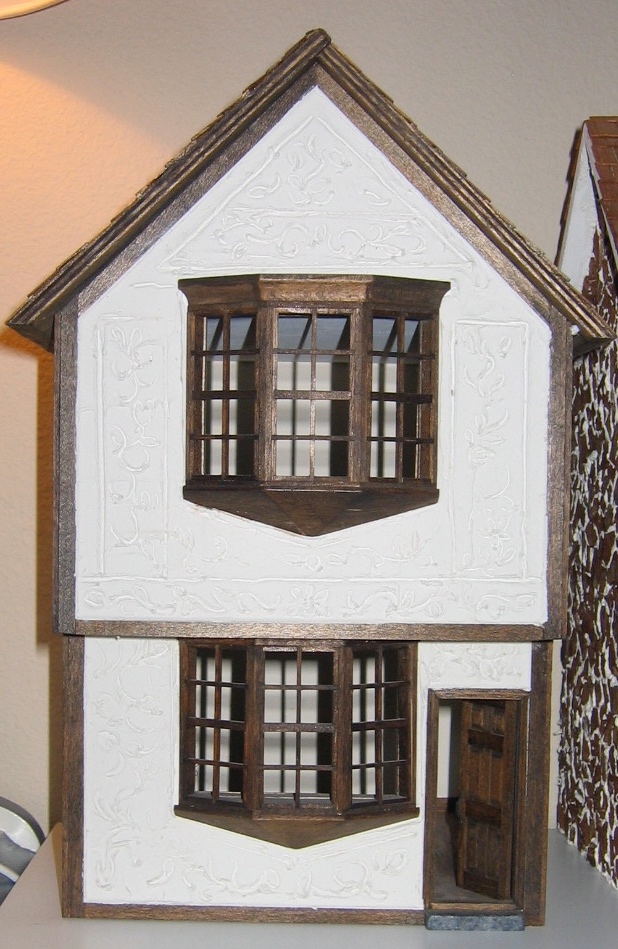 Pam and I have been email friends since the early 2000s. Looking through old emails, I discovered she'd told me about some of these houses way back when, before I understood how special they are. Bauder-Pine used to sell Pam's wicker furniture, and she would take payment in trade. As you can see off to the side, she also has one of the Colonials with the bark stones.
The Tudor is also pictured in the Nutshell News article, with the following caption: "For the NAME Houseparty held on the Queen Mary, Frank and Pat did a small Tudor house which has been decorated as an inn, a house, or a bordello. It is half-timbered and uses artists' modeling paste for the plastered exterior walls."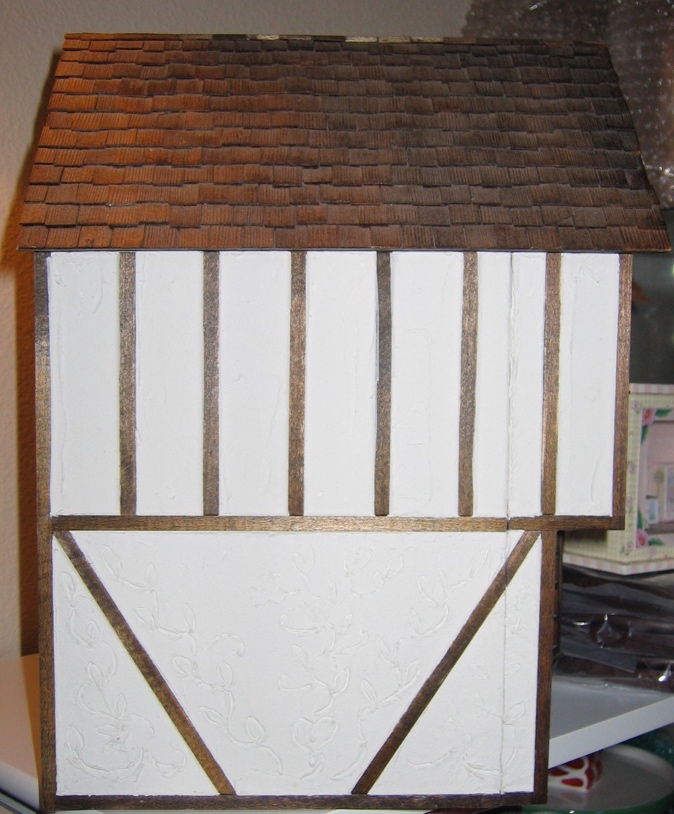 Bauder-Pine also made a chalet-style house that Pam told me was based on one on the cover of Country Living magazine. I grabbed this picture off an eBay auction that ended last week. Anne Gerdes also owns one of these — you can see pictures here.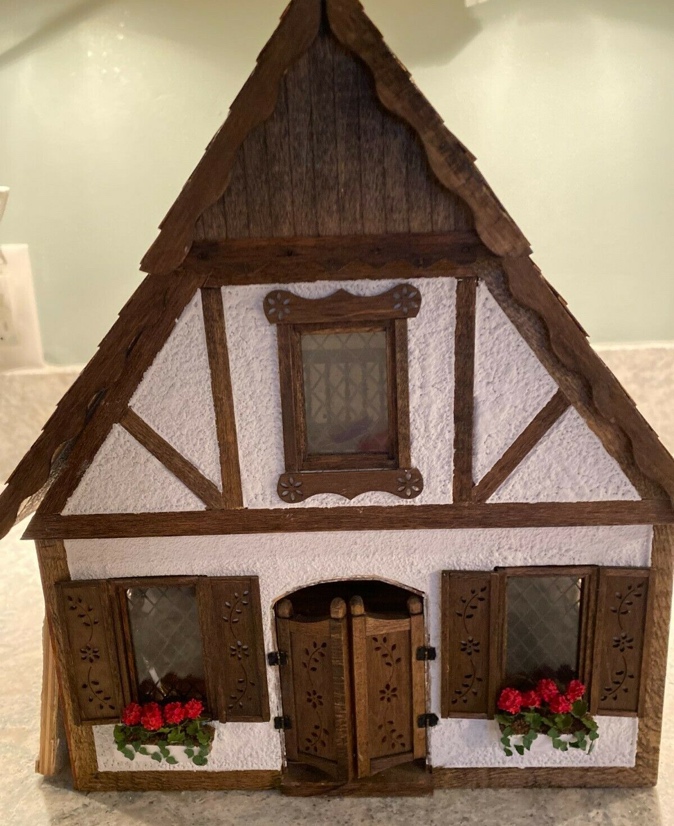 Because Bauder-Pine sold houses finished and unfinished, and they also taught classes, it's hard to know if houses that show up online were finished by Pat and Frank or not. My attic trunk roombox (below) is unsigned, which suggests it was made in a class, but another trunk roombox that sold last year was signed.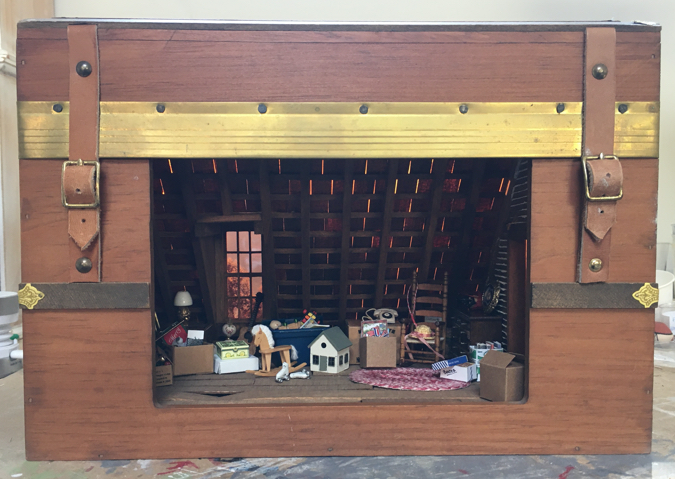 My attic trunk has the bark chip stones on the chimney, so I suspect Pat and/or Frank had something to do with the interior even if it was made in a class.
My favorite Bauder-Pine houses are the four Sears houses that Frank Moroz adapted from life-sized plans. These appeared on the cover of Nutshell News's annual half scale issues in the nineties. At least one of them, the Puritan (May 1991), was offered as a kit through a partnership with Real Good Toys.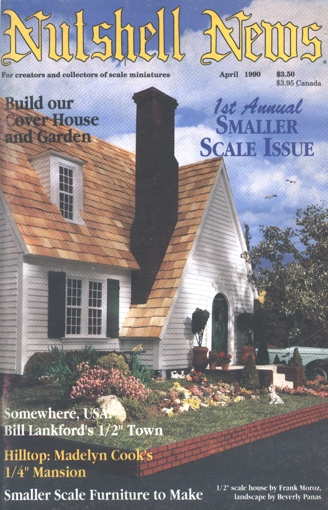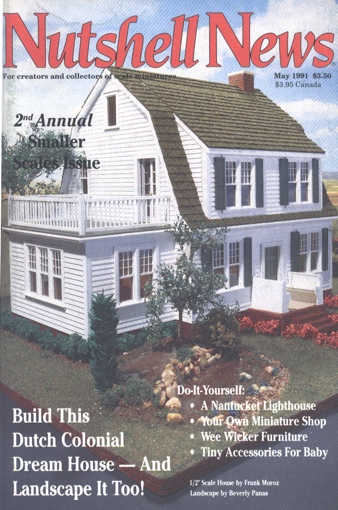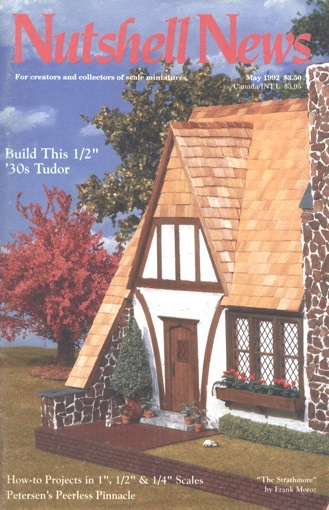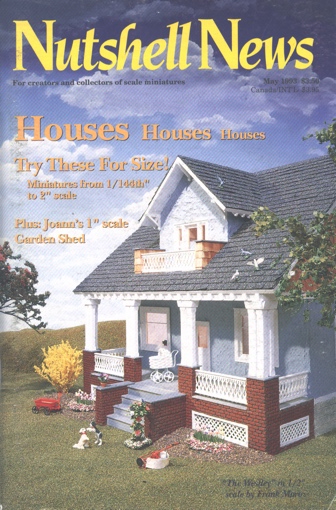 (Btw, I would LOVE to find a Puritan kit one of these days… just saying…)
In May 1995, Nutshell News had plans for a New Orleans-style shotgun house designed by Frank Moroz.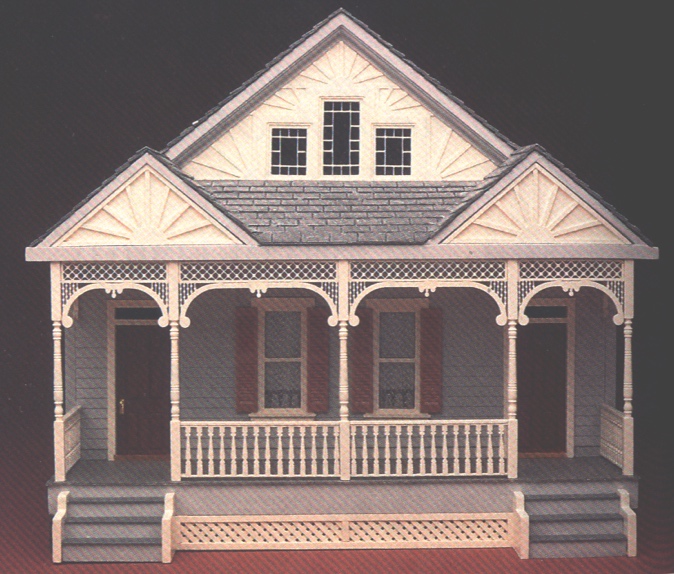 And one more I managed to find with Google is this Greek Revival, based on a real house in Birmingham, MI. It looks like it has the bark stones, too. There are more pics on the auction page.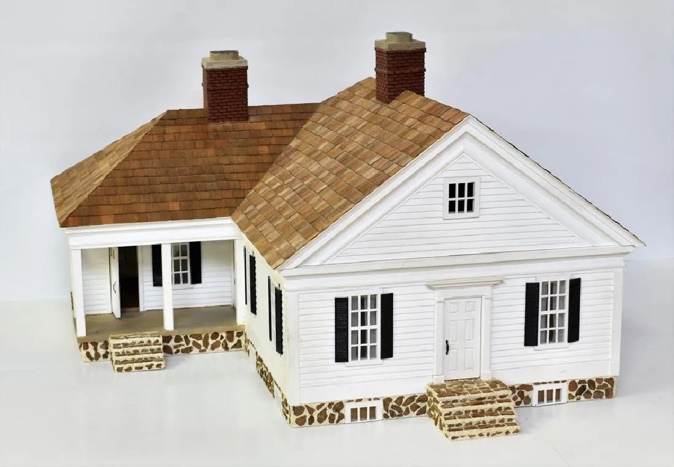 By the early 2000s, Bauder-Pine had split into two divisions, one run by Pat (still called Bauder-Pine) that focused on wholesale and one run by Frank (Scale Designs) that focused on retail. The Cassidy Creations kits belonged to Scale Designs. Frank eventually sold his business to Kathy Moore, who continued selling a portion of the Cassidy Creations line until she shut down Scale Designs in April 2021. (Kathy provides some additional context in a comment below.)
Meanwhile, Cathy Miller-Vaughn is keeping Bauder-Pine alive by selling vintage and estate miniatures, as well as her own line of furniture kits. Cathy also owns the Philadelphia Miniaturia show, which Pat used to run.
This Miniature Collector article, published just before Pat died, has additional details about the company and some wonderful pictures of her collection.
---
UPDATE: After Pam Junk saw this post, she emailed me to say that only three of those swan armoires were made — one for her, one for Cheryl, and one for Pat. She and Cheryl still have theirs, so the one I have (which I bought on eBay) must have belonged to Pat Bauder herself. That makes it even more special.
Here's a picture of the bedroom in Pam's Fairfield, which includes a matching Bauder-Pine bed and dresser.