Today I learned that the Japanese tree with the fan-shaped leaves is spelled ginkgo, not ginko. Who knew?!
I cross-stitched a ginkgo rug to go in the Craftsman bungalow vignette. The rug is approximately 2 7/8″ x 3 5/8″, stitched over one on 36(?) count fabric. The question mark is because I thought that was the size, but when I do the math (81 stitches x 104 stitches) it doesn't come out right. Anyway, it fits well in the corner of the bungalow!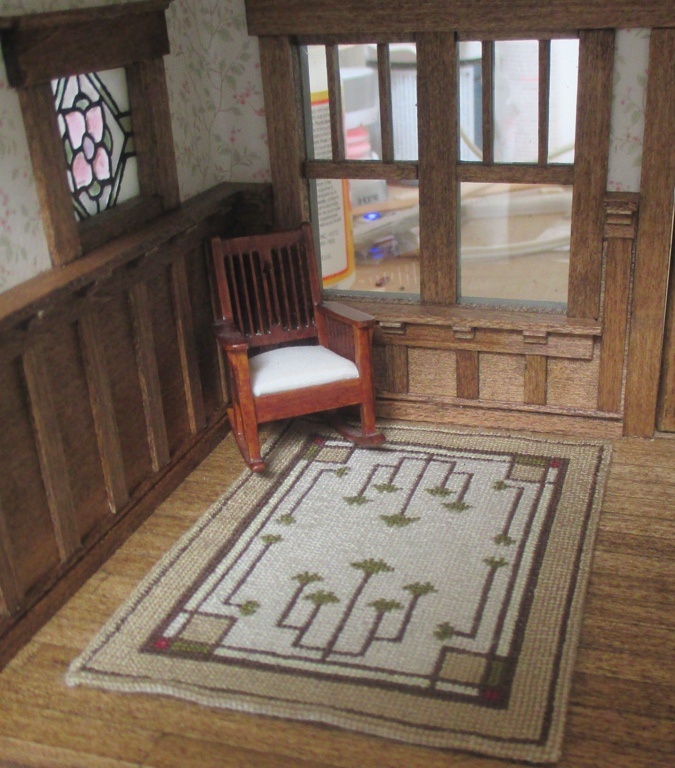 I charted this design based on a real Craftsman-style rug I found online.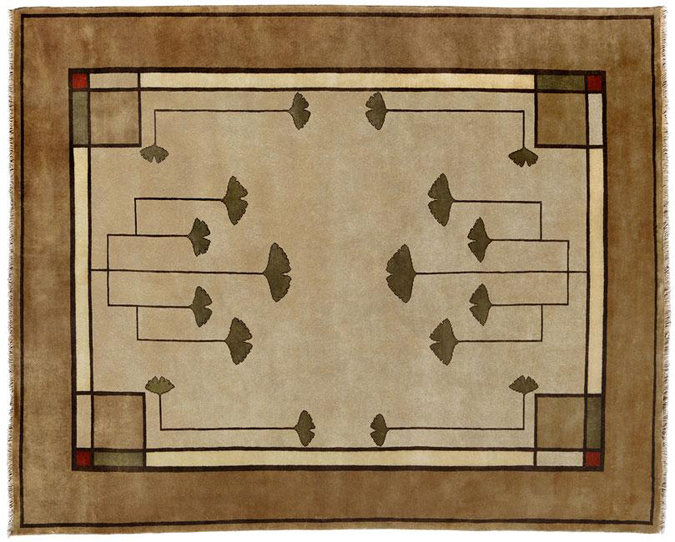 Want to stitch your own ginkgo rug? I've made the chart available for free here: Ginkgo Rug Cross Stitch Chart (for personal use only)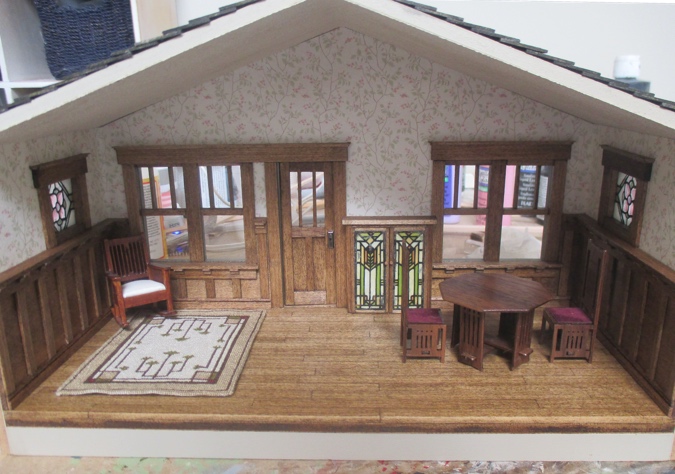 I liked how the rug and rocking chair looked in the corner, and it got me thinking about these beautiful Craftsman rocking chairs that showed up in Bauder Pine's Etsy shop last week. They were pricey ($129 for the pair), but perfect for the roombox.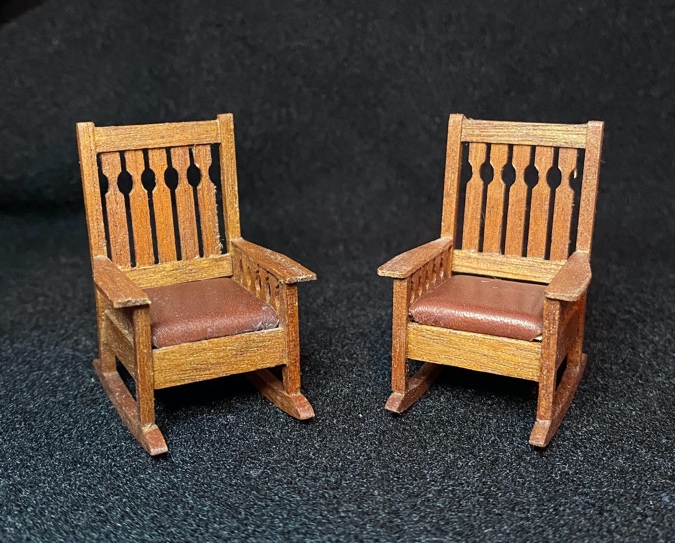 I hesitated because I'd already bought a Jane Harrop kit for two Craftsman recliners, but after a bit of hemming and hawing I decided to pull the trigger… but I was too late. :(
(If the person who bought them happens to read this, I'm jealous!)
So I put together the Jane Harrop kit after all. I've done a few of her kits before, most recently for the attic roombox. I love these kits — the materials are good, the instructions are clear, and the designs are unusual. The wood in this particular kit is mahogany.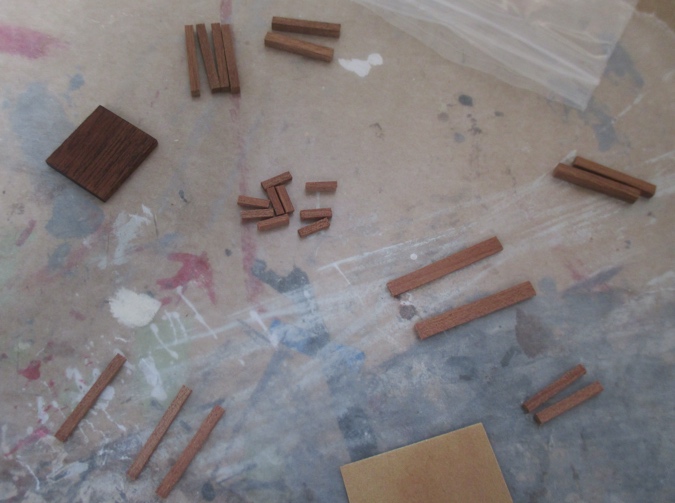 I stained the wood with a Minwax Red Oak stain pen, which brings out the grain nicely.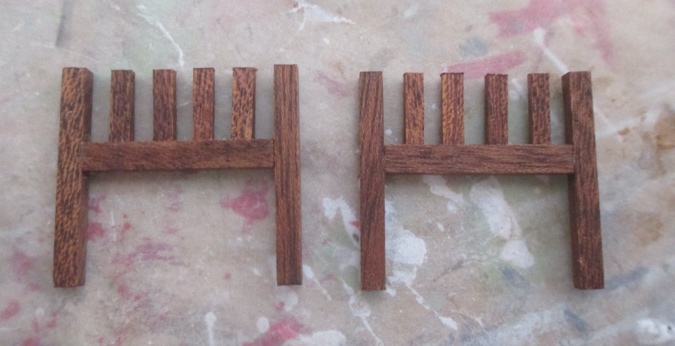 I especially like that Jane's kits are old-school wood, not laser cut. Laser cut kits can have beautiful detail, but they look very flat to me — especially Craftsman furniture, which should have some bulk to it.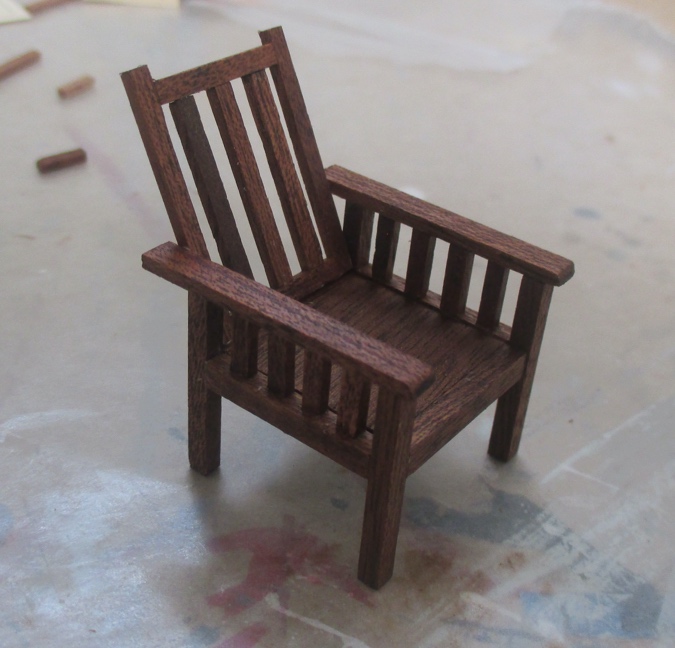 Here they are with the carpet. I still think those rocking chairs would have been perfect here, but these work too.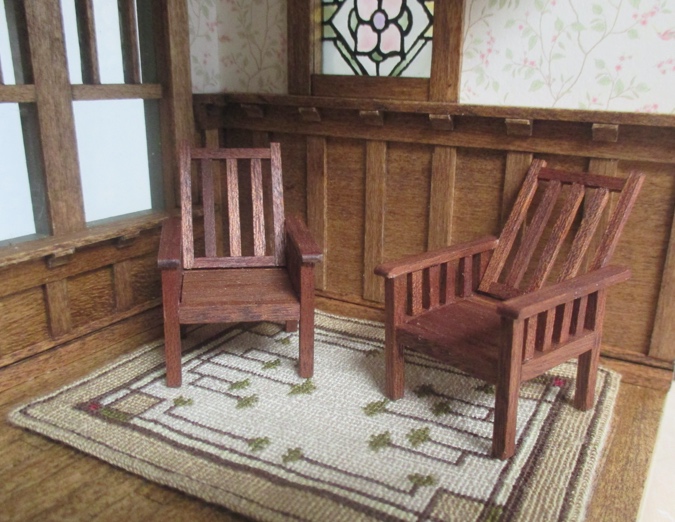 The kit doesn't come with fabric. I looked through my stash and found this mottled dark green fabric that I used a loooong time ago as a backing on some (life-sized) needlepoint pillows. It has a Craftsman vibe.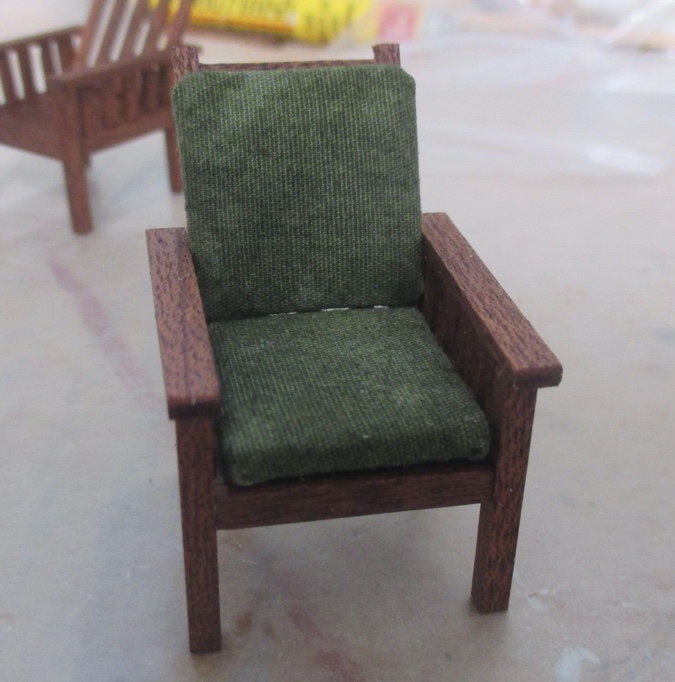 But in the room, it seems too dark.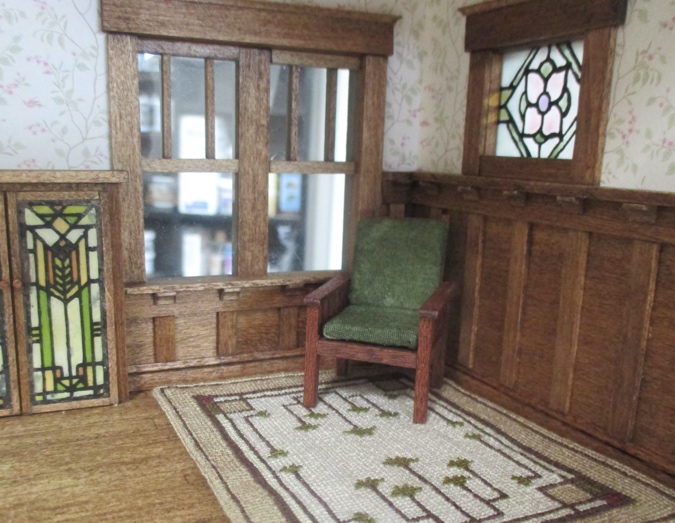 I tried again with off-white, but this might be too light?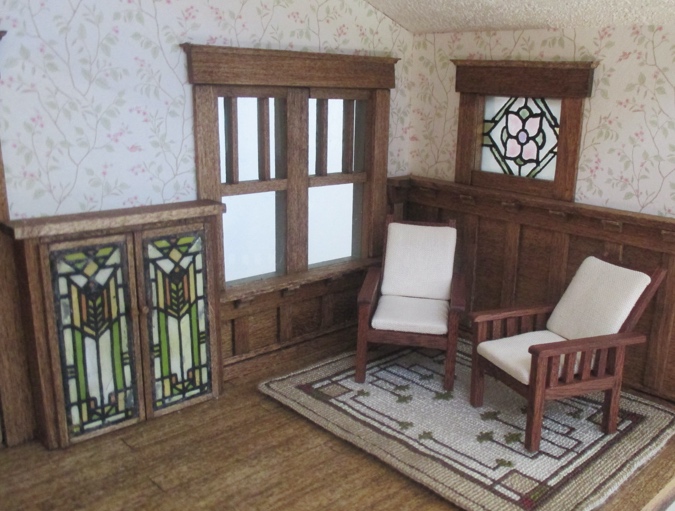 I could have sworn I had something more olive that would look great in here, but couldn't find anything in the fabric bin that satisfied me. I'll leave the cushions like this for now. They'll be easy enough to swap if/when I find something better.
Here's a wide shot of the room. The table and chairs came preassembled (also from Bauder Pine on Etsy) but I think they started out as a Theresa's Miniature Creations kit. I love them, but this picture illustrates what I was saying about laser cut pieces looking flat compared to "real" wood.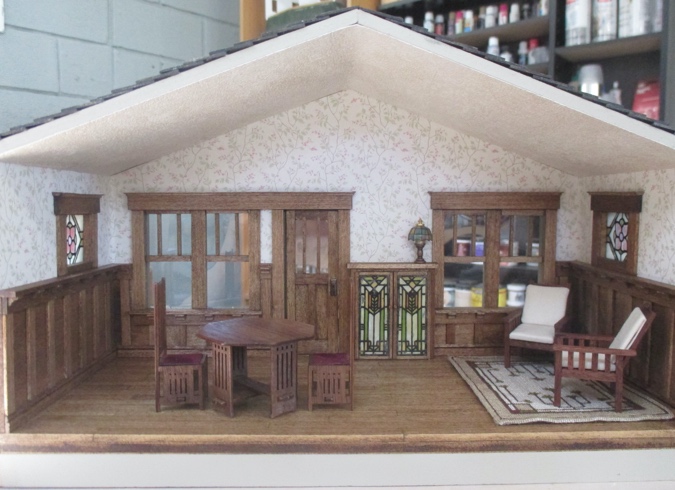 (Also, it might be an optical illusion, but does the tabletop look very off-center in that picture? I'll have to investigate…)