I plan to furnish the Mansard Victorian with as much Bauder-Pine and Cassidy Creations furniture as possible. This means keeping a close eye on eBay, Etsy, and other places where thirty- to forty-year-old half scale miniatures might show up.
(I've previously posted about Bauder-Pine furniture here and here, and you can read up on the Cassidy Creations kits I've built so far here. I will be building a lot more of them for this house!)
Bauder-Pine produced the Cassidy Creations kits and also sold finished versions. When buying these now, you can tell if it's a Bauder-Pine piece or a kit finished by someone else from the signature.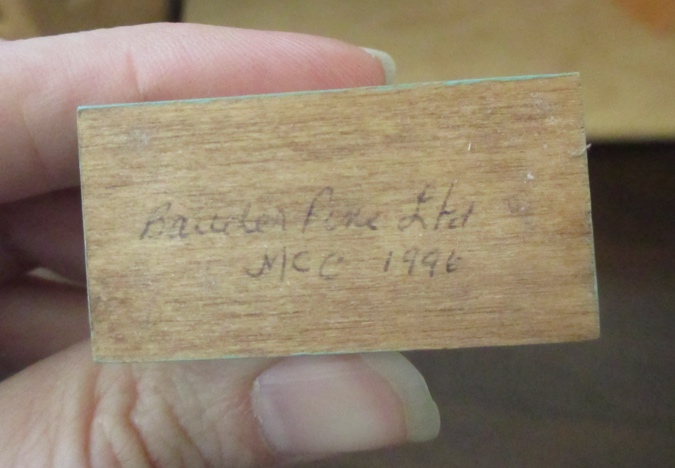 I think the part before the year on this one is J McC — Jayne McCormick, who was the main person finishing Bauder-Pine's kits in the nineties.
A few weeks before Christmas I stumbled across this little cabinet on eBay. Bauder-Pine wasn't mentioned in the description, but I recognized it as a Cassidy Creations wall cabinet. (I have one set aside for the Mansard Victorian's bathroom.)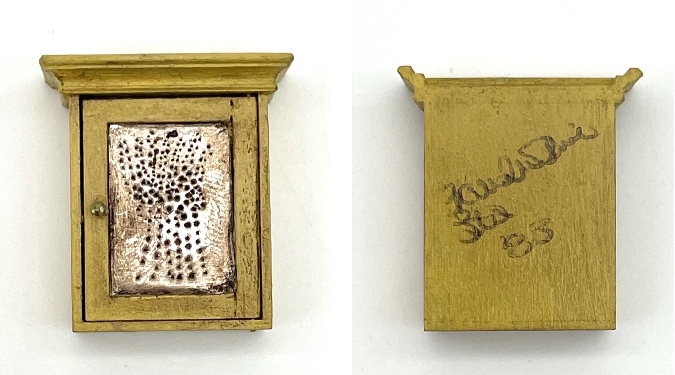 The handwriting on the back of the cabinet doesn't look like the signatures on my other Bauder-Pine pieces. I showed it to Cathy Miller-Vaughn (Bauder Pine's current owner) and she said it's Pat Bauder's signature. Score!
(Fun story: when the cabinet was shipped out, I kept an eye on the tracking number, and a week later it hadn't moved from its original location. I was about to contact the seller when she messaged me to say that she'd accidentally sent it to the wrong person! She asked if I wanted to refund the order and forget about it. Not a chance. She sent a shipping label to the person who had received it by mistake, and they sent it on. Thank you, mystery person!)
These days, Bauder Pine mostly sells items that Cathy buys in estates, as well as a small line of new kits. (The Cassidy Creations line was sold off to Kathy Moore, who has since retired.) For several months, I had my eye on this nursery set in the Bauder Pine Etsy store.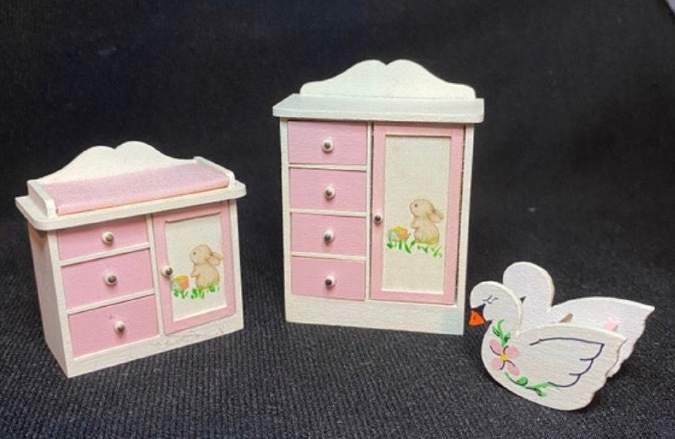 I have these same pieces in kit form and was planning to build them, along with a crib, for the Mansard Victorian. But I really liked how these were finished and almost hit the buy button several times.
Then they were gone, as all nice things we don't buy when we have the chance eventually are, and I asked Cathy if she'd sold them. She wrote back:
The nursery set did sell, about a month ago. It was a set done by Cass Harkins. Cass was a down to earth, funny, sweet woman who cut all the Cassidy kits. I really don't know how she did it. I would spend time with her at her workshop (the second floor of her home). She was so knowledgeable and could work a scroll saw like no one. She created every jig she needed to mass produce these kits. She would make a gross at a time. She was one of Pat's workers who stayed in the background and didn't think anything about what she did for miniatures.
After learning the history, I was disappointed that I hadn't pulled the trigger — this set would have been perfect in my Bauder-Pine shrine. And then, in an amazing stroke of cosmic synergy, look what showed up on eBay…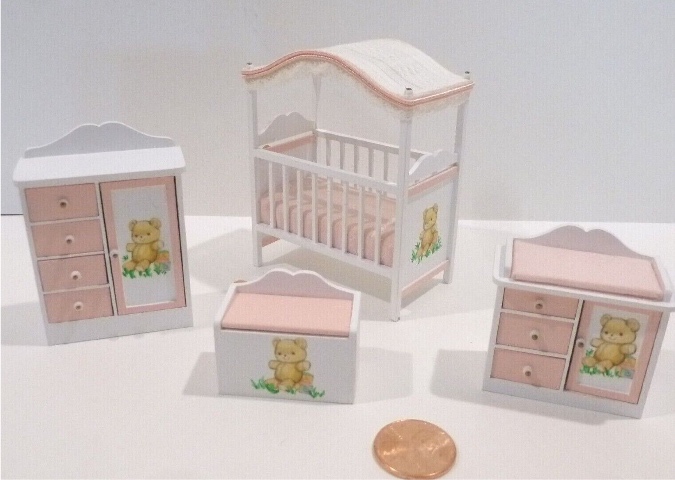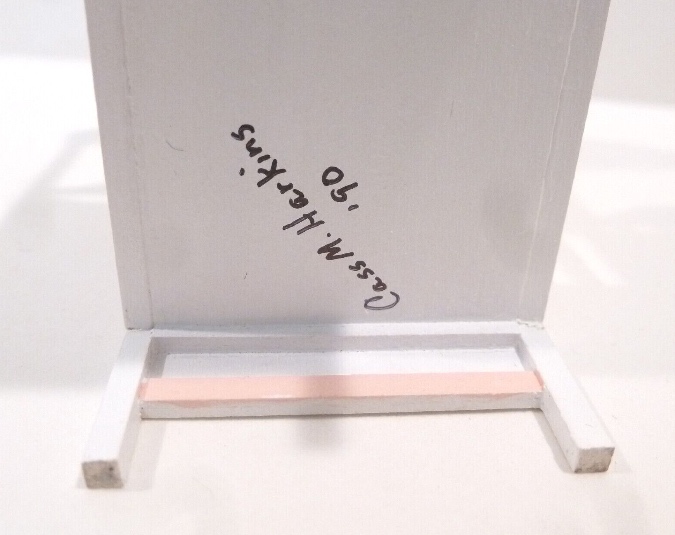 Yes, dear reader, I bought them.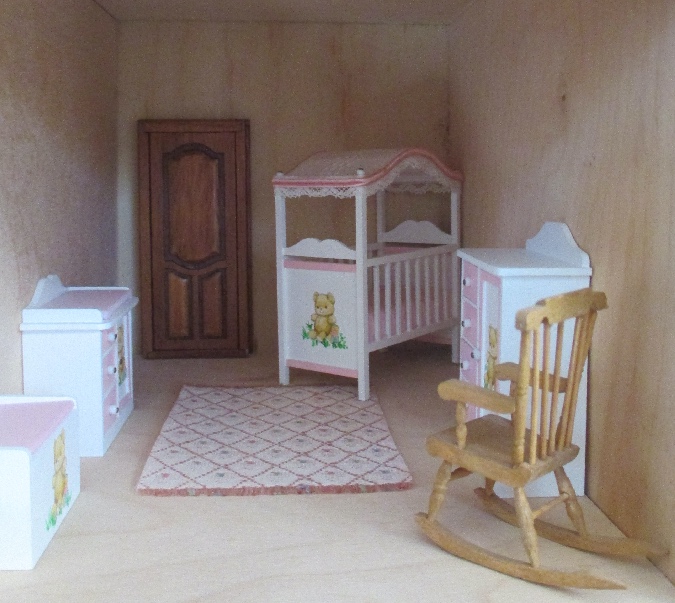 (The rocking chair is made by Shenandoah, another company of the same era.)
I thought the animals were painted on, but they're actually glued-on paper, with the grass painted over it. I don't know if the designs are hand-drawn on the paper or reproduced. Update: Cathy reached out to let me know the bunnies and bears were cut from 1980s wrapping paper. So clever!
After I bought this set, I found one more set on Worthpoint using some magical combination of search terms I can't remember anymore, but I saved the pictures.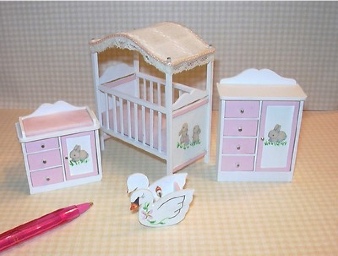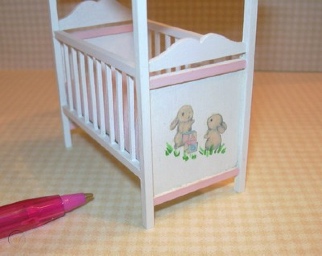 My set didn't come with the swan, which is a bummer because I won't be able to do as good a job with the detail painting. But I do have a swan in my nursery kit, so maybe I'll try it. (The swan was not included in later versions of the nursery kit.)
One of my pieces of Bauder-Pine furniture is this bed, which I bought on eBay last year. The chest is a Cassidy Creations kit I bought assembled, that matches nicely.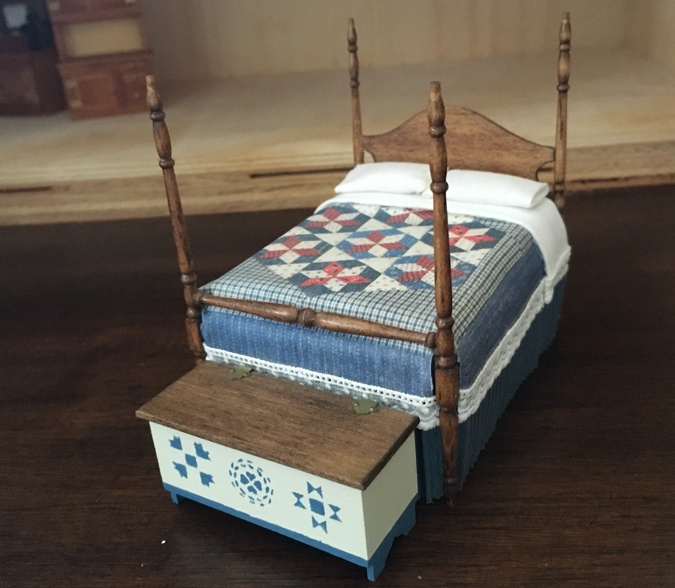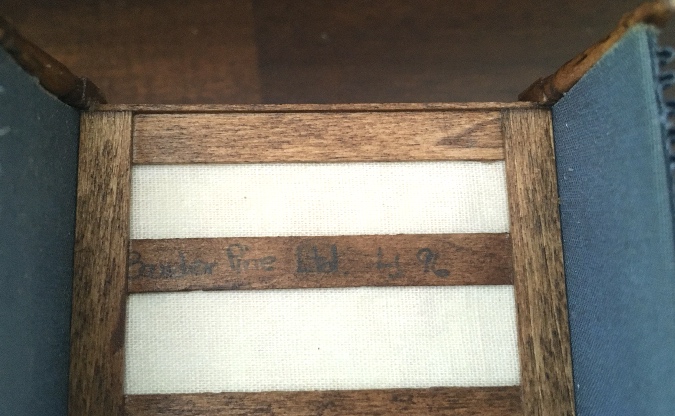 I'm planning to use it in the second floor bedroom.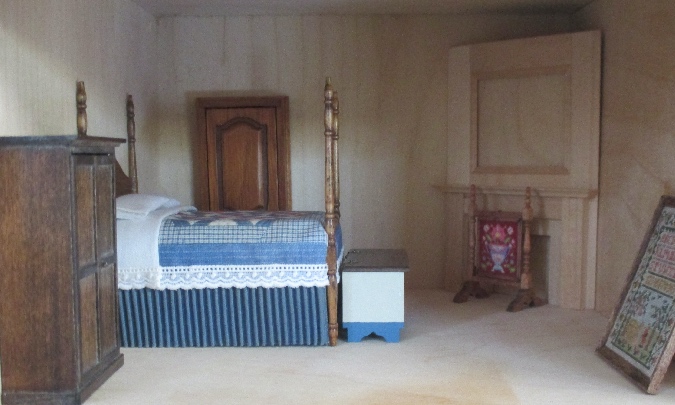 Unfortunately, one of the posts wasn't securely attached to the headboard when I received the bed. The headboard was slightly too narrow, possibly due to someone over-zealously sanding off glue during a previous attempt to fix it. (Who among us hasn't over-zealously sanded from time to time?) Since the spacing of the posts is determined by the width of the bed itself, I couldn't secure the post to the too-narrow headboard, even with a lot of glue. The post was crooked and the glue build-up looked bad.
Over time it broke again, I fixed it again, and then I dropped it it fell out of my hands and both of the head posts came off. I was too upset to take pictures of the carnage.
I thought about pilfering one of my bed kits for replacement parts, but the pieces weren't a 1:1 match. Cathy told me that over the years, suppliers of turned spindles or other parts would go out of business and Bauder-Pine would have to adapt the kits to use new parts.
The kit headboard is even narrower than the original headboard, so this wouldn't solve my problem. It's also unlikely I would have been able to match the finish exactly.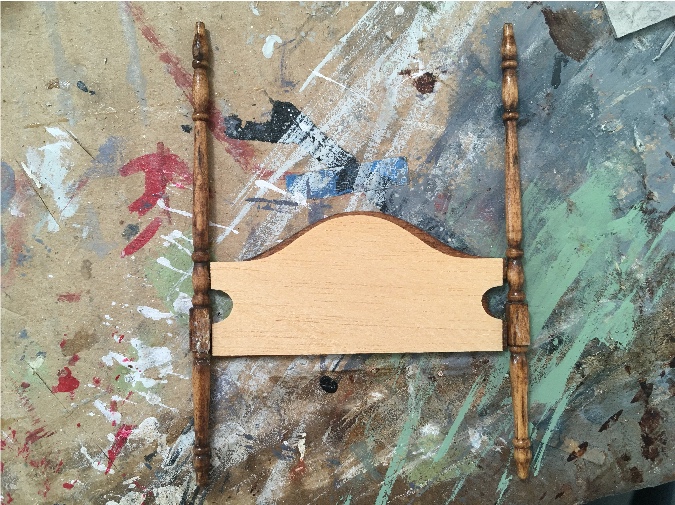 I did, however, have another finished bed that I'd bought off eBay, with pieces that matched the bed in need of repair. This one isn't signed, and it has a dark finish that I'm sure is not original Bauder-Pine.
I was able to remove the headboard and footboard, with the posts still attached, and glue them in where the old ones had been.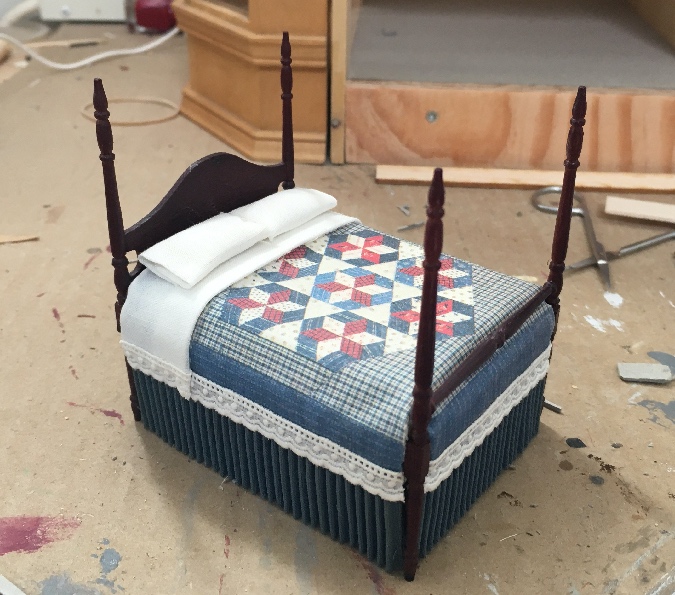 Not quite as pretty, and it doesn't complement the chest as well as it did before, but it's better than not having the bed at all. I'm proud of myself for coming up with a way to fix it.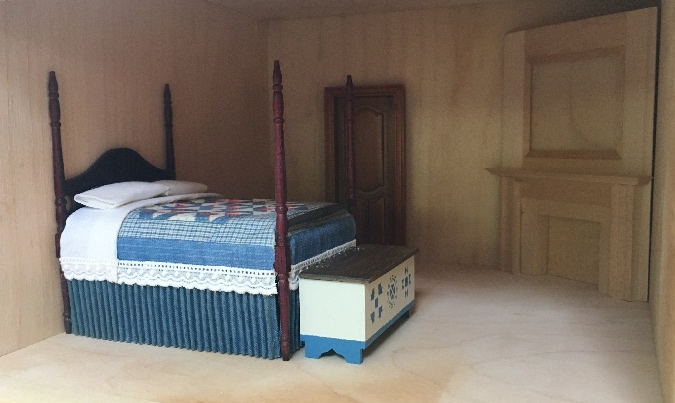 (Of course, I'll save the original pieces. I'll find a use for them!)
I'm planning to put a corner fireplace in this room. I can't remember where I got this, but it had a handwritten $3 price tag on it. I assumed it was somebody's scratch build.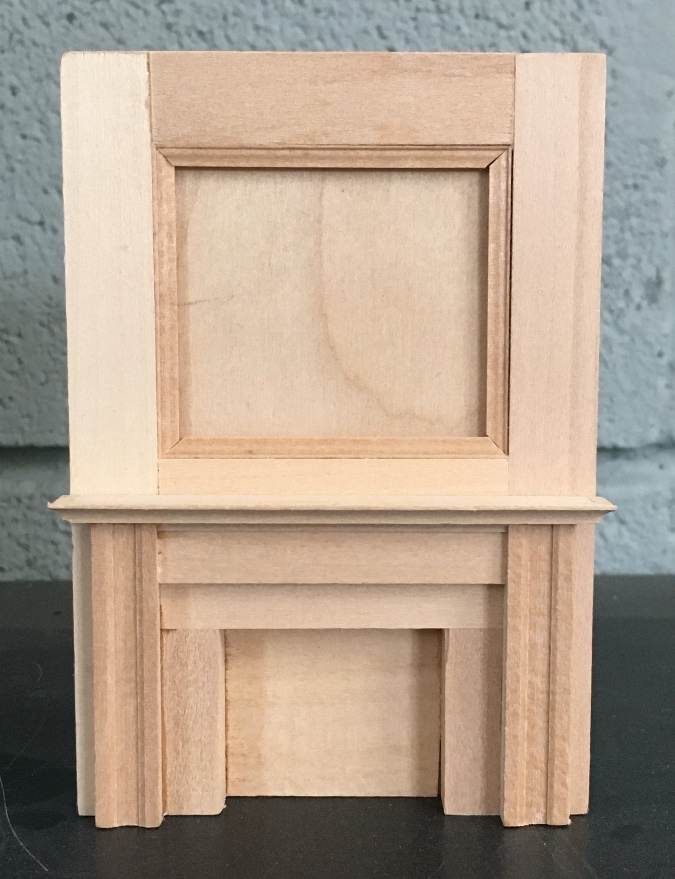 Sometime after I pulled out this fireplace to use in this house, I was looking at this picture Cathy sent me of her Colonial. This was the prototype for a run of houses Pat Bauder and her business partner Frank Moroz made in the eighties. That corner fireplace looks similar to mine… what a strange coincidence.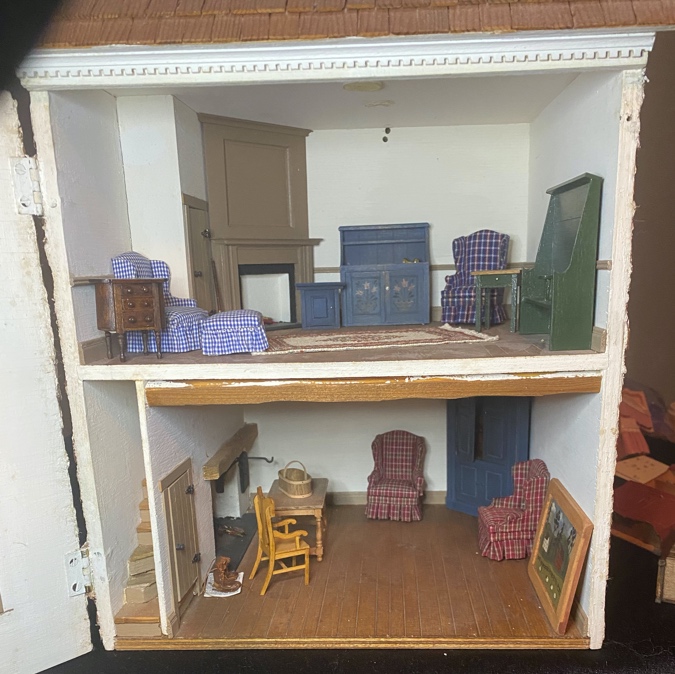 But is it a coincidence? I started googling for other Bauder-Pine Colonials. Here's one from LiveAuctioneers.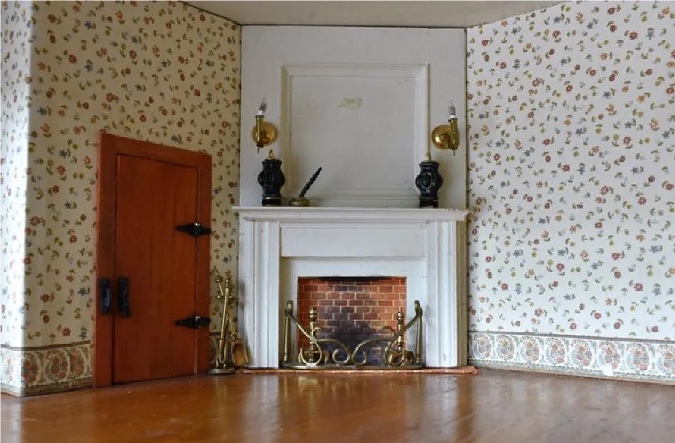 And another from Worthpoint.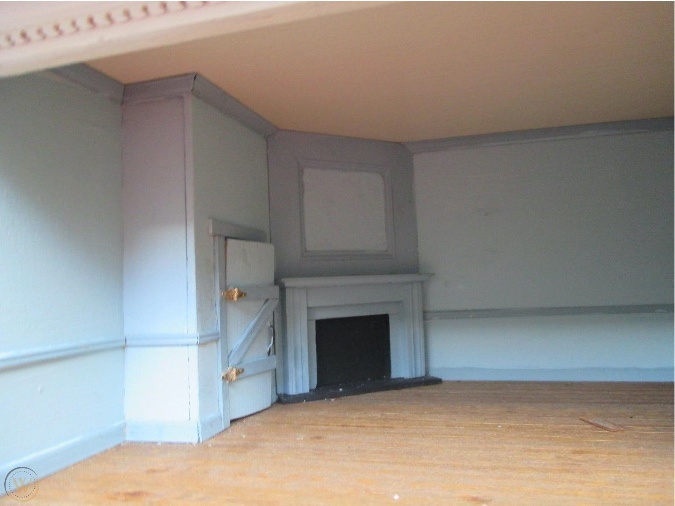 And Selkirk Auctions. (This one has a brick exterior, but it's the same house.)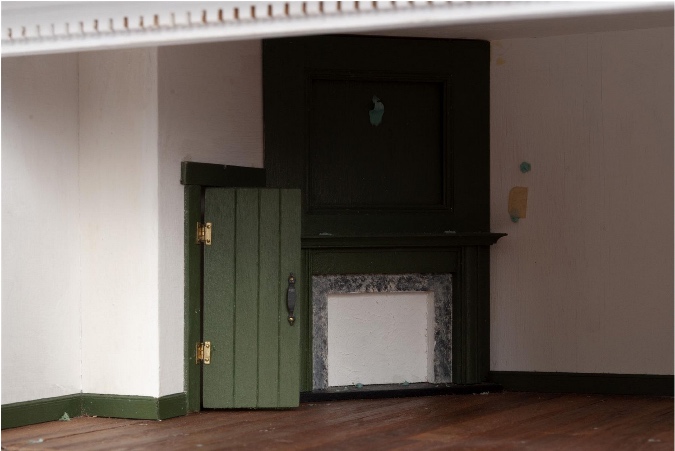 LiveAuctioneers again. The auction says 1/4″ scale, but it's wrong. Some of the furniture pictured is Bauder-Pine or Cassidy Creations.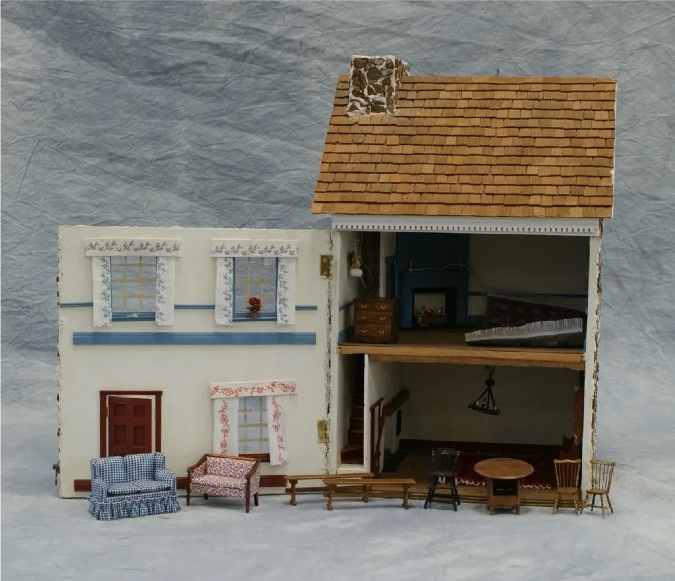 I zoomed in and looked carefully at these pictures, and this can't be a coincidence. These are the same fireplace.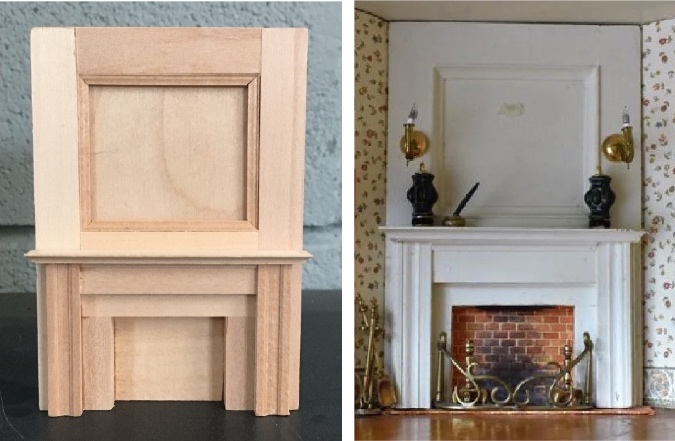 The first floor of the Colonial has a walk-in fireplace that I'm sure I've seen once as a Cassidy Creations kit, similar to the rare Federal fireplace wall. (I regret not buying it!) Could there also have been a corner fireplace kit, or maybe they were sold preassembled? For now it's a mystery, but how fortuitous that I pulled this piece out for this particular dollhouse!
Here's one more recent find before I wrap up what's turned out to be a very long post. I bought this bed from the Bauder Pine Etsy store.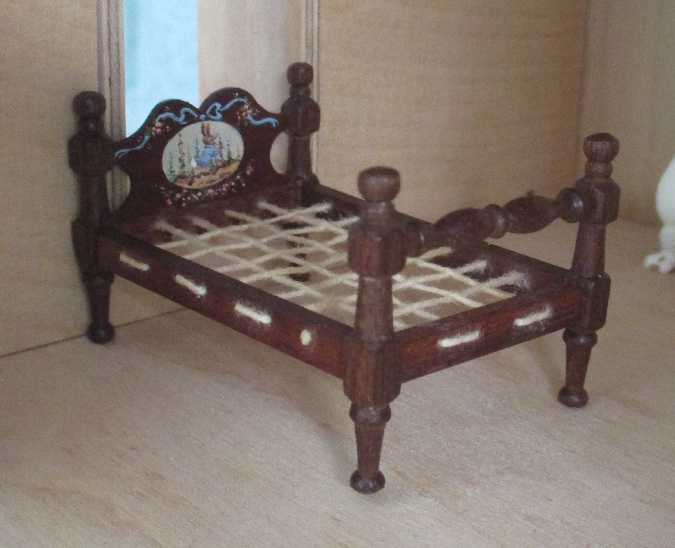 It's almost identical to the Cassidy Creations rope bed, which I have a couple of as kits. The only difference I see is the footboard, which is flat in the kit and turned on the bed I bought, but that could just be another example of kit pieces changing over time.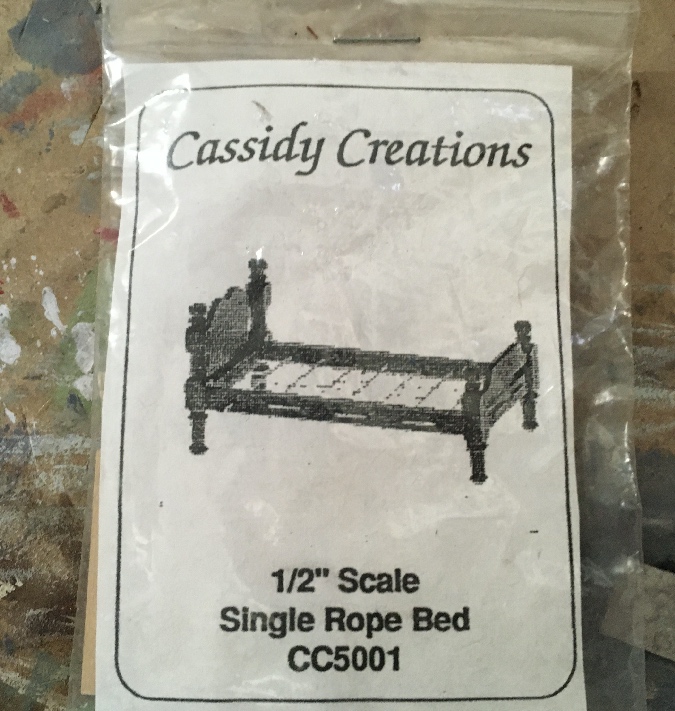 In fact, in the rope bed kits I have, the turned posts have been replaced with straight ones. The bed won't have the same charm without the turned posts.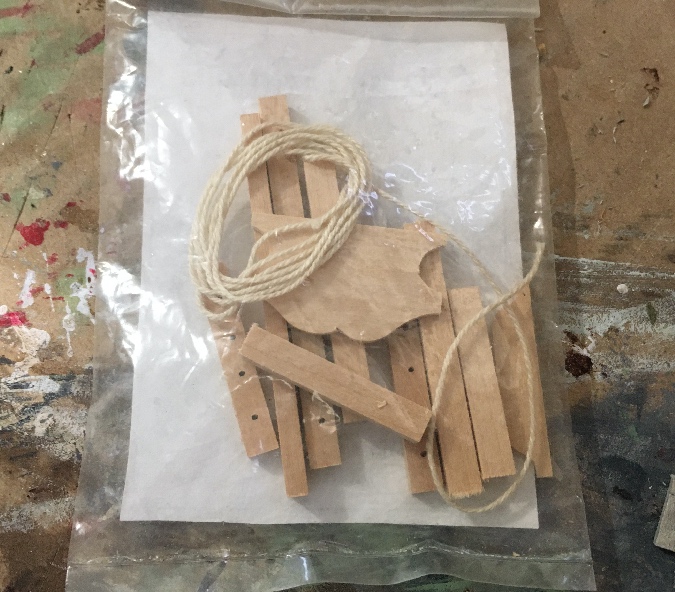 This bed has two signatures on it, but they're definitely not Bauder-Pine signatures. The one on the top looks like K. L. Markland. I've seen similar hand-painted furniture attributed to Karen Markland, including this 1:12 bed with Peter Rabbit on it. The other signature is too hard to read.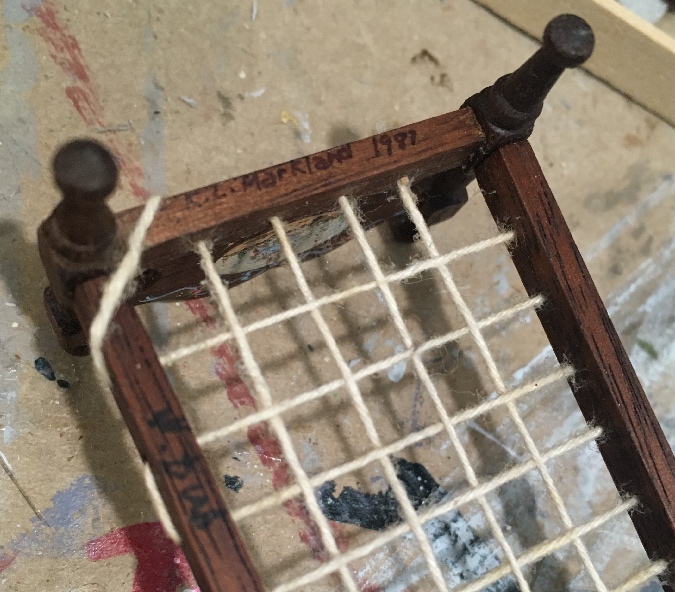 I asked Cathy if she thought it was a Cassidy Creations kit, and she couldn't tell either. I decided to get it, since the turned post version of this bed is so hard to find. I figured the other signature belonged to someone who built a Cassidy Creations kit and then had Karen Markland paint it.
I'll use the bed in the child's bedroom, along with the Bauder-Pine armoire that was assembled by Pam Junk and hand-painted by Cheryl Hollis (and most likely belonged to Pat Bauder herself).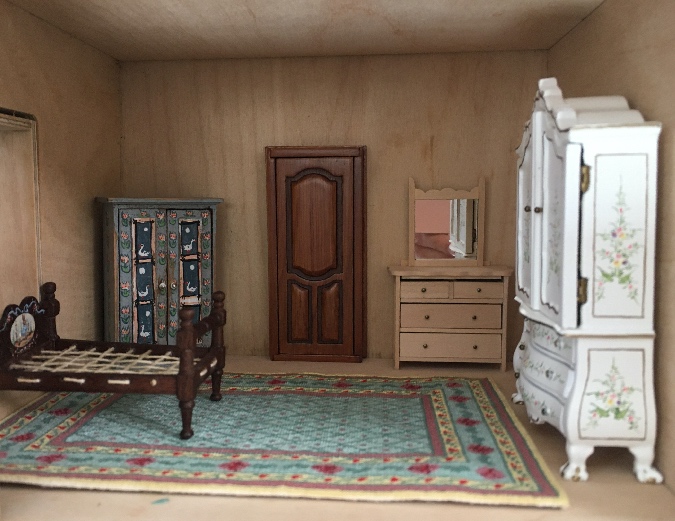 (That baby house looks a bit overbearing in here, but it's tall and the ceiling in this room is high. In other houses where I've tried to use this, the ceiling was too low. With this layout, you'll be able to see the open cabinet through the window. I don't know, though… the jury's still out.)
While I was combing through old auctions looking for Bauder-Pine Colonials, I stumbled across this furniture lot.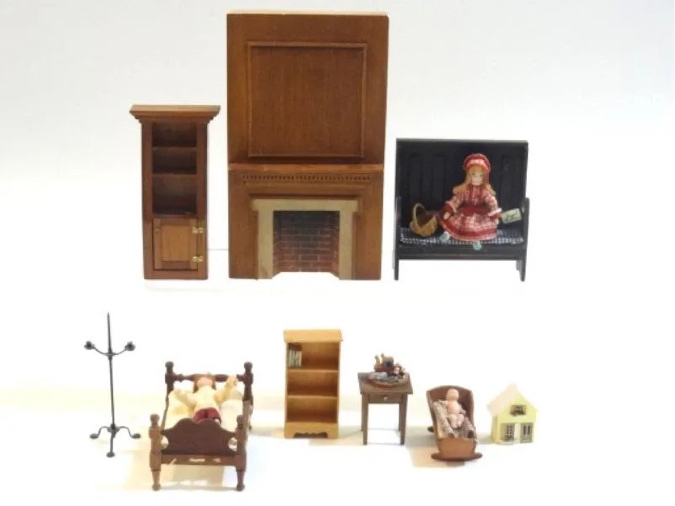 The fireplace looked familiar, and at a glance I thought it was another of the corner fireplaces — but no, it's actually the same Braxton Payne fireplace I'm using in the living room. Then I noticed the bed. Hey, where have I seen that before?
The auction description calls it a "bed attributed to Warren Dick" — and there we have it. The hard-to-read signature on the bottom of my bed is W. Dick.
My quest to find Bauder-Pine furniture continues… if you're looking to sell some or have any leads, please leave a comment or contact me!