Earlier this summer I went to a sale at Peg's Dollhouse in Santa Rosa and bought what might be the coolest dollhouse I'll ever own. Peg buys and resells old stock and estates, so she's guaranteed to have stuff you can't find anywhere else. When I visited her shop once before I got a bunch of old furniture kits and building supplies including the hard to find Littlewonders Lumber flooring strips I'm now in love with. This time she was selling off the contents of Studio 7, a Bay Area miniatures shop that closed about thirty years ago. The stock has been in storage ever since.
The Little Belle was up on a shelf but even without being able to get a good look at it, I knew I wanted it. Peg asked for $100; I handed over cash.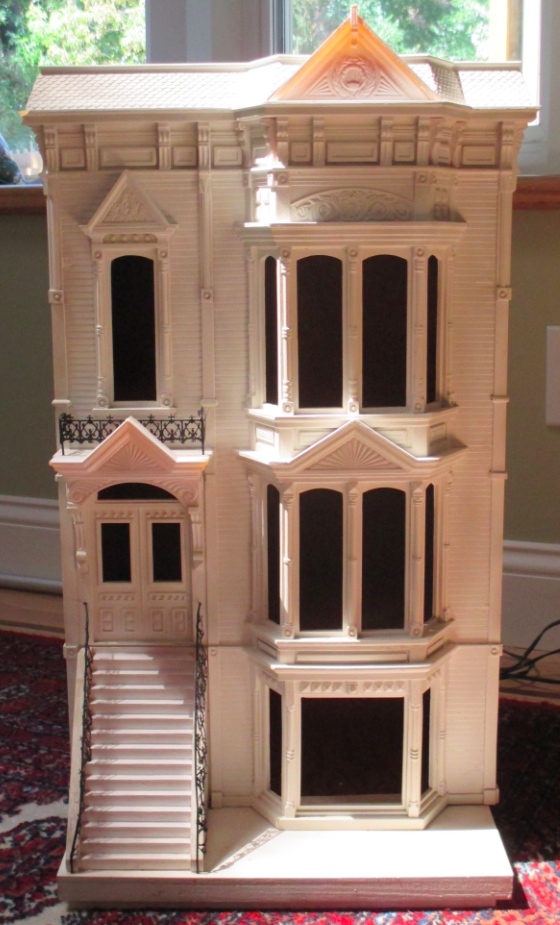 After I paid for it I realized I'd seen this house before, in an old Nutshell News article from 1980. Even then, the Little Belle was no longer in production, so I knew my chances of ever finding one were slim to none. Still, when I read that article a few years ago, I'd told myself I would find one someday. Apparently the gods were listening!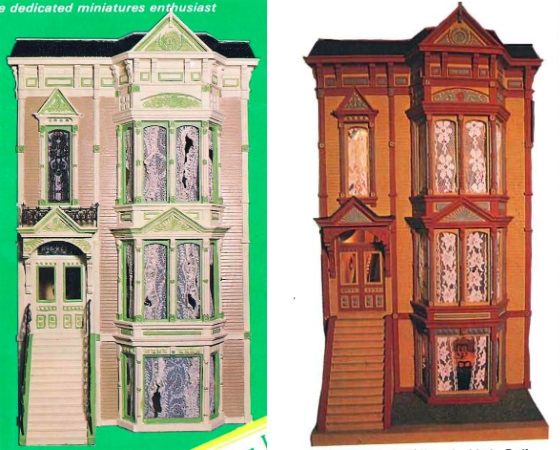 Two Little Belles pictured in the June 1980 issue of Nutshell News
The Little Belle is a front-opening, half scale dollhouse (1/2″ = 1′) that looks like a San Francisco rowhouse. This house is unique because the front is cast resin, made from a mold of a facade that was hand carved by Jim Marcus. I didn't know who he was or the significance of owning a "Jim Marcus house" until after I bought the Little Belle and started researching it. There's very little information about Jim's dollhouses online, so I decided to post everything I've found out about the Little Belle to document the house's history.
The Little Belle was born out of a joint venture between Jim Marcus and Lew and Barbara Kummerow in the late 70s. The only article I've been able to find about it is the June 1980 cover story in Nutshell News (which it turns out has some inaccuracies). While researching the house I got in touch with both Barbara Kummerow and Jim Marcus, who graciously filled in some blanks for me.
The house was first released in 1976, as seen here in a page from the Kummerows' annual catalog. It cost $250 plus $7.50 for shipping — more than $1,000 in today's dollars, according to the Consumer Price Index inflation calculator.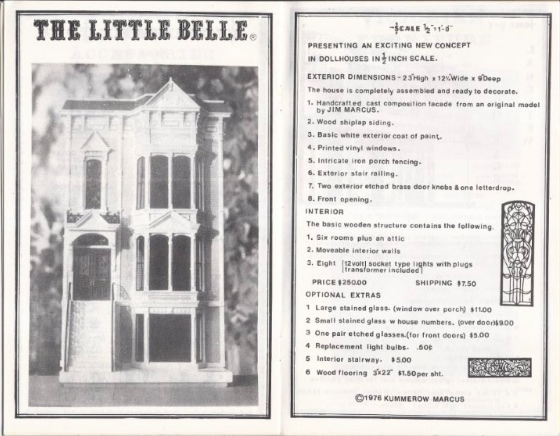 Jim Marcus had already made a name for himself carving 1:12 scale dollhouses. He built his houses in limited editions with a set number of houses in each run, and when he'd completed them all he would retire that house forever. Living in the Bay Area, he took inspiration from the San Francisco Painted Ladies (which, frankly, look nothing like the commercial dollhouse kits that call themselves San Franciscans).
Around the time the Little Belle came to be, Jim had recently finished a 10-house edition of the Russian Embassy, based on the William Westerfeld House at 1198 Fulton Street. (One of these houses was auctioned a few years ago and the auction house has a bunch of photos — prepare to drool.) According to a profile in Miniature Collector (March 1978), his houses commanded $10,000 price tags and interested buyers were on a years-long waiting list. The Little Belle was supposed to be an affordable alternative for people who wanted to own a Jim Marcus house, but didn't have the funds or the patience for an original.
Unlike the Russian Embassy and Jim's other 1:12 houses, which are based on actual buildings in San Francisco, he told me that the Little Belle is a amalgam of several houses. It was created in half scale to keep shipping costs low, and is his only 1:24 dollhouse. He hand carved the front the same way he would a 1:12 limited edition, then handed it over to Lew Kummerow who created the mold, cast the fronts, and built the shells.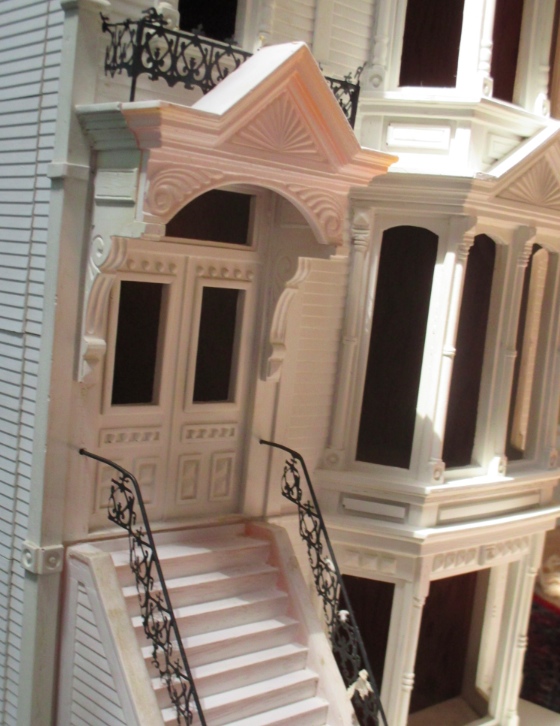 Because the facade would be produced from a mold, Jim had to avoid any elements that weren't fully connected to the main structure, such as the porch columns and spindled railings that appear on the Russian Embassy.
Inside, the house has four floors that can be divided up into multiple rooms if you choose to. Mine came with just one room divider, on the third floor, and I think I'll keep it that way. It's wired for electricity with bulbs hidden behind the quarter circles in the corners. Mine aren't working, but that's hopefully going to be an easy fix. (Famous last words…)
Between the second and third stories there's a stair hole positioned for a resin staircase with a 90-degree turn. My house didn't come with the interior staris, and since I already have one Victorian rowhouse with crazy stairs, I'll probably fill in that hole and use the room the stairs would have led into as a bathroom. The house came painted white, with wood siding on the cabinet sides (mine needs to be reglued) and unfinished plywood interior.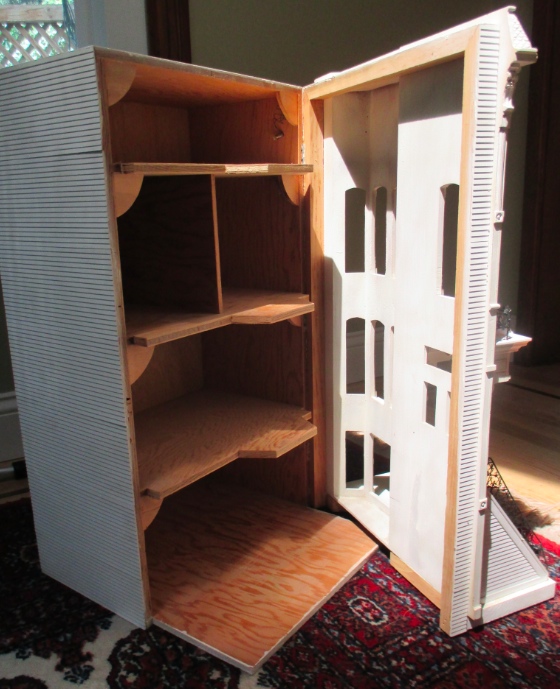 This is clever: the base attached to the front of the house is higher than the actual base of the house, so when the house is closed you look down into the bottom bay window. It gives the illusion of the first floor being below ground level, which is true in a lot of San Francisco houses due to the hills. Some of the earliest Little Belles (mine not included) came with brass medallions on the front base that identified Marcus / Kummerow as the creators, and gave its copyright date.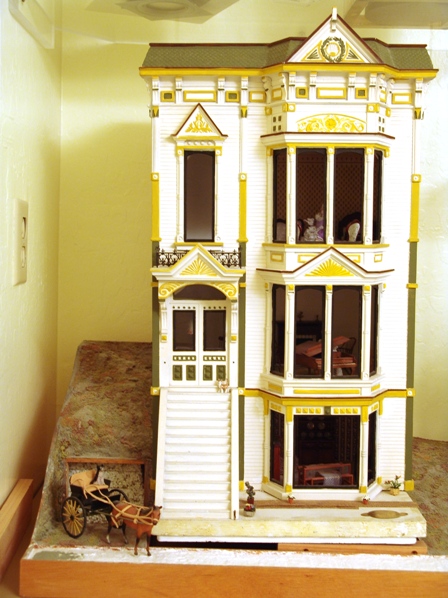 This Little Belle, still a work in progress, is owned by Barb Jones.
Hers has the brass medallion on the front of the base.
Unfortunately the idea of an affordable Jim Marcus house didn't catch on they'd hoped, and the Little Belle was not a profitable venture. By June 1980, when Nutshell News published their cover story, the house was no longer in production. The article said that around 50 were made but Barbara and Lew estimate that number closer to 20. (And somehow I ended up with one of them?!) The Nutshell News piece also states that someone else had been given permission to make more Little Belles, but Barbara disputes this. She and Lew still have the mold and for many years also had the original Little Belle that Jim carved, until the house was destroyed in an earthquake in the early 2000s.
I've tracked down three other Little Belle owners through the Half Scale Minis group, and two more were pictured in the Nutshell News article. (The orange/red one belonged to the article's author, Mickey Ross; not sure about the pink one on the front cover.) There's also a gorgeous Little Belle in The National Museum of Toys and Miniatures in Kansas City, pictured below. Including mine, we're up to seven. I would love to find out where the rest of these ended up — if you have one, please contact me!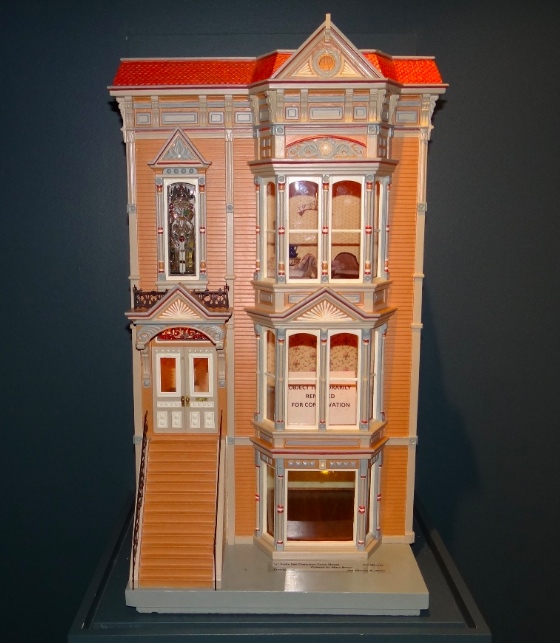 Photo courtesy of The National Museum of Toys and Miniatures
This particular Little Belle was featured on a Hallmark Christmas card in the 1980s. (Fun fact: Hallmark heir Barbara Hall Marshall was one of the museum's founders.) Artisan Pam Junk, who bought her Little Belle in the 80s and remembers later seeing one for sale at a museum shop for $2,500 in the mid-90s, sent me the card. They flipped the image so the door would appear on the right — funny, because the stained glass house number over the door is now backward! And they removed one floor with some cut-and-paste that's kind of obvious if you look for it.
The inside of the card shows decorated interior rooms. I like the fake staircase in the entry, and might steal that idea for my own Little Belle.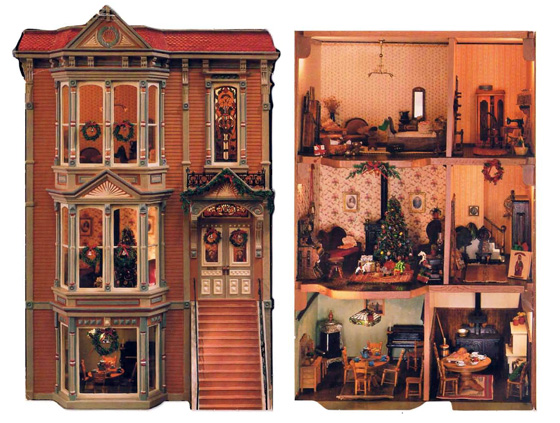 The Little Belle Christmas card, circa 1988. Click the image for a larger, flipped version.
Finally, here's my new Little Belle next to the Queen Anne Rowhouse I've been slaving away on for two years. I thought my rowhouse looked pretty good until I saw them side by side…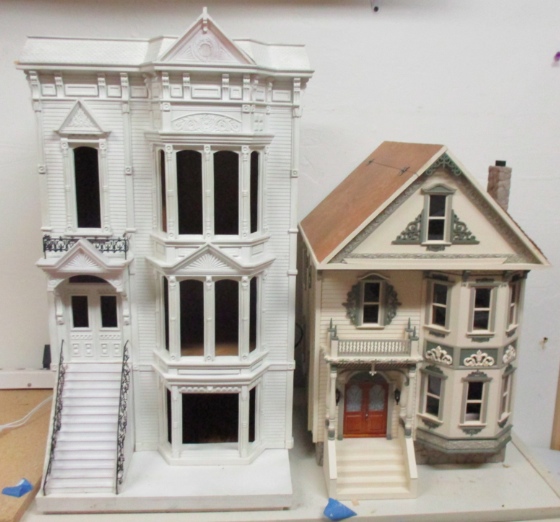 One reason the Little Belle looks like a "real house" compared to my rowhouse is the carved embellishments, which are so iconic on San Francisco houses and impossible to emulate with manufactured trims. (And I really tried!) But it's also because of some optical illusions Jim used so the viewer would perceive the dollhouse like you would see a real house if you were looking up at it from the sidewalk. The first floor appearing to be below street level is one example.
I've got gathered a lot more info about Jim's houses and design philosophy, but I'll save that for another post. (With more eye candy, promise!)