I just put together the second half of the Victorianna and have to do something with myself while the glue dries, so here are pictures I never posted of the practically finished bathroom.
The tub, toilet, and laundry basket are 3D printed pieces from Shapeways. I scratch built the linen closet, vanity, and plantation-style louvered doors on the laundry closet. The tile flooring came from Elf Miniatures.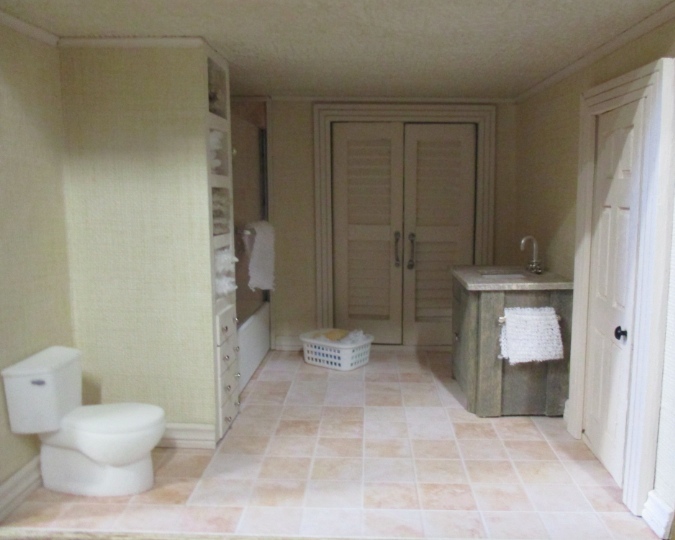 I made the surround for the shower out of a piece of plexiglass (shown here). The tub faucet and taps are intended for a 1:12 sink, and the showerhead is a Chrysnbon wine glass with the stem bent. The towels in the linen closet are cut from Dollar Tree chenille washcloths.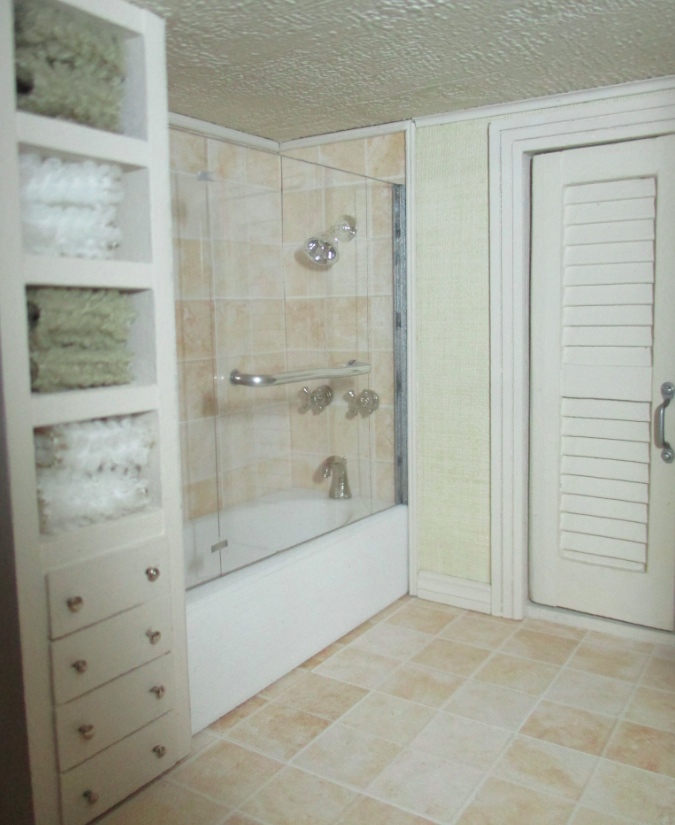 I'll probably add a shelf over the toilet, but haven't found the perfect one yet. I colored in the flush handle with a silver Sharpie.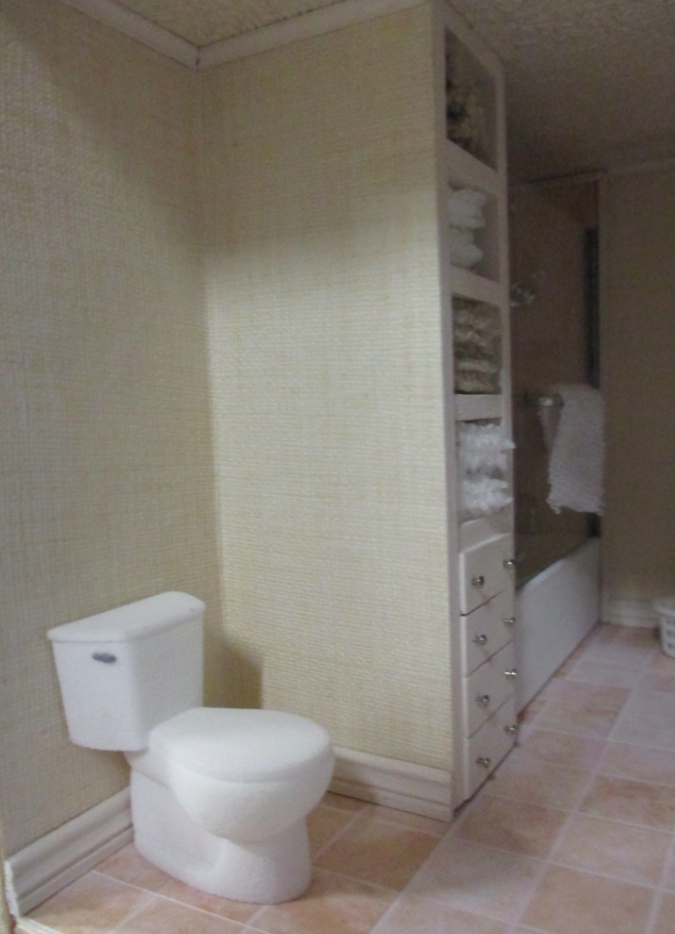 I'm also still looking for the perfect mirror to go over the vanity. The towels on the vanity and in the laundry basket are made from baby washcloths that I got at Dollar Tree (all four colors for $1!). The black doorknob is a mini-brad from Michaels, and the handles on the closet doors are 1:12 window pulls, originally shiny gold, that I colored over with silver Sharpie.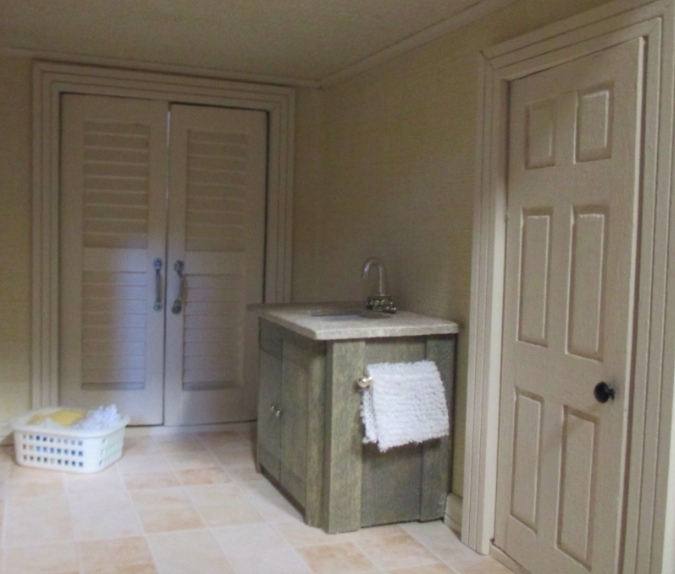 When I put the dollhouse's back piece on temporarily I realized it's very hard to get the washer and dryer lined up straight inside the closet when you can't reach around from the back. Since they're refrigerator magnets, I decided to add a magnet to the inside of the closet to make lining them up inside a little easier.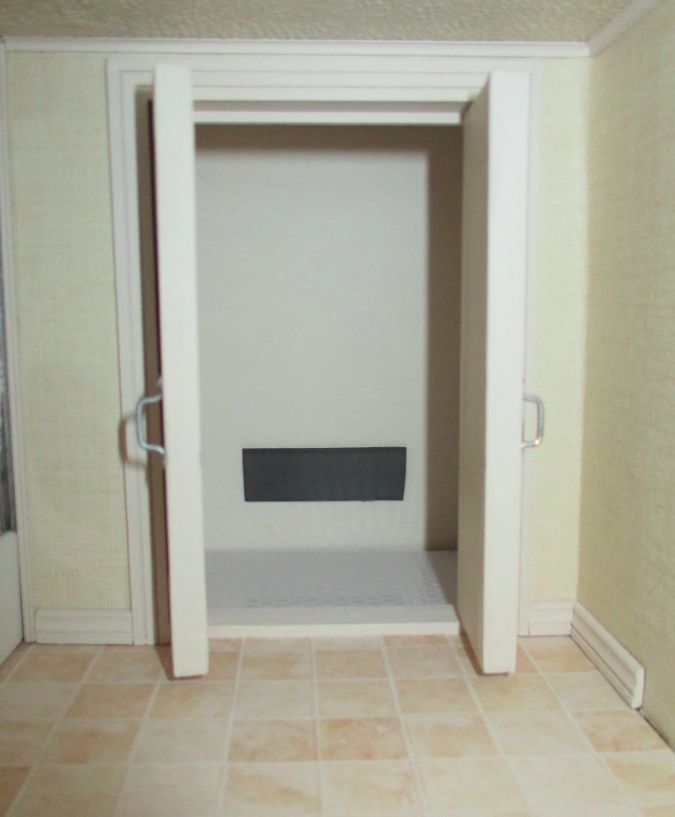 Mission accomplished!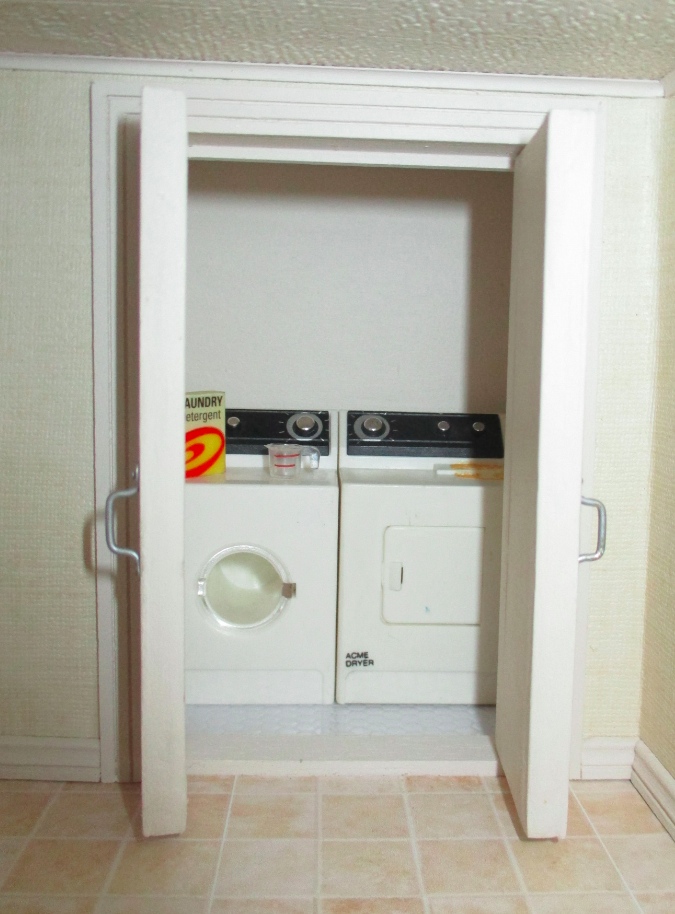 The dryer has a funny splotch on it from where I removed an unrealistic looking plastic shirt.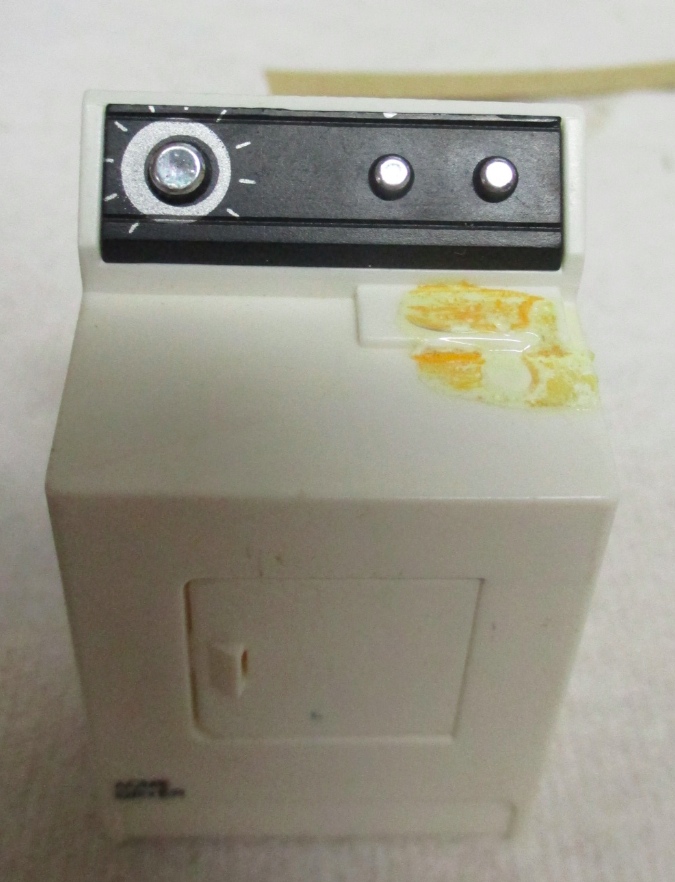 I glued a towel over it.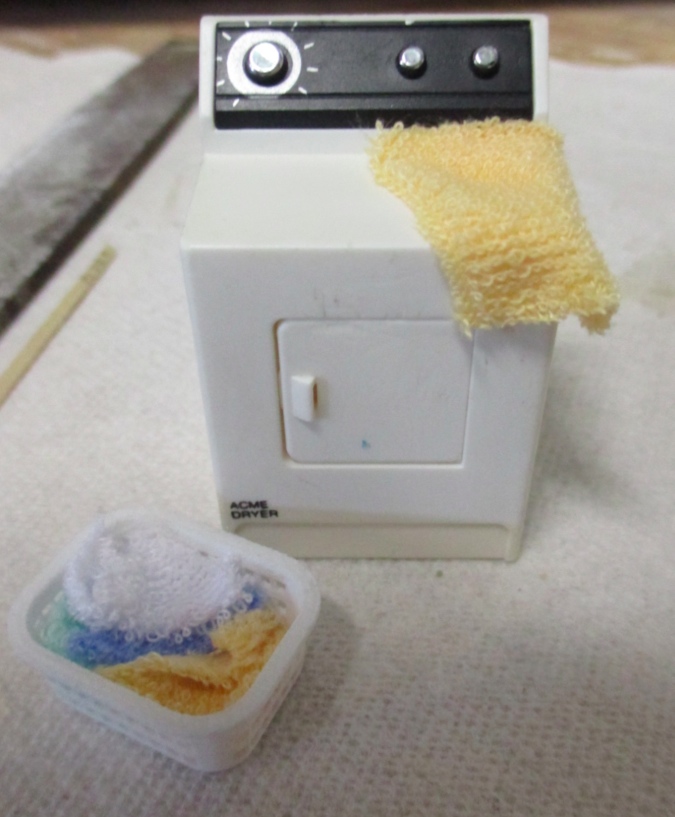 I also wanted to add a shelf for laundry detergent.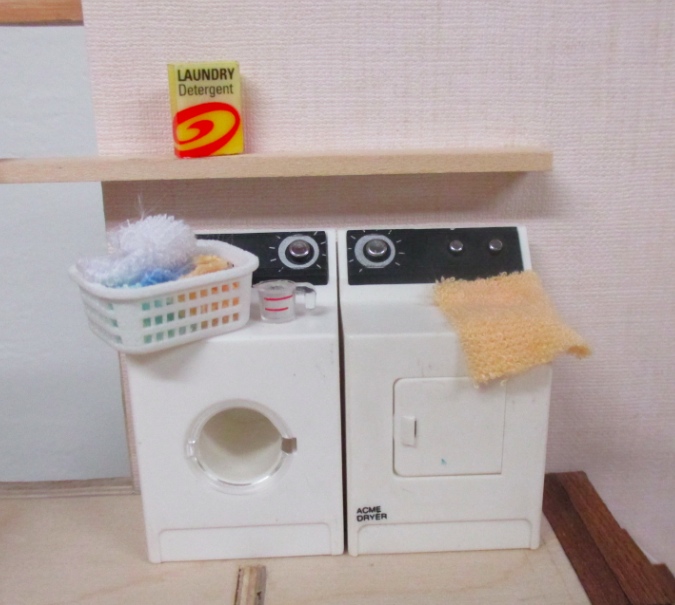 Thinking this would be too hard to glue in straight once the back was on, I did it before gluing on the back piece. I really should have glued on some accessories too, but I don't have any yet.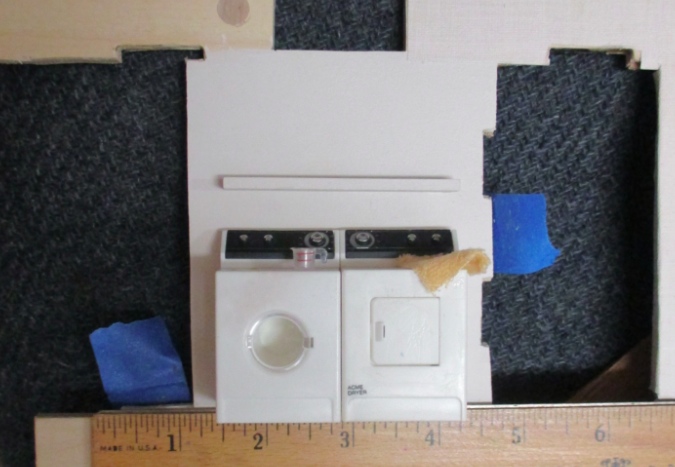 Ta da! Now I just need to get some detergent. The generic Laundry Detergent box in the earlier photos was attached to the washing machine, until the washer fell on the floor and it broke off. I can still use it but I'd like something more realistic. (What I'd really like is a plastic bottle of detergent, as opposed to a cardboard box, but so far I haven't been able to find any in half scale.)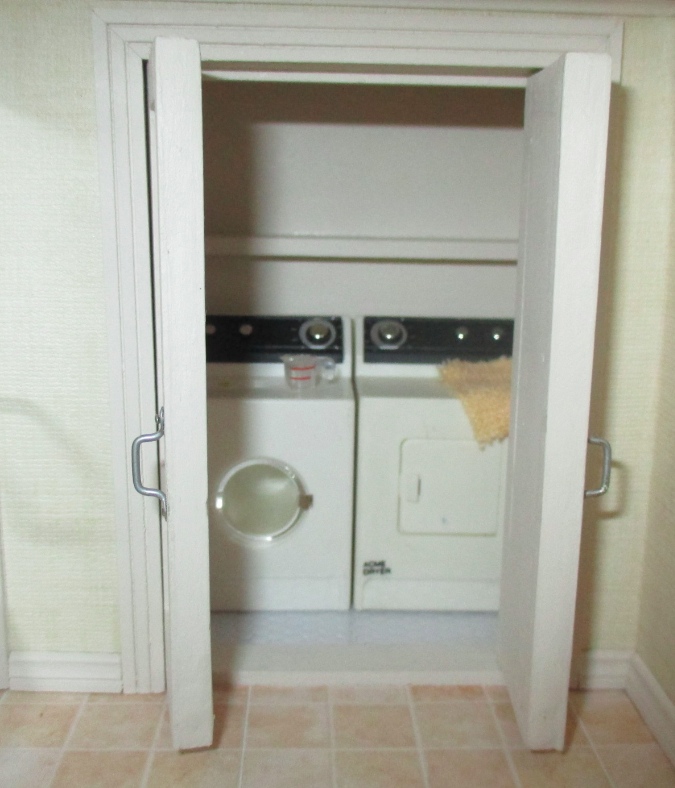 It's been hard to get good pictures of this room — seems like the flash always washes out the colors in front, the back of the room is always shadowy, and my camera does automatic color and brightness adjustments that often make things worse.
Anyway, here's one I took with a lamp directed at the room, I call it Bathroom at Twilight.