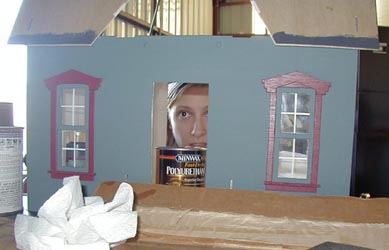 Geoff's been busy building an airplane (really!), so I got inspired to start working on the unassembled dollhouse that had been sitting around for years. He set up a card table for me in a corner of his hangar. Then I saw how much fun he had putting his airplane progress up on the web and decided to be a copycat. Hey, it's not about originality... it's about whoever has the most toys when they die. Or so I'm told.
Initially, I planned to cobble these three components together. (These are not my finished pieces... I "borrowed" the pictures from Hobby Builder's Supply). I ultimately decided to leave the garage for another project, because it's a bit too big to look good next to the house.
And here are some pictures of my (mostly) finished house...
| | |
| --- | --- |
| | |
| The finished house (sans addition). | In its new home (a shelf in my kitchen). |
As of September 2003, the exterior of the house is done. I still have a lot of interior decorating to do, but I've brought the house home from the hangar, and I don't own a digital camera (I've been using Geoff's). So, I probably won't be taking as many pictures of the inside of the house.
This house took me almost a year to build. You can see my progress by clicking through the links below.
October | November | December | January | February | March | April | May | June | July | August | September
---